ZoneAlarm Pro is a professional firewall by Check Point Software Technologies. These are the main features as per the developer: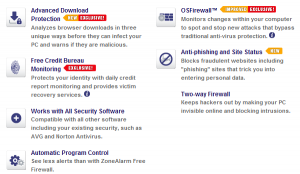 For a limited time (from 6:00AM PDT 4/13/2010 to 6:00AM PDT 4/14/2010), users can get 1 year, 3 PC license of ZoneAlarm Pro for free! The promotion is being run via ZoneAlarm Pro's Facebook fan page. However, you do not have to become a fan – nor do you even have to own a Facebook account – to take advantage of this offer. Simply visit ZoneAlarm Pro Facebook promotion page and click on the offer that you want to take advantage of:

Get ZoneAlarm Free will redirect you to the registration page for ZoneAlarm Pro where you need to fill out a short registration form: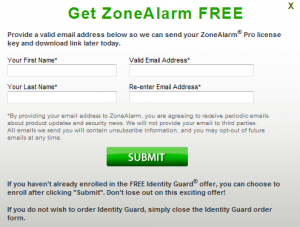 If you want to take advantage of the other offer, Identity Guard, you will need a credit card and will be asked to fill out a must more length form. Take note also that after you fill out the above mentioned form for ZoneAlarm Pro, you will be redirected to the Identity Guard form. If you don't want Identity Guard, just close that next window.
Currently I am still waiting for my ZoneAlarm Pro registration information to come to my e-mail so I don't have any further information about this offer, like how to register the software.
Thanks belacan!
Related Posts