ALZip is an archiving software like WinZip, WinRar, or 7-zip. These are all the features of ALZip as per the developer: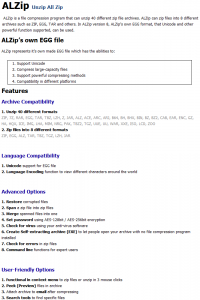 Currently ESTsoft – the developer of ALZip – is working on a new version of ALZip, v8. Currently v8 is in beta, available for anyone to download and use. However, in celebration of their v8 beta release, ESTsoft is offering users the ability to get a free copy of ALZip 8 when it comes out of beta and is officially released: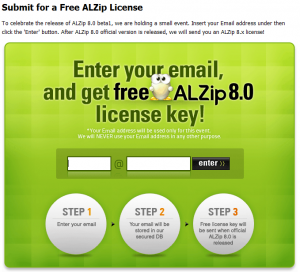 After you enter your e-mail address, when ALZip 8 is released, ESTsoft will send you your very own ALZip 8 license key (if you are in a hurry and want to use ALZip 8 now, you can use the beta version).
Personally, I have been using 7-zip for a while, and will continue to use 7-zip (7-zip is open source and freeware); but for those that want ALZip, this is your chance to get it for free! Follow the links below to get ALZip 8 for free:
Supported OS: Windows 2000/XP/Vista/Win7

Version being given out for free: v8

Free updates: v8.x versions only
ALZip homepage [ALZip 8 free license key promotion page]
Thanks Vi!
Related Posts