Update: It looks like it's ended already, sorry people.
CyberLink DVD Suite 7 Centra is a terrific heavyweight multimedia editing/creating software suite:
The "CyberLink DVD Suite 7 Centra" is a lavishly-equipped multimedia all-rounder. Equipped with modern techniques, you can enjoy your movies and DVDs in amazing quality. The "CyberLink DVD Suite 7 Centra" supports all popular video and audio formats for the perfect movie experience.

In addition to the features for the perfect movie enjoyment, you can also implement your creative ideas with powerful tools. This gives you the "CyberLink DVD Suite 7 Centra" among other features stylish image overlay and video-and photo enhancement.

Or you can create professional slideshows featuring beat-detection technology that automatically displays your photos and play audio in the background. Your finished projects can then be completed with its own burning suite.
Since this is a "suite", various other CyberLink software are part of it:
Instant Burn
LabelPrint
MediaShow
Power2Go
PowerBackup
PowerDirector
PowerDVD 8
PowerDVD Copy
PowerProducer
This chart will give you better insight on the features of CyberLink DVD Suite 7 Centra and how it compares to the new versions of the suite:
Click on the image above to view the full chart.
Before I tell you about how to get this software for free, note two things:
The download size is huge – 946.6 MB. However, the download speed is very fast.
There are only 10,000 free licenses being given out in this promotion so be quick if you want one.
That being said, to get CyberLink DVD Suite 7 Centra for free, follow these simple steps:
Version being given out for free:

Supported OS: Windows XP/Vista/Win7
First, visit PCPlus.  Read their full article! If you don't, you're not eligible for this freebie.  Next, sign into SoftwareLoad.  (NOTE: That screenshot looks different because of how I did this.  Ignore that.)
If you have an account, sign in.  Or click Create account.
It's OK–you don't have to fill in personal information.  For instance, did you know I live on 123 Fake St, Los Angeles, United Kingdom 90210?
Then, go to the promotion page.
Enter the code PCPlus2010SWL into the discount code box, as shown above.  Then click OK. Click "Place your order".
You'll be taken to a "Validate" button–click it.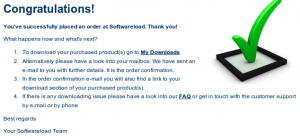 Go to your downloads page to get the download. You'll get your serial number and a download link.  Note that it is a 947MB download, so be patient.  Really patient.
Locutus' note:  while this is a magazine specific freebie, all I had to do to find the original key was go to their website and click on their latest article.
Related Posts