Back in January I talked about League of Legends, a free online video game that has become very popular since its release. Today I want to let all LoL players know that Alienware and RIOT have teamed up and are running a promotion where everyone can get the Nightmare Cho'gath skin for free! If you don't already have Cho'gath, then you will also receive Cho'gath for free with the skin (because that is how the game works – you can't have a skin without first owning the hero, hence you get Cho'gath even though the skin is the freebie).
This promotion started 4 weeks ago and is available to a limited amount of people (at this time 14,587 codes are left, i.e. 14,587 can still participate in the promotion):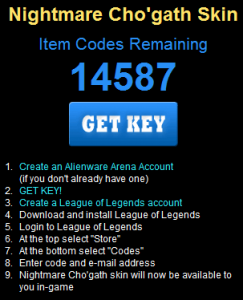 Since this is an Alienware promotion, you will need to register an Alienware Arena Account (registration is free) before you will receive the free code which you can redeem in game. So what are you waiting for? Visit the promotion page to get started!
Thanks Salim!
Related Posts