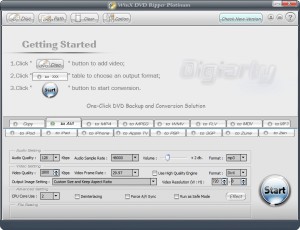 Update: Apparently winxdvd.com has some concerning comments regarding the website on WOT. I don't know about the accuracy of these comments, but I have worked with Digiarty Software for a while now, using/reviewing many of their software; and from this personal experience I can vouch I have never run into any phishing scams or rogue software from Digiarty Software. However, please don't take my word for it – use your own gut feeling to decide what to do… and read the VirusTotal report that shows WinX DVD Ripper Platinum is 100% clean.
dotTech is teaming up once again with Digiarty Software; this time we bring you one of their most widely known, and respected software: WinX DVD Ripper Platinum!
What exactly is WinX DVD Ripper Platinum? It is a DVD-to-all ripper that allows you to easily rip/backup DVDs to multiple different video formats, including a 1:1 copy so you can store your backups in DVD quality. WinX DVD Ripper Platinum can also bypass DRM protection and region locks. Here are the main features of WinX DVD Ripper Platinum as per the developer: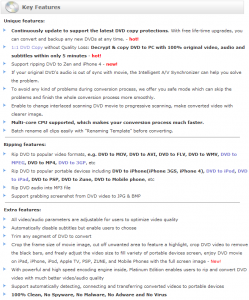 Here are all the supported input/output formats as per the developer:

If you would like to know about WinX DVD Ripper Platinum in more detail, feel free to read dotTech's full review on WinX DVD Ripper Platinum.
To get WinX DVD Ripper Platinum for free, follow these simple directions:
Version being given out for free: v5.15.3 Build 20100630

Free updates: No


Supported OS: Windows 98 and higher

Download size: 9 MB

Note: This promotion is live for one month (expires on August 20, 2010). However, if you download the file now and keep the installation/license code safe, you can install the program whenever you want.

Download and install WinX DVD Ripper Platinum.
After installation run WinX DVD Ripper Platinum; you will be asked to register the software: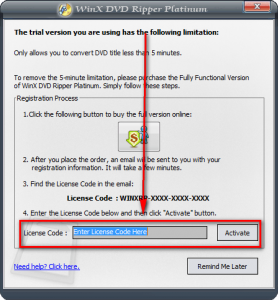 Using the following license code to register the software:

License Code: WINXRP-9709-9584-9984

Note: This promotion is available to everyone – everyone may get it for free. However, this is a dotTech.org promotion. Please do not copy, paste, or reprint this license code anywhere else including private or public forums, blogs, file hosting services, etc. If you want to spread information about this offer, you may link to this article by providing a permalink (alternative permalink) to your audience. If you respect our wishes, we will be able to continue to bring you great freebies. If you don't, we have no incentive to continue our promotions and they may stop.
If ou registered properly you will get a confirmation message:
If you have any trouble getting WinX DVD Ripper Platinum for free, post below and I will try to help.
Please only use WinX DVD Ripper Platinum legally as defined by the laws of your country/region. dotTech is not responsible for any illegal activity conducted with WinX DVD Ripper Platinum.
Related Posts