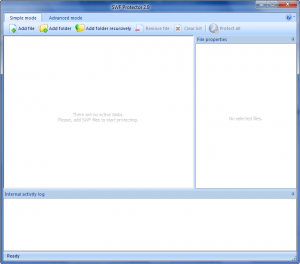 Continuing our freebies tradition, today dotTech teams up with DCOMSOFT to bring dotTechies DCOMSOFT SWF Protector (v2) for free! What exactly is SWF Protector? Simply put it protects SWF files from being decompiled. Here is an official description of the software and a list of its main features as per the developer:
SWF Protector is a highly reliable encryption solution, which will thoroughly protect all of your Flash files from all kinds of SWF decompilers. SWF Protector fully protects ActionScript, so your artwork is impossible to steal. It uses four different protection algorithms that allow SWF file playback in Flash Player, but conceal the source code completely. You will be able to encrypt all ActionScript classes, or select specific ones that contain most sensitive code.

Feature list

OEM version benefits: You will get two license keys instead of one: one key to unlock the GUI version of SWF Protector, and the second one to unlock the console version. Not only you will have access to all features of a standard license, but you will also be able to embed the OEM version into different scripts or web services in order to protect sensitive SWF files on the go automatically.
Fail-safe SWF files protection: SWF Protector will firmly protect both ActionScript 1/2 and ActionScript 3, so none of your files, either old or new, will stay unguarded.
Four unique protection methods: "Mask script" and "Mix script" for ActionScript 2; SWF Protect and AS Obfuscate methods for ActionScript 3 are available.
Full Flash and Flex support: SWF Protector will thoroughly encrypt all of your works from Flash Decompiler, no matter if you were using Flash or Flex technology.
Two protection modes: SWF Protector can operate in two modes: simple and advanced. In Simple Mode SWF Protector can manage either one file or several ones in a batch at a time. In Advanced Mode only one file at a time may be processed with more prolific protection settings.
High operation speed: SWF Protector is simple to use and very fast. It has shown lightning-fast speeds of SWF files loading, processing and saving.
Now typically SWF Protector works on Windows, Linux, and Mac OS X. However, today's giveaway is for the Windows version only. Also, the latest version of SWF Protector is v3, but today's giveaway is of v2. The main changes between v2 and v3 is v3 supports Flash 10 and CS5 files.
That said, to get SWF Protector for free, follow these simple directions:
Version being given out for free: v2.0.1.168

Free updates: No

Supported OS: Windows 2000 and higher

Download size: 6.6 MB


Special note: This giveaway is available for 24-hours only (from August 4, 2010 00:00 PST to August 5, 2010 00:00 PST) and you must download and install the program within these 24-hours.
Download and install DCOMSOFT SWF Protector.
Note: This promotion is available to everyone – everyone may get it for free. However, this is a dotTech.org promotion. Please do not upload the installer file to any other website, server, file hosting services, etc. and please do not directly link to the download. If you want to spread information about this offer, you may link to this article by providing a permalink (alternative permalink) to your audience. If you respect our wishes, we will be able to continue to bring you great freebies. If you don't, we have no incentive to continue our promotions and they may stop.
During installation, you will be asked to register SWF Protector. First you must request your free registration code – enter your name, e-mail address, and hit "Get your free activation code":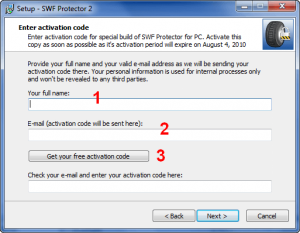 If you did it properly you will be shown a confirmation message:
Check the inbox of the e-mail address you registered with. You should have an e-mail from DComSoft Processing Dpt. <support@dcomsoft.com> with the subject of DComSoft Promo: Your activation code for SWF Protector for Windows. In the e-mail you will find your free activation code: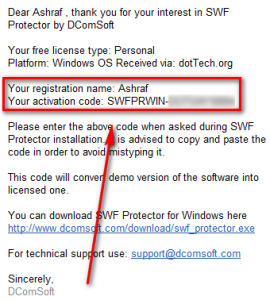 Go back to the SWF Protector installer, enter the activation code, and finish installing: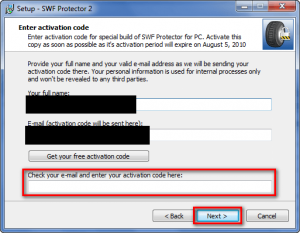 NOTE: If you do not use the activation code to register the product during the same installation that you requested the activation code, you will need to re-request the activation code the next time you run the installer. In other words, lets say you request the activation code but don't install the program. Next time you install SWF Protector and try to use that activation code, it will not work – you will need to request another activation code (you can reuse the same e-mail address).
If you are unable to get DCOMSoft SWF Protector for free, post below and I will try to help.
Related Posts