Avanquest Fix-It Utilities 10 Essentials, more or less, a PC diagnostic tool/system utility. The following chart (created by the developer) lists the main features of Avanquest Fix-It Utilities 10 Essentials in addition to comparing it to other editions of Fix-It Utilities: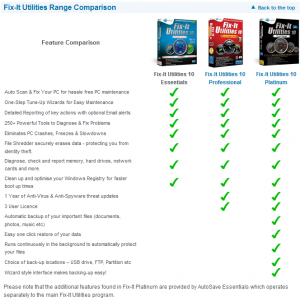 Starting Friday, v3.co.uk is going to run a promotion allowing users to get Avanquest Fix-It Utilities 10 Essentials for free. Here is the official word from them:
We're ready to put live our Avanquest Fix-It 10 Essentials  full promo, from midday Friday. This is system optimisation and maintenance software will enable you to keep on top of your PC. Worth $24.95/£19.99, we're giving you the full version, free of charge, available for 48 hours exclusively from the V3.co.uk Software Store.


Avanquest Fix-It 10 Essentials is so new, it's only recently made available from Avanquest. For more information view the product page.


This comprehensive PC toolkit will run 250 diagnostic tools to determine the health of your computer. With one-click maintenance, it will enable to quickly fix issues without requiring you to delve deep in to the possible solutions. If you suffer from a serious crash, then you get a bootable repair disc which will enable you to salvage your data and recover your computer.
The giveaway has not started yet – it will start 3 AM PST Friday August 20, 2010 and end 3 AM PST Sunday August 22, 2010 – so I don't have much details on it right now. (Chances are, though, it will be like all previous v3.co.uk giveaways in the sense that you have to first register with their website – registration is free – before you can get the freebie.) However, I thought I should give everyone the heads up in advance. Be sure to visit store.v3.co.uk on Friday!
Thanks Student26!
Related Posts