Hey, look it's raining. No, no you don't need an umbrella – it isn't raining water… it is raining freebies. Back in July I posted an article explaining how everyone can get eXPert PDF Pro 6 for free. The article involved a trick that turned the Italian version of eXPert PDF Pro 6 into the English version. However, the promotion was shutdown before everyone could get take advantage of it. If you are one of the unfortunate few that missed out earlier, fret no longer; thanks to a dotTechie named Roy, there is now another similar eXPert PDF Pro 6 promotion. However, this time it is Deutsche style.
For those that don't know about it already, eXPert PDF Pro 6 is an all-in-one PDF suite that allows users to create, edit, convert, modify, etc. PDFs. Here are all the features of eXPert PDF Pro 6 as per the developer:
To get eXPert PDF Pro 6 for free, follow these simple directions:
Version being given out for free: v6.31
Free updates: Yes! (Probably only minor updates only, though)

Support OS: Windows 2000 and higher (32-bit and 64-bit)
Download size: Two separate downloads of 25 MB and 24 MB each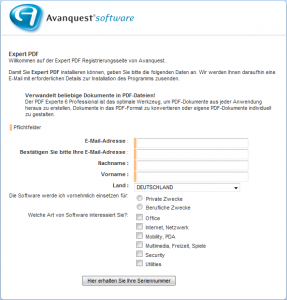 The registration page is in German. If you don't understand German, here is a rough translation: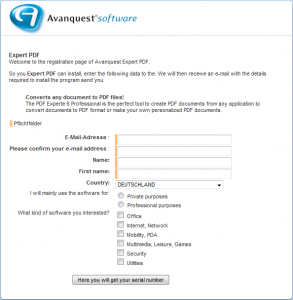 After you have submitted the registration form, you should get the following screen: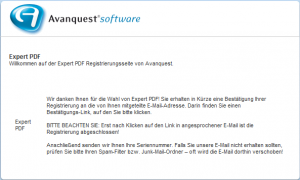 That screen means you have successfully submitted the registration form and now need to check your e-mail inbox for an e-mail from Avanquest.
Check the inbox of the e-mail address you entered. There should be an e-mail kontakt@avanquest.de with the subject of Ihre Expert PDF Pro 6 Seriennummer: E-Mail-Bestätigung. In the e-mail there will be a link you have to follow to confirm your e-mail address with Avanquest: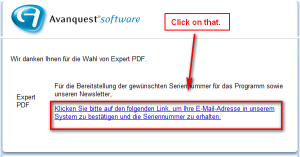 Click on the link (or copy + paste the URL in your web browser).
After you click on the link in the e-mail, the license key for eXPert PDF Pro 6 will be displayed to you:

Download both the German and English versions (German download | English download) of eXPert PDF Pro 6. You need both versions because the license key will only work in the German version and non-German speaking dotTechies can convert eXPert PDF Pro 6 to English using the English version (after they have installed and registered the German version).
After the downloads finish, run the German version installer (eXPertPDF_V6-DEU.exe) and install eXPert PDF Pro 6. During installation you will be asked to enter the license key you received earlier. If you don't understand German, here is a step-by-step guide on how to install eXPert PDF Pro 6 (just follow the arrows =D):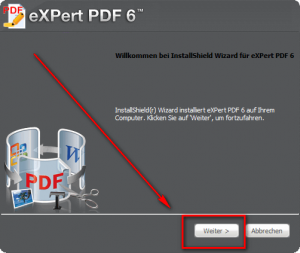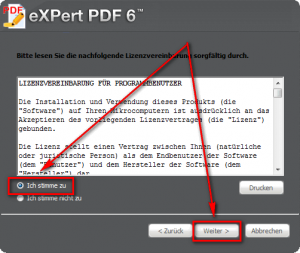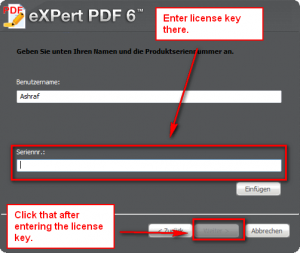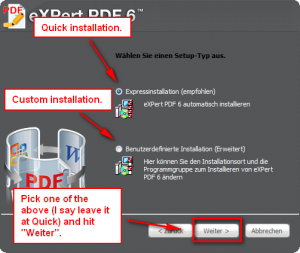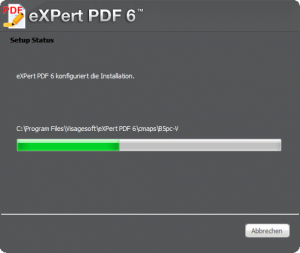 After you have installed the German version of eXPert PDF Pro 6, the program should start up automatically and ask for to check for updates. Click "Cancel"…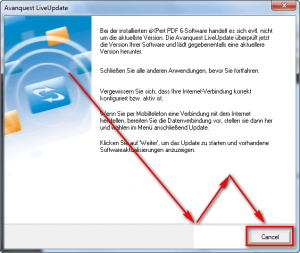 …and close any open eXPert PDF Pro 6 windows.
Run the English installer (eXPertPDF_V6-ENG.exe). You will be asked to either "Repair" or "Remove" the program. Select "Repair":
If you have any trouble getting eXPert PDF Pro 6 for free, post below and other dotTechies or I will try to help.
Thanks Roy!
Related Posts