Software Description
The following is the description of Process Lasso Pro as per the developer:
Process Lasso is a unique new technology that will improve your PC's responsiveness and stability during periods of high CPU load. Windows, by design, allows programs to monopolize your CPU without restraint — leading to freezes, hangs, and micro-lags. Process Lasso's ProBalance (Process Balance) technology intelligently adjusts the priorities of running programs so that badly behaved processes won't negatively impact the responsiveness of your PC.
Process Lasso also offers an assortment of ways to take full control of how your CPUs are allocated to running programs. In essence, it is an all-in-one automated Windows process tuner. You can choose at what priority processes should run, and which CPUs should be assigned to them. You can also disallow certain programs from running, log all programs run, automatically restart programs, limit the number of instances of a program, and much more. You can even indicate processes that should induce entrance into the High Performance power scheme or prevent the PC from sleeping. A gaming mode also allows for easy process priority optimization for avid gamers.
Features:
ProBalance

Balance process priorities (or CPU affinities) in a safe, effective manner to improve PC responsiveness during high loads and prevent system stalls and micro-lags. Our technology does NOT do additional foreground boosting, instead it lowers background process priorities where appropriate. Our years of experience have resulted in a highly optimal algorithm duplicated nowhere.

Automated Process Control

Set default priorities and CPU affinities, disallow processes from running, and log events on your system

Power Scheme Automation

Set the power scheme to automatically change to 'High Performance' when certain processes are running, then change back when they exit

Process Watchdog (

in v4 only

)


Terminate, restart, or change CPU affinity when a specified threshold is met

Instance Count Limit

Limit processes to a specified number of instances

Multi-Core Optimization

Through default CPU affinities and ProBalance affinity adjustments, you can optimize your multi-core processor to make the most efficient use of your CPUs (cores)

No System Registry Values Changed

Process Lasso makes NO registry or system setting changes. It does have advanced tools that will enable YOU to make changes if you choose, but we generally do not recommend it (and say so in warnings). Note Process Lasso does store some of its own data in the registry, and we are speaking only of system registry values.

Independent Core Engine

This stand-alone background process can run as a normal process or as a service. This 'core engine', named ProcessGovernor.exe, is what actually enforces process rules and ProBalance. It doesn't need the presence of the GUI (main window) at all. This allows for minimal resource utilization.

Minimal Resource Use

NOBODY uses less resources for this type of task than Process Lasso. It is written in native C++ and continually refined for maximum efficiency. A native 64-bit build also available. Private memory usage by the core engine is typically under 1MB! (depends on system)

Utilizes new features of Windows Vista/7

Makes use of latest features of Windows 7, but maintains full backwards compatibility to Windows 2000!

So much more…

Discover for yourself what Process Lasso can do for yourself
dotTech Advice
Back in September Process Lasso Pro was featured on GOTD and  I wrote a rapid review on it; the final verdict in that review depicts exactly how I feel about this program:
Process Lasso Pro is not meant to make your computer super faster. If you have a Pentium III and you expect Process Lasso Pro to turn it into a quad-core, you will be very disappointed. Process Lasso Pro is intended to help you manage your CPU in the most efficient way possible, preventing rogue CPU usage from causing problems. In that regard, Process Lasso Pro performs extremely well; Process Lasso Pro is a terrific program. I especially like the extra functionality the developer has built-in that goes beyond just rogue-CPU-usage-management. I give Process Lasso Pro two thumbs up and highly recommend it to anyone. […]
If you missed Process Lasso Pro in September this is your chance to get it. If you got Process Lasso Pro in September, this giveaway is of a slightly older version than the GOTD giveaway (v3.80.2 vs v3.84.7) so you don't need to upgrade. However, you may want to consider the following: Process Lasso Pro from GOTD cannot be reinstalled; Process Lasso Pro from this giveaway might be able to be reinstalled. I don't know this for sure, though, so don't quote me.
Freebie Details
Before I tell you how to get Process Lasso Pro for free, let me forewarn of something because I know it may confuse some people. During installation of Process Lasso via this giveaway, the program is calling itself "Process Lasso Special Edition". As far as I can tell "Process Lasso Special Edition" is the exact same thing as Process Lasso Pro, hence why I am calling this a giveaway of Process Lasso Pro. Plus, the installer may call the program "Process Lasso Special Edition" but the registration confirmation page calls its Process Lasso Pro.
That said, to get Process Lasso Pro for free, follow these simple directions:
Version being given out for free: v3.80.2

Free updates: Probably not

Supported OS: Windows 2000 and higher

Download size: 2.1 MB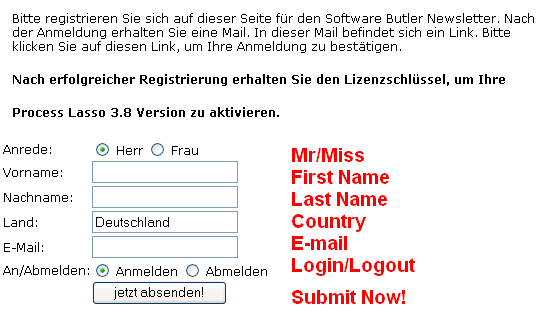 If you do it properly you should get a message similar to the following:
Check the inbox of the e-mail address you registered with. Look for an e-mail from info@dadagoo.com with the subject of Newsletter: Bestätigung. In the e-mail there will be a link you need to follow to confirm your registration: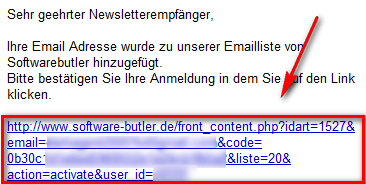 Click on the link and you should be shown the activation code you need to use with Process Lasso Pro:

After the download has finished, unzip the file, and install Process Lasso Pro. (The installer and program are in English.) Take note that both 32-bit and 64-bit versions of Process Lasso Pro come in the download, so be sure to pick the correct one for your computer. Also note that there will be two files present: CPUEaterDemo32.exe and ProcessLasso-32-Bit-Setup.exe (or CPUEaterDemo64.exe and ProcessLasso-64-Bit-Setup.exe, if you are installing the 64-bit version). You only need to run ProcessLasso-32-Bit-Setup.exe/ProcessLasso-64-Bit-Setup.exe – the other program is just a demo program to help demonstrate the capabilities of Process Lasso Pro.
After installation has finished, run Process Lasso Pro and register it with the activation code you received earlier: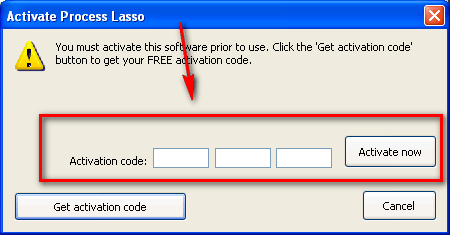 If you have trouble getting Process Lasso Pro, post below and other dotTechies or I will try to help.
Related Posts