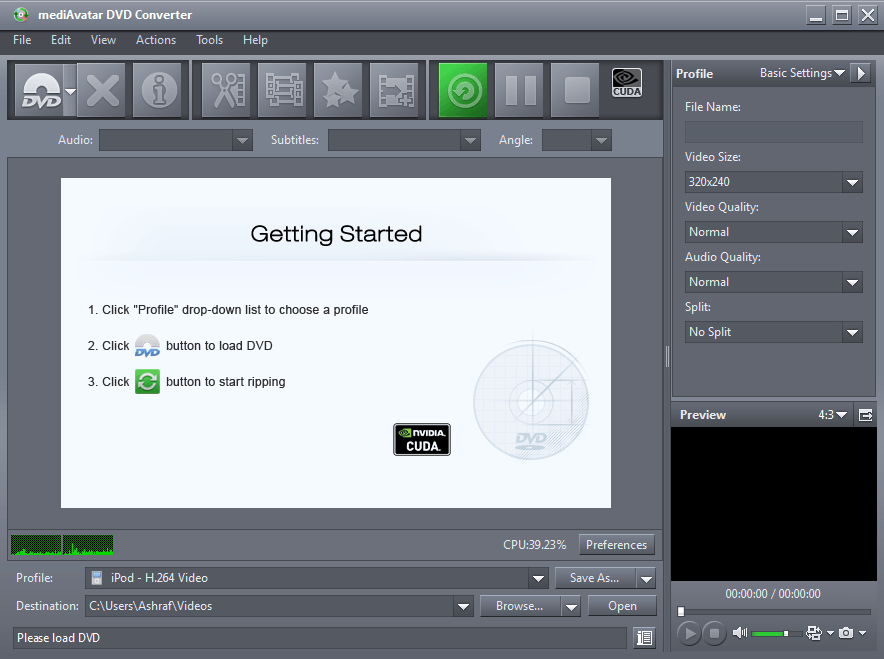 Update: This promotion is now over. Sorry to those that missed it! To avoid missing promotions in the future, consider subscribing to dotTech: RSS Feed | E-mail | Twitter | Facebook.
dotTech is once again doing its thing and bringing you freebies. This time it is a program by the name of mediAvatar DVD Converter, from mediAvatar Co., Ltd. – a name I am sure most dotTechies are familiar with seeing as dotTech has reviewed a couple of their products recently.
mediAvatar DVD Converter is, as the name implies, a program that allows users to rip/backup DVDs to different video formats, including formats specifically configured to work on electronic devices such as the iPhone, iPad, Xbox, etc. The following is a description of mediAvatar DVD Converter, as per the developer:
Overview
Rip and convert DVD to different video/audio formats
Make any DVD movies available on iPad, iPhone, iPod, PSP, PS3, Xbox360, Wii, Android phones, PMPs, and many other multimedia devices
Flexible video editing features: crop, split, merge, crop, add subtitles/soundtrack/watermarks
High DVD ripping speed; easy to handle
Features
Rip DVD to MP3, AVI, MP4, for multiple devices

Rip DVD to AVI, MPEG, WMV, MP4, MOV, DivX, H.264/AVC, RM, XviD, 3GP, MP3, WMA, WAV, RA, M4A, AAC, AC3, and OGG for playing on iPod, iPhone, Apple TV, PSP, PS3, Zune, mobile phone, Windows mobile, etc.

Rip DVD movies and clip, merge

Clip any segment you want to rip from DVD, and merge several segments into one if necessary.

Plentiful and optimized profiles

The DVD Converter offers plentiful profiles, which are all optimized by various multimedia devices with different resolutions, thus you can find the right profile you want in the fastest way.

Set diverse output formats from one

You can concurrently choose diverse ripping formats as outputting to rip one original further for different multimedia devices applications.

High DVD ripping speed

Support multi-threading with no limitation in DVD ripping speed; offer you the highest converting speed.

Split one source file into several

Split one source file into several by customized file size or time with this DVD ripping software.

Advanced audio and video settings

Detailed audio and video conversion settings provided in the DVD Converter such as quality, sample rate, channel and split mode, etc.

Custom profile

Choose from a list of available output file settings or tweak and save your own format settings for future use.

Specify output file size

You can customize output file size with the built-in Bitrate Calculator tool.

Retrieve DVD information online

Retrieve DVD information such as artist name, director, production year and more from the Internet automatically or manually.

Multithreading and batch process

With multithreading and batch process, mediAvatar DVD converter can rip DVD titles at once or selected chapters one by one.

Easy to use DVD converter

Interface and settings are simple and easy to understand, navigating through the powerful DVD ripping software would have users converting DVDs files in no time.
The following are all the input/output formats and electronic devices supported by mediAvatar DVD Converter, as per the developer:
Input File Formats

DVD disk, DVD folder, DVD IFO file, ISO image file

Output File Formats

Video

AVI, MPEG, WMV, MP4, FLV, H.264/MPEG-4 AVC, DivX, XviD, MOV, RM, ASF, MPEG-1, MPEG-2, MPEG-4, Super Video CD Format, Video CD Format, VOB MPEG2 PS Format


Audio

MP3, WMA, AAC, WAV, OGG, RA, M4A, AC3, MP2, AMR, SUN AU Format


Images

Output Devices

iPod, iPod nano, iPod classic, iPod shuffle, iPod touch
iPhone, iPhone 3G, Apple TV
Apple iPad
PSP, PS3
General 3GP mobile phone, BlackBerry, etc.
General MP4 players: Archos, Creative Zen, iRiver, etc.
Windows Mobile devices: Pocket PC, Dell Axim X51, HP iPaq hw6500 series, etc.
Google phones: Nexus One, HTC Hero, HTC G2 Magic, HTC Tattoo, Motorola Droid, Motorola CLIQ, SamSung i7500
Although it is not explicitly stated on the product page or product description, I talked to a mediAvatar Co, Ltd. representative and I was told mediAvatar DVD Converter does bypass DRM protection.
That said, for the next 72-hours (starting 00:00 PST December 15, 2010 and ending 24:00 PST December 17, 2010) everyone can mediAvatar DVD Converter for free! Also part of this 72-hour promotion, dotTechies can get mediAvatar Multimedia Suite at the discounted price of $69.99. mediAvatar Multimedia Suite is an all-in-one suite that includes a DVD converter, video converter, and audio converter.
To get mediAvatar DVD Converter for free, follow these simple directions:
Version being given out for free: v6.0.12 Build 0919

Free updates: Yes, but minor updates only (i.e 6.x updates only)

Free technical support: Yes, but for one month only

Supported OS: Windows XP SP2+/Vista/Win7

Download size: 28.5 MB

Giveaway time-frame: This giveaway starts on 00:00 PST December 15, 2010 and ends 24:00 PST December 17, 2010. You are allowed to install/reinstall the program after this 72-hour time-frame but if you lose the registration key, you will not be provided with another one.


Note: Unless specifically stated otherwise in this article, mediAvatar DVD Converter has not been tested or reviewed by dotTech (aside from ensuring that this giveaway is valid). All the information about the program in this post is based off the information provided on the developer's website. Please do not take this post as an endorsement/rejection or review of the program. This article is simply to inform about the availability of this program as a freebie; nothing more, nothing less.
Visit the promotion page and click on the Copy License Code button. The registration code you need to use for mediAvatar DVD Converter should be copied directly to your clipboard. However, if it is not, you can grab the code yourself because the code is displayed to you have you click the Copy License Code button:
Note: This promotion is available to everyone – everyone may get it for free. However, this is a dotTech.org promotion. Please do not directly link to, copy, paste, share, or reprint the promotion page URL or the registration code anywhere else including private or public forums, blogs, file hosting services, etc. If you want to spread information about this offer, you may link to this article by providing a permalink (alternative permalink) to your audience. If you respect our wishes, we will be able to continue to bring you great freebies. If you don't, we have no incentive to continue our promotions and they may stop.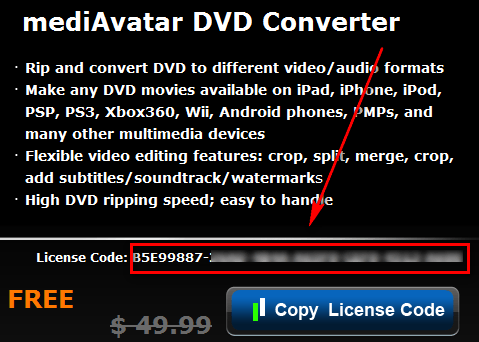 Download and install mediAvatar DVD Converter.
After installation, run mediAvatar DVD Converter. Go to Help -> Enter License Code, and register mediAvatar DVD Converter using any name you want and the license code you were provided earlier:

Enjoy!
(Optional) As a way of thanking mediAvatar Co., Ltd. for this freebie, please provide them with feedback regarding their software in the comments below. Feedback can be anything including but not limited to bugs fixes, desired features, desired changes, ways to improve the program, input on the current price, etc.
If you have trouble getting mediAvatar DVD Converter for free, post below and other dotTechies or I will try to help.
Please only use mediAvatar DVD Converter for legal purposes, as defined by the laws of your country/region. dotTech, Ashraf, or anyone else except yourself is not responsible for any illegal activity conducted with mediAvatar DVD Converter.
Related Posts