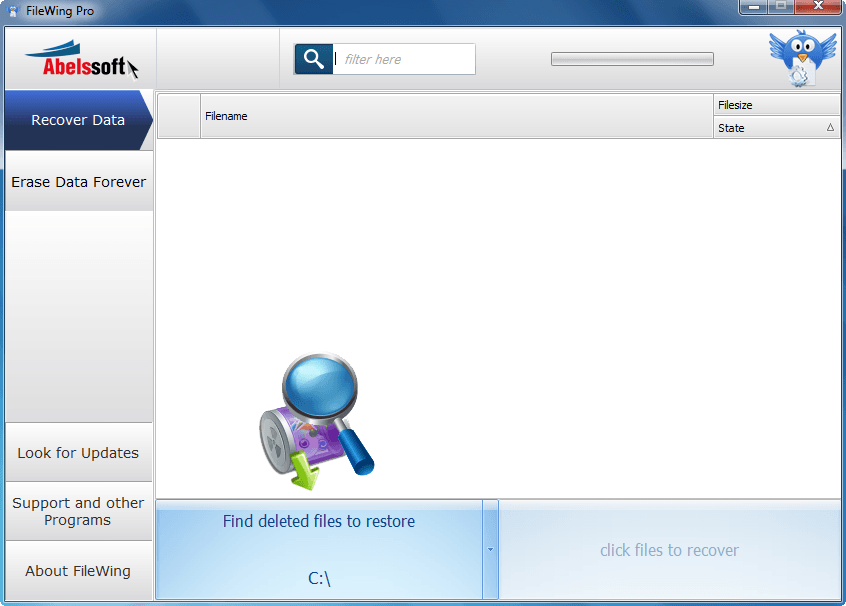 Note: This promotion was originally posted about in December 2010. That particular promotion has ended but a new promotion of the same software is now available. Sorry to those that get double e-mail/RSS/Twitter/Facebook/Google+ notifications!
Software Description
The following is a description of Abelssoft FileWing Pro, as per the developer:
If you delete a file in Windows, this file isn't really deleted. Windows instead intentionally "forgets" where the file is located on the hard disk. It is possible to restore some of these files if they have not been overwritten on the hard disk. Our new tool FileWing can help you recovering unintentionally deleted files and can also help deleting files by overwriting them multiple times, so that they cannot be recovered anymore – by anyone!

FileWing – Features

Checks hard disks

FileWing checks your internal and external hard disks and also USB-drivesand can identify files that have been deleted. If you mistakenly deleted some files, FileWing can recover these files in most cases.

Recovers lost files

FileWing can recover deleted files. Just name a folder where you want to ressurect you files and FileWing will do the rest.

Safely deletes

FileWing uses different mehtods to delete data safely. You can choose between 7 different algorithms, which overwrite the files-to-be-deleted with different patterns from 1 to 35 times. The methods we use are based on scientifically proven algorithms – now you can be sure that your deleted files will never show up again!

AbEasy

FileWing's interface is easily usable. User-friendly wizards help you in every step of file recovery or deletion.

Pro-Version: Overwrite Free Space

FileWing Pro can overwrite unused disk space and so destroy all remains of files should should have been deleted – but are still there. This is the solution that you need if you already deleted your private data without FileWing. Don't take no risks!

Pro-Version: Deep Scan

The free version of FileWing only scans for files that it can recover without problems. FileWing Pro's DeepScan can also recover damaged files – so if you desperately want to recover a partly overwritten document, you are maybe lucky and might be able to get some of the text out of the remains of this file with a text editor. Better damaged than lost!

Pro-Version: Filters

You know what you're looking for? Don't want to see 3000 results that can be recovered? With FileWing Pro's filters you can define what will be looked for before the scan. Documents only? Only pictures? Video? Music? No problem! Filters help you to find the files you want – hiding useless stuff like Windows core files you don't need. Of course you can also build your own filters by entering the file-extensions you want to find.

Pro-Version: Crypto-Format

Even the usual Windows formatting functions can leave traces that specialists can reconstruct. The scientifically proven deletion algorithms that FileWing Pro implements can also be used here, to let any reconstruction after a Crypto-Format be doomed to fail. Dead-sure!
dotTech Advice
Abelssoft FileWing Pro is a program that combines secure deletion and file recovery capabilities under one roof. The secure deletion feature allows users to securely delete files/folders, securely erase empty space, and securely delete whole partitions. The following are all the secure deletion algorithms FileWing Pro supports: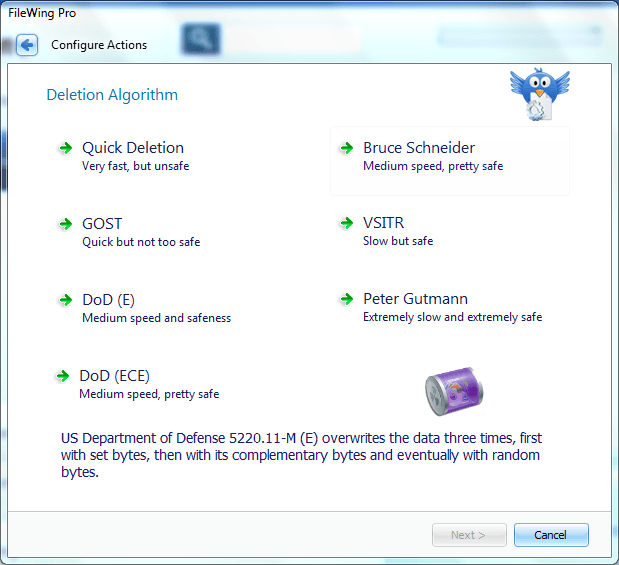 The file recovery features works in two modes, a simple, quick scan and a more in-depth, slower scan: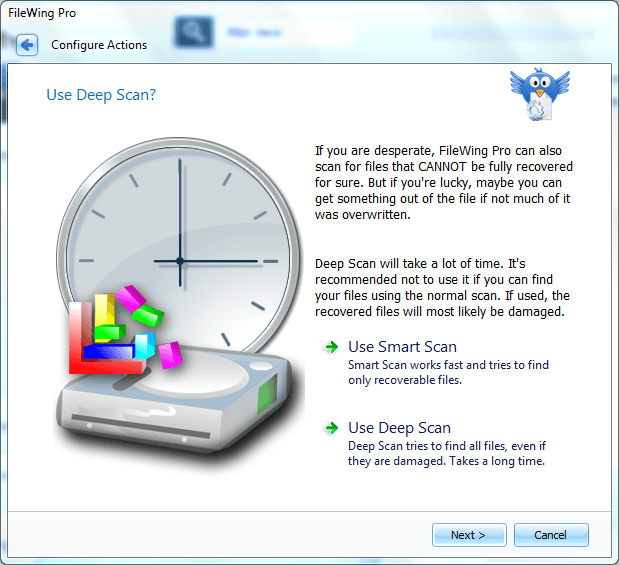 Users are allowed to narrow down their search for specific files using filters and defining exactly the type of file they are looking for: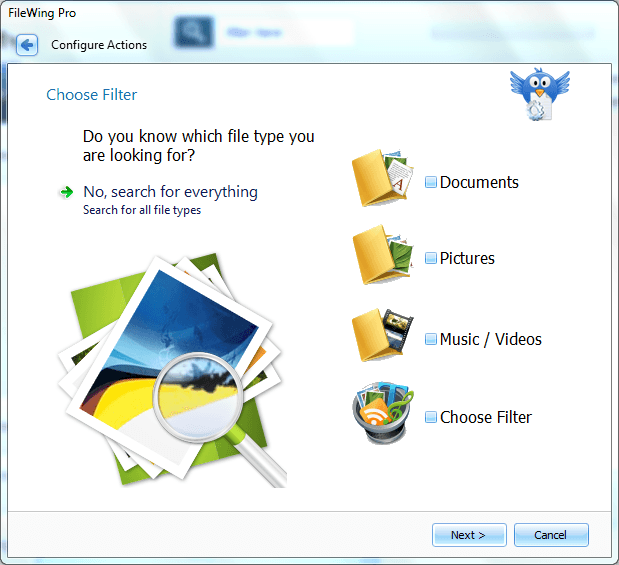 I tested out the file recovery features, using both modes, on a 10 GB partition. The smart scan was very quick but recoverability was only at the level of any basic file recovery software; after all you can't have speed and excellent recoverability when it comes to file recovery procedures. The deep scan took a bit longer, about 25 minutes. The recoverability wasn't much better, but that is not the point of the deep scan; rather, the deep scan is supposed to allow you to recover partial files as opposed to full files.
The secure deletion part of FileWing Pro works very quick; too quick in fact. FileWing Pro conducted a DoD three pass in literally a second for 14 files. Secure deletion, by nature, is a slow process because programs have to go through the deletion process multiple times. While I am not saying FileWing Pro did not properly securely delete the file (I don't know if it did or if it didn't), I am saying it doesn't convince me. In my mind, it just isn't possible to properly apply a DoD three pass in one second when deleting 14 files. Maybe FileWing Pro is a revolutionary superfast program; I don't know. All I know is if I were looking to securely delete important files, FileWing Pro would not put my mind at ease.
Overall, in my book FileWing Pro is nothing to write home about. The features aren't unique and there are questions hovering over it about performance. If you want to give it a try, by all means download it and give it a test drive. I, on the other hand, will be sticking to other software that I know perform well, and you may very well want to do the same:
Secure Deletion
File Recovery
Freebie Details
Abelssoft FileWing Pro is being given away in a promotion by Abelssoft themselves. There is no information on how long this promotion will last nor if you can install/reinstall at a later date.
To get Abelssoft FileWing Pro for free, follow these simple directions:
Version being given out for free: v2.3

Free updates: Unknown – Probably not

Supported OS: Windows XP/Vista/Win7

Download size: 15.3 MB
Download Abelssoft FileWing Pro.
After the download has finished, install FileWing Pro.
At the end of the installation you will be asked to restart your computer. Do so.
After installation, run FileWing Pro and enter your registration details at the register screen: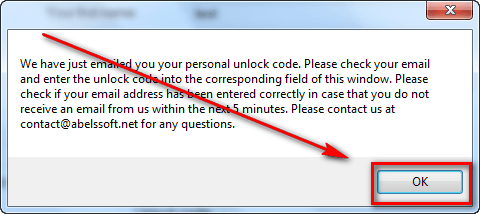 Check the inbox of the e-mail address you registered with. Look for an e-mail from Abelssoft <software@abelssoft.de> with the subject of Abelssoft: Your unlock code. In the e-mail you will find your registration code:

Go back to FileWing Pro and use the unlock code to register the program:
Note: When going to enter the unlock code if you find that FileWing Pro is no longer at the registration screen, simply close the program and reopen it – the registration window will appear again, giving you a chance to input the unlock code.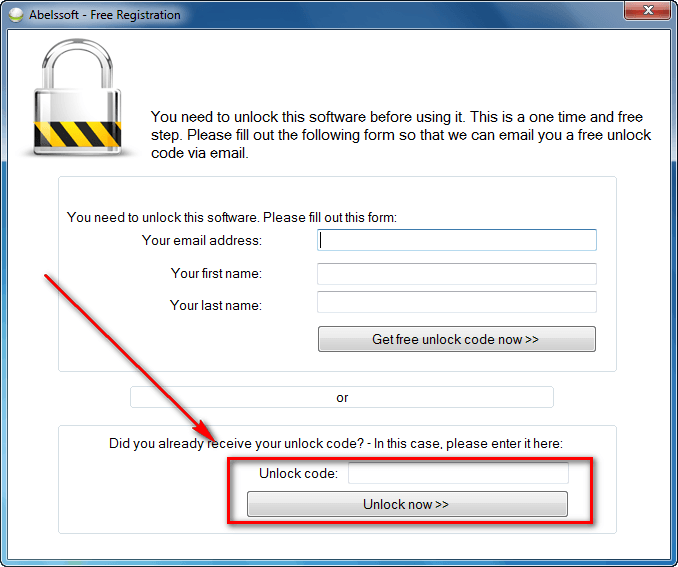 If you have trouble getting FileWing Pro, post below and other dotTechies or I will try to help.
Thanks Murphy!
Related Posts