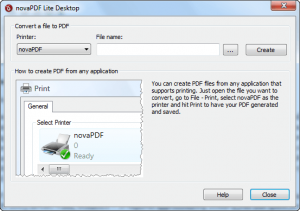 Note: This promotion was originally posted about in July 2011 as a dotTech Promo. That particular promotion has ended but a new promotion of the same software is now available. Sorry to those that get double e-mail/RSS/Twitter/Facebook/Google+ notifications!
Software Description
The following is a quick description of novaPDF Lite, as per the developer:
Using novaPDF, both individual users and businesses are able to create PDF documents and easily share them, making the process of collaboration more efficient. With just a few clicks you can have your company's reports, contracts, workflows, agreements, marketing plans, spreadsheets, forms, products list, price list, charts, emails or other printable documents converted in PDF format. Its purpose is to enable users to exchange electronic documents easier, independently of the application in which they were initially created. The resulted PDF files can be viewed on any computer with a PDF viewer (reader) installed.
This PDF printer driver is compatible with 32/64-bit editions of these operating systems: Windows 2000/XP/2003 Server/Vista, Windows 7. It requires approximately 20MB of free disk space for the installation. It doesn't require third party tools to be installed in order to generate the PDF file (like Adobe Acrobat or GhostScript).
novaPDF allows you to define different private profiles, each with its own printing to PDF settings. This feature is very useful if there are different users using the same computer (and each has different printing preferences) or if you are the only user but need different settings for printing documents.
This PDF creator can generate PDF files with embedded fonts. This means that your PDF files can be read and printed on any system without distributing your font separately, while maintaining the original intended design. Furthermore, novaPDF can embed only the characters used in that document, so that the size of the resulting PDF will be smaller.
You can personalize your documents by setting the document information (title, subject, author, keywords). This feature is useful also if you want to publish your PDF files on the Web, as search engines will index your PDF files and use the document information to display it in the results. Furthermore, novaPDF can create PDF/A compliant PDF files, thus is ideal for long-term archiving of documents.
This PDF printer driver has a lot of features that allows you to: modify the paper size (or create new custom page sizes for large format printing), modify the resolution (from 72 to 2400 dpi), change page orientation (portrait, landscape), embed fonts (support for OpenType, TrueType and Type1 fonts), merge PDF files and lots more. The user interface supports localization and novaPDF is available in several different languages.
dotTech Advice
Similar to Backup4All Lite, novaPDF Lite is a good PDF printer, but the "Lite" edition is the watered-down version of novaPDF Standard/Professional. If I were to rank novaPDF Lite, I would rank it just one step above freewares like CutePDF and doPDF but below freewares like BullZip and PrimoPDF. novaPDF Professional, however, is a very good program and if you are interested in that you can get it with 30% off right now.
The best way I can describe novaPDF Lite is a stepping stone before purchasing novaPDF Standard or Professional. If you are lacking a PDF printer, getting novaPDF Lite is better than nothing. However, if it were me, personally I would look at some of the freeware alternatives or look at purchasing novaPDF Professional.
Freebie Details
novaPDF Lite is being given away in a promotion by Softpedia. The promotion is 24-hours only (December 24, 2011) but the exact end time is not specified. Also there is no information if you can install/reinstall at a later date or not but, based off my past experience with Softland, you should be able to install/reinstall novaPDF Lite at a later date as long as you keep the installer and registration details safe.
To get novaPDF Lite for free follow these simple directions:
Version being given out for free: v7.6

Free updates: Unknown — probably only minor updates
Free technical support: Unknown – probably yes

Supported OS: Windows 2000/XP/Vista/Win7

Download size: 4.2 MB

Please take note that by registering for this freebie you are automatically subscribing to Softland's "regular" newsletter. Unfortunately this is not something I can control and I do apologize for any inconvenience that this may cause. On the bright side, you can manually unsubscribe at any time by visiting the unsubscribe page.
Once you have registered, check your e-mail inbox for an e-mail from info@novapdf.com with the subject of novaPDF Lite registration key. In the e-mail you will find the registration name and registration code you need to register novaPDF Lite with:

Keep this registration information safe because you will need it later.
Download and install novaPDF Lite.
After installation, go to Control Panel -> Hardware and Sounds -> Devices and Printers (this may be slightly different if you are on a Windows 2000/XP/Vista machine – just try to find Printers under Control Panel). Find the novaPDF printer, right-click it, and select on Printing Preferences. Once the Printing Preferences window opens, go to About and register novaPDF using the registration details you were provided earlier.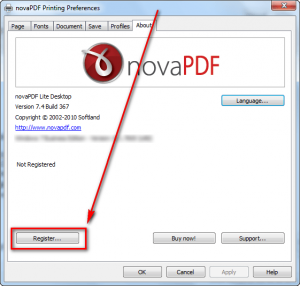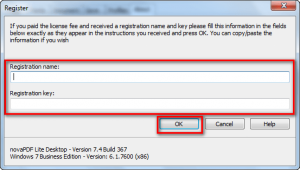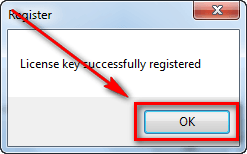 If you have any trouble getting this freebie, please post below and other dotTechies or I will try to help.
Related Posts