Two weeks ago dotTech ran a 72-hour promotion of Returnil System Safe Pro 2011, giving away 1 year licenses for free. The participation in the promotion was great, with thousands of people taking advantage of the freebie. There are, however, always people that seem to miss out on these promotions, and I am sure the Returnil System Safe Pro 2011 promotion is no exception. So if you missed out on the dotTech Promotion, here is your second chance to grab a 1 year license of Returnil System Safe Pro for free.
To quickly recap, Returnil System Safe Pro 2011 is the the successor of Returnil Virtual System Home Lux 2010, and provides users with protection against malware using a two-pronged approach:
Virtual System – Returnil products creates a "virtual copy" of your main system partition (the partition which you have Windows installed) and whatever changes are made to your computer are dumped when you restart your computer (there are opinions to tweak how it does that, but generally speaking, that is how it works).
Anti-Virus/Anti-Malware – Returnil products also includes the traditional anti-virus/anti-malware live protection and on-demand scanning features.
Furthermore, Returnil System Safe Pro 2011 – which typically costs $40 per year – has a free-for-non-commercial-use version Returnil System Safe Free 2011:
(Chart created by the developer.)
If you want more details on Returnil System Safe Pro 2011, refer to dotTech's earlier promotion post or read dotTech's full review on Returnil Virtual System Home Lux 2010.
That said, there is no information on how long this Returnil System Safe Pro 2011 promotion will be available; and there seems to be no shelf-life for the 1 year license – the license will supposedly expire on December 18, 2011 regardless of if you use it or not. So grab this and activate it (if you want this product) as soon as you can; and keep in mind you can always go back to Returnil System Safe Free 2011 when your one year license ends, or you can opt to purchase extra years of service for the Pro version.
To get a 1 year license of Returnil System Safe Pro 2011 for free, follow these simple directions:
Version being given out for free: v3.2.10853.5462-REL7

Free updates: Yes, for one year

Supported OS: Windows XP and higher

Download size: 34.7 MB

Giveaway limitation: This freebie may be for non-commercial use only; there are not details provided regarding this.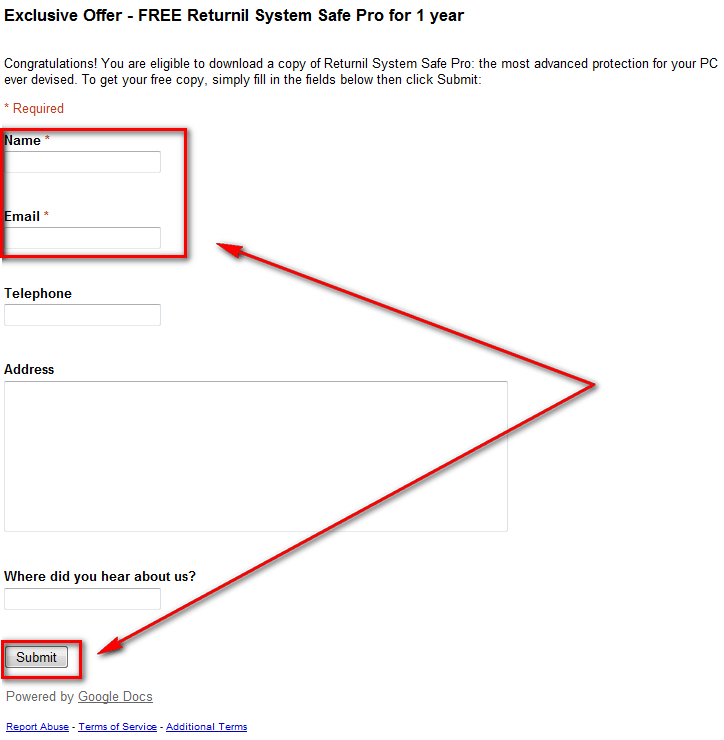 Once you submit the form, you should be given a license code:
Copy the license code – you will need it soon.
Download and install Returnil System Safe 2011.
After installation, you will be asked to restart your computer; restart your computer.
After your computer has restarted, run Returnil System Safe 2011 and register it using the serial number you were given earlier:
Take note that if you don't register it you will be using Returnil System Safe Free 2011, which is always available for free but doesn't have as many features as Returnil System Safe Pro 2011.
Finish the initial setup.
After the initial setup has finished, look at the bottom left of Returnil System Safe's main program window. If it says (registration request pending)…
… you need to wait a few minutes while Returnil's registration servers recognize your registration. When your registration is recognized you will get a popup message telling you so and the bottom left corner should say Registered Pro version:

Once it says Registered version, you are good to go!

Take note, your initial registration may fail if you did not do it properly. (It took me two times to properly register.) If the bottom left corner says Free version that means your registration failed and you will not be able to use the Returnil System Safe Pro features. If this happens to you, click on Register and try to register the program again. Make sure you don't include any spaces after the registration code and use the same name and e-mail address you used when filling out the registration form earlier.
If you have any trouble getting 1 year of Returnil System Safe Pro 2011 for free, post below and other dotTechies or I will try to help.
[via DownloadSquad]
Related Posts