Software Description
The following is a description of Wondershare Video Converter Platinum as per the developer:

Wondershare Video Converter Platinum can directly convert videos, including from HD and AVCHD videos, to popular video formats for playback on all popular portable video/audio players. It's a great tool helping to save most formats of videos on your PC and enjoy them with your mobile device anywhere and anytime as you like. 5X faster conversion speed boosted with NVIDIA® CUDA

Convert videos and audios to various formats

Convert videos and audios to all popular formats;
Convert HD and camera AVCHD videos to common formats;
Extract audio from videos as m4a, wma, wav, mp3, aac, ac3, ape, mka, ogg, etc;
Make converted video compatible with iPad, iPod, iPhone, PSP, PS3, Android phones, etc.

Edit videos freely as you wish

Crop video to create ideal video with different screen size;
Trim your video files to convert your favorite movie clips;
Add special effect to your video such as Gray, Emboss, Negative and Old film;
Add text or image as watermark to coin and color your video files;
Add and edit subtitles with .MKV as source file and plug-in subtitle in SRT format to your video;
Merge more than one file into a single one;
Capture pictures from video and save as jpeg and bmp files.

Advanced setting and optimized profiles

Configure output video/audio settings such as Resolution, Frame Rate, Encoder, Sample Rate, and Bit Rate to produce exactly the wanted video/audio for mobile devices;
Set video brightness, contrast, saturation and volume as you like.

Fast, light and save time

Support batch conversion, to convert more than one file at one time;
The pregame size is only 10MB and takes only few minutes to install;
Provide life-time free upgrade and technical support service.
The following are all the supported input/output formats and electronic devices, as per the developer: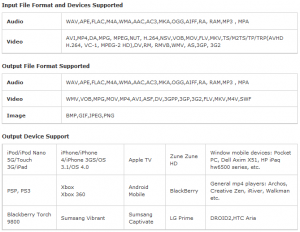 dotTech Advice
Wondershare Video Converter Platinum was reviewed on dotTech almost two years ago. The final verdict illustrates how I feel about the program:
Wondershare Video Converter Platinum is an excellent program; it supports many input and output formats, allows users to perform basic edits on input files, works quickly, and converts with terrific quality. I give Wondershare Video Converter Platinum a thumbs up! […]

[…]If you are looking for a shareware video converter, Wondershare Video Converter Platinum is one of the best; highly recommended.[…]
That said, many iterations of Wondershare Video Converter Platinum have been reviewed or featured on dotTech in the recent past such as Aimersoft Video Converter, iSkysoft Video Converter, and iSkysoft iMedia Converter. If you already have any of these iterations, don't bother with Wondershare Video Converter Platinum; they are the same/similar programs because Wondershare Software owns those other companies. (iSkysoft iMedia Converter is actually even more fully featured.) If you don't have any of these iterations, however, then don't miss this chance to grab Wondershare Video Converter Platinum. It is a brilliant video converter.
However, in the interest of fairness and full disclosure, it needs to be mentioned Wondershare Software has the following ratings on its WOT profile:

It cannot be denied that forum/website spamming played a huge role in Wondershare Software's rise to the top as a dominant software publisher. However, as far as I know, they are now trying to turn their image around and reigning in spam tactics. They are so huge now I am sure they realize the negative PR consequences of spam.
If you decide to not get Wondershare Video Converter Platinum because of Wondershare Software's reputation, I don't blame you. In fact, I respect you. Do note, though, while spam is definitely an ethical issue, it has no relevance to the performance of the program. If you decide to put the spam issue on the back burner and get this program, I don't blame you either. After all, it is a brilliant converter; and Wondershare Software must be given credit for trying to turn its image around.
Freebie Details
I am not sure how many dotTechies know this, but Giveaway of the Day is no longer the only website that features regular freebies. dotTech itself is looking to bring freebies to dotTechies on a regular basis; and there is another website known as BrotherGiveaway. BrotherGiveaway has modeled itself after GOTD and looks to bring freebies to users on a regular basis. Although officially they claim to have a new freebie daily, they typically have new freebies every two to three days. Wondershare Video Converter Platinum is the freebie they are offering for the next three days.
In case you don't want to start following another website, I will now be checking on BrotherGiveaway regularly and be posting the *good* freebies that are being offered there; so you don't necessarily have to follow them to know about the freebies. Rather you can stay here at home and still enjoy them. :-)
(BTW I offered to review BrotherGiveaway products like I do GOTD products; but me and BrotherGiveaway could not come to terms as to how to do it. I wanted the dotTech-BrotherGiveaway relationship to be similar to the dotTech-GOTD relationship but they wanted something else.)
To get Wondershare Video Converter Platinum for free follow these simple directions:
Version being given out for free: v5.0.3

Free updates: Officially, no
Supported OS: Windows 2000 and higher

Download size: 18.3 MB

Giveaway limitation: This is for non-commercial use only

Giveaway time-frame: Giveaway ends 21:00 PST Sunday January 9, 2011.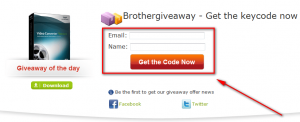 Once you enter your e-mail and name and hit Get the Code Now your registration code will be displayed to you right on-screen:

Download Wondershare Video Converter Platinum from the BrotherGiveaway promotion page.
After the download has finished, install Wondershare Video Converter Platinum.
After installation has finished, register Wondershare Video Converter Platinum using the registration code you received: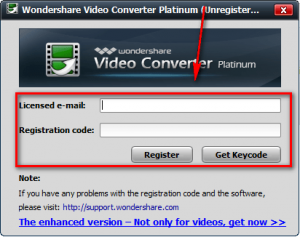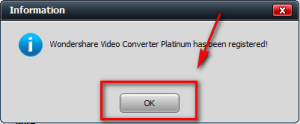 Take note that while you must use the registration code you were provided with, you can use any registration e-mail you want. It need not be the one you entered earlier.
If you have any trouble getting Wondershare Video Converter Platinum for free, post below and other dotTechies or I will try to help.
Related Posts