Update: You may want to stay away from Uniblue and SUMPC2011! There have been multiple accounts of bad things happening to users and computers that have SUMPC on them.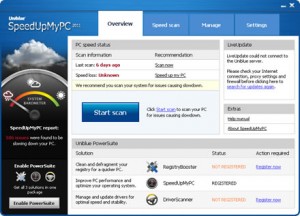 Software Description
The following is a description of SpeedUpMyPC 2011, as per the developer:
The problem:
Is your PC getting slower? With so many different settings, files and processes to monitor, it is hard to identify just what is slowing you down, let alone implement the necessary technical adjustments to recover speed and performance.

The solution:
SpeedUpMyPC scans your computer to identify the processes, files and settings that are slowing you down, before wielding a powerful range of tools to optimize your system for improved performance. With single click simplicity, network settings, RAM and CPU function are all scanned, cleaned and tuned for speed, while junk files are deleted for space. The result is a computer that works faster and better.
dotTech Advice
dotTech hasn't ever reviewed SUMPC, but Cnet's Download.com has:
There's no shortage of software designed to boost, tweak, or otherwise speed up sluggish PCs, enhance your computing security, and clean up your disks to advance both goals. Uniblue Systems' SpeedUpMyPC 2010 describes its mission in its name. It combines several tools in one interface, including a system scanner, RAM optimizer, memory cleaner, start-up manager, and CPU booster, all optimized for the latest versions of Windows.
It was rated a measly 3/5 stars, but in the end they did like it.
Freebie Details
To get SpeedUpMyPC for free, follow these simple directions:
Version being given out for free: v5.1.1.1

Free updates: 12 months


Supported OS: Windows XP and higher

Download size: 5.3 MB

Malware scan: 1/43 detections – VirusTotal scan results

Giveaway time-frame: Unknown
Download and install SpeedUpMyPC 2011.  After installation, fill out the promo page: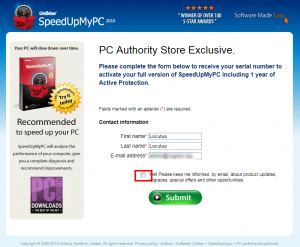 Check your email for your registration code: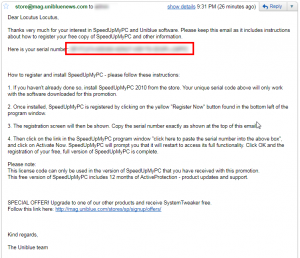 Open up SpeedUpMyPC and click the Register button in the lower left: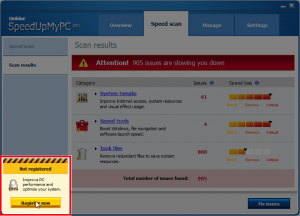 Enjoy! You can now use the program's "full functionality":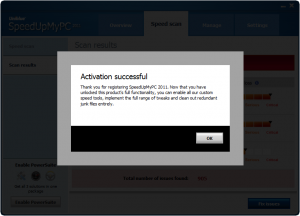 Be sure to go through the settings when you're done and change them to your preferences.
If you have trouble getting SpeedUpMyPC 2011, for free, post below and other dotTechies or I will try to help.
Via DownloadZen.
Related Posts