Software Description
Need to recover a deleted file? What about a deleted partition? Try EASEUS Data Recovery Wizard.  Says CHENGDU YIWO Tech Development Co., Ltd, the developers of EASEUS Data Recovery Wizard:
Advanced and Best data recovery software to do format recovery, unformat and recover deleted files emptied from Recycle Bin or lost data due to partition loss or damage, software crash, virus infection, unexpected shutdown or any other unknown reasons under Windows 2000/XP/Vista/2003/2008/7. It will do an amazing job when the data loss disaster strikes, especially when you want to recover data from formatted drive. Data Recovery Wizard supports hardware RAID and hard drive, USB drive, SD card, memory card, etc. It provides the comprehensive data recovery solution for computer users to recover lost data.
dotTech Advice
Ashraf, who has reviewed EASEUS Data Recovery Wizard in the past, had this to say:
EASEUS Data Recovery Wizard is a good program. However, I give EASEUS Data Recovery Wizard a "reluctant" thumbs up because I feel it is way too overpriced at $69.95.  For $69.95 EASEUS Data Recovery Wizard really is not that impressive; that is not to say it is "bad" but rather I expect more if I am going to pay almost $70 for a program. What won me over and convinced me to give EASEUS Data Recovery Wizard a thumbs up instead of a thumbs down is the fact that users can create WinPE/BartPE bootable disks – that feature is very handy.
However, this is a giveaway. This means you don't need to pay $69.95, $39.95, or even 1¢.
Freebie Details
Version being given out for free: v5.0.1
Free updates: No
Supported OS: Windows 2000+
Download size: 3.7MB
Giveaway time frame: unknown
Instructions
Unlike some giveaways, this giveaway is very simple.  To get EASEUS Data Recovery Wizard for free, visit Ghacks' promotion page.  Scroll down to near the bottom where it says Giveaway. Download the Data Recovery Wizard: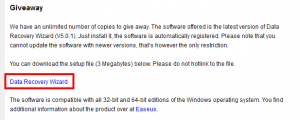 Then simply install EDRW like you would any other program. It will be automatically registered.
[Via Ghacks]
Related Posts