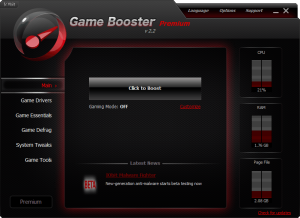 Please note that until Game Booster v2.3 is released you will need to re-enter the registration code after exiting Game Booster.  v2.3 should be released this week.

Software Description
Game Booster Premium is developed by IObit. Says their website:
Game Booster Premium is capable of delivering the best gaming experience to you even if you have an old PC. One-click to boost PC performance is not enough, Game Booster Premium also allows you to tweak your system for top PC performance. By temporarily shutting background processes and unnecessary Windows services, cleaning RAM, and intensifying processor performance, Game Booster Premium concentrates every little system resource for gaming only.

Game Booster Premium is compatible with PunkBuster, Cheating-Death, VAC, and any other anti-cheat software.

Play Games Lag-free:
Using IObit's latest "Enhanced 3rd parties' services detection" technology, Game Booster Premium can automatically detect and close more unnecessary background services, thus more system resources after release will be dedicated to responsive game playing and smooth image displaying. What's more, after tweaking system settings, you PC can run at it top performance, so is your game.
Fast Game Launching and Response:
Game Defrag is another technology in Game Booster Premium that makes game launching faster and game playing more responsive. After defragging the game folder, the game files will be perfected allocated on your disk to allow quickest access and read, so again you are gaming faster!
Keep Your Hardware Drivers Up-to-Date:
PC gamers know how important to install new drivers for modern PC games. Game Booster Premium keeps every game's specialized drivers up-to-date, including drivers for video/sound cards.
dotTech Advice
Although never reviewed by Ashraf, Game Booster has been featured on dotTech before by guest author Kinetix.  The conclusion reached was that Game Booster worked well:
All in all, I believe it to be a very useful program, especially if you have Vista (or XP) as your Operating System and less than satisfactory equipment in your computer rig. Even if your computer is up to snuff, sometimes games are just too much to handle. For example, I have The Elder Scrolls IV: Oblivion on my computer, and I love loading it up with dozens upon dozens of mods. After a while, this can start slowing down the game a bit (especially on Vista). I searched around and found Game Booster, and most of that extra lag caused by the mods went away.
Giveaway Information
Version being given out for free: v2.2
Free updates: unknown
Supported OS: Windows XP+
Download size: 6.6MB
Giveaway time frame: February 21st-27th
With a Facebook account
If you do have a Facebook account, you can simply Share…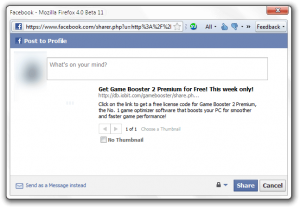 …and click the shared link.  Then just enter the number from the giveaway page!

Without a Facebook account
Although it is a requirement of the giveaway, some people don't want to have Facebook accounts.  Luckily, there is a workaround for those people.
First, click the Share button on the giveaway page.  You can close the login window.  Then, right click the giveaway page and click either View Source (Internet Explorer) or View Page Source (Firefox).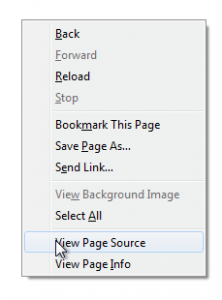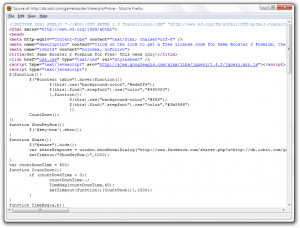 Look for the line that says http://facebook.com/sharer.php?u=.  Copy everything from the http://db.iobit.com/ to the end quotation mark.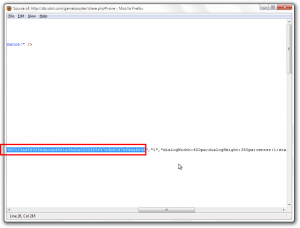 Open a new tab and paste that URL in.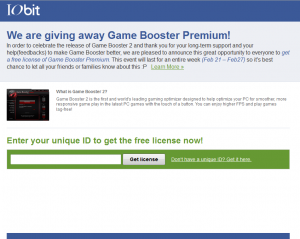 Go back to the first tab and copy and paste the code in.
Installation
When you've successfully gotten a license, just install Game Booster like normal.  Open up the main window by right clicking on the system tray icon and selecting Open Window.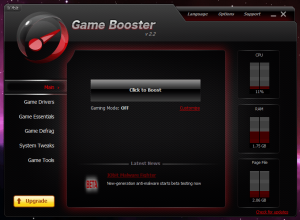 Click the Upgrade button in the bottom left corner.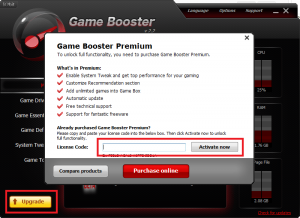 When you click Activate Now, your product will be automatically registered.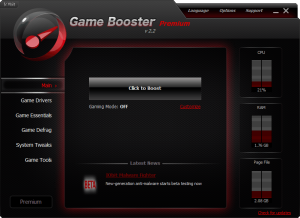 [Via IObit Press letter]
Related Posts