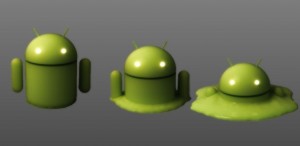 Since their introduction, live wallpapers have been used creatively for many different purposes. Power Puddle is one such live wallpaper.
To put it simply – and the app itself is very simple – Power Puddle allows users to monitor device battery life via a live wallpaper. There is an Android (are those green guys called Androids?) in the background that melts as you use up battery life; the more melted the Android is, the less battery life you have left: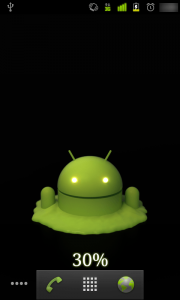 It is as simple as that. Well, almost. There are two customizations users can make to Power Puddle:
Display – or not display – a battery percentage indicator at the bottom

[Note: It appears the indicator is not totally accurate. Sometimes it displays a percentage value 1% higher than what Battery Level displays in Settings/About Phone/Status. For example, Puddle Power may display 30% but actual battery life is 29%.]

Change the background color of the wallpaper
Both settings are modified via Settings, which you access after you have selected Puddle Power to apply as your live wallpaper (i.e. long tap on your homescreen -> Wallpapers -> Live Wallpapers -> select Puddle Power and then you should see a Settings button which you can visit before you set Puddle Power as your wallpaper):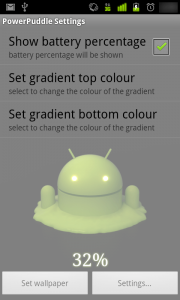 Power Puddle itself is a very simple app, which goes well in its favor because the more complex a live wallpaper is the more battery it will drain. However, there are two changes I would like to see made:
Change the color picker tool for changing background colors ("gradient top colour" and "gradient bottom colour" in Settings). Currently the tool is a color wheel from which one can select any color shade they desire. This is good and all but it makes it very difficult to select one specific color, such as selecting true black for those of us who have Super AMOLED screens.
Give users the option to make the Android change colors as it melts. In other words, be bright green when 100% battery life but work its way to red as battery is drained.
Power Puddle is a free app and can be accessed from the link or QR code below: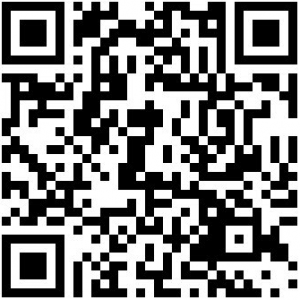 Version reviewed: v2.0.2
Supported OS: Android 2.1 and up
Download size: 9.9 MB
Price: Free
Related Posts