Software Description
The following is a description of Nik Software's Color Efex Pro 3.0 Standard, as per the developer:
Nik Software Color Efex Pro 3.0 is a collection of digital filters that are widely used by many of today's professional photographers around the world to save time and to produce professional level results. The filter set includes traditional and stylizing filters that offer virtually endless possibilities to enhance and transform images quickly and easily. Furthermore, the software incorporates patented U Point technology to provide the ultimate control to selectively apply enhancements without the need for any complicated masks, layers or selections.

Nik Color Efex Pro 3.0 has been significantly updated to provide photo enthusiasts and professional photographers alike with the most powerful yet easy to use, set of photographic filters ever created. DSLR owners will revel in the wide range of quick and easy fixes to dramatically improve their photos with just a few clicks of the mouse. Professional wedding, nature, commercial and portrait photographers will appreciate the speed of workflow and advanced features designed to support uniquely creative styles and deliver class-leading power.

The Complete Edition provides 52 filters [Standard Edition has 15 filters] that can be combined to produce an extensive range of effects including high quality retouching, color correction and endless creative enhancements to your photographs. The result is nothing less than the most complete, most useful, collection of photographic filters you can add to your toolkit.


52 [15] Powerful Filters


The filters in Color Efex Pro 3.0 range from creative enhancements and special effects to re-touching tools and conventional film emulation filter effects. Click Here to see a complete list of filters with descriptions and before/after samples.

U Point Technology

The Award-winning U Point technology gives you ultimate control to selectively apply enhancements without the need for any complicated masks, layers or selections, and makes it easy to selectively add, modify and remove a filter effect using convenient sliders. Additionally, some of the latest filters in Color Efex Pro 3.0 provide unique functionality based entirely on the U Point technology.


Resizable Interface

The extensively reworked interface in version 3.0 is the result of both deep study into the look and feel that professional photographers expect in modern applications and requests from Nik Software users. The completely resizable interface lets you easily accommodate large monitor configurations, preview before and after results, and quickly access the entire range of unique tools to match your workflow. In addition, it is color-neutral with a medium-gray background and it groups major controls close together for greater efficiency, letting you achieve excellent results in less time.


Powerful Selective Tool

Unique among photographic filter software on the market today, the Color Efex Pro 3.0 Selective Tool allows you to quickly and easily brush any filter effect into your image. Layers and masks are created automatically, so you are free to create and experiment unfettered. Color Efex Pro 3.0 makes this access more convenient by giving you the choice of selectively applying the filter in the Filter Interface. This lets you launch the Color Efex Pro 3.0 interface from either the Selective Tool or the Filters menu.
dotTech Advice
Update: Please note this particular freebie is of the standalone version of Color Efex Pro 3.0. It does not require Photoshop to run.
Despite the awkward naming convention of having a "Standard" edition of a "Pro" software, Color Efex Pro 3.0 is an interesting soft. To put it simply, it is a software aimed for people who need photo manipulation capabilities. The idea is to use Color Efex Pro 3.0's filters to modify/enhance your image as you see fit. (The Standard version comes with 15 filters: Brilliance/Warmth, Burnt Sienna, Color Stylizer, Contrast Only, Detail Stylizer, Graduated Filters, Ink, Old Photo, Pastel, Polarization, Remove Color Cast, Saturation Stylizer, Skylight Filter, Solarization, and Sunshine.)
As I am sure most regular dotTechies know, I am not a right-brained man at all. However, using my left-brained analysis skills, to me it looks like Color Efex Pro 3.0 is a good software – because of how easily it allows users to modify images – in its complete form which has 52 filters; the 15 filters in the Standard edition, while useful in select cases, are not very awe inspiring. Combine that with the fact that Color Efex Pro 3.0 is at least two years old (Color Efex Pro 4.0 is the latest version) and I come up with the conclusion of Nik Software's Color Efex Pro 3.0 Standard being a so-so offering.
But, hey, who am I to judge? I am a geek with no appreciation for the arts. If you feel in touch with your inner photographer, feel free to grab this and make up your own mind. Worse that can happen is you waste an hour of your time; best that can happen is you end up dropping a couple Benjamins on Color Efex Pro 4.0 Complete.
Freebie Details
Color Efex Pro 3.0 Standard is being offered by German magazine CHIP.de. According to the broken German I translated by myself using Google Translate, this freebie is available until December 5, 2011. Presumably that means December 5, 2011 11:59 PM German time. Oh and don't worry — the promotion may be German but the program is in English (with the option of being in German, if you are into that kind of thing).
To get Color Efex Pro 3.0 Standard, follow these simple directions:
Version being given out for free: v3.1.0.9
Free updates: No
Free technical support: Unknown
Download size: 25.3 MB
Supported OS: Windows XP/Vista/Win7 and Mac OS X 10.5+
Visit the promotion page, enter your e-mail address, pick your operating system (the drop down menu), and click Download starten: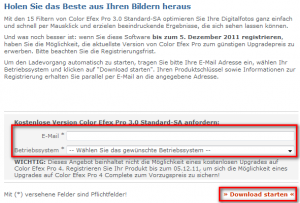 Once you fill out the form and click Download starten the download will start automatically. While you wait for the program to download, check the inbox of the e-mail address you entered. Look for an e-mail from Nik Software serviceeu@niksoftware.com with subject of Nik Software – Ihr Produktschluessel. In the e-mail you will find your product key: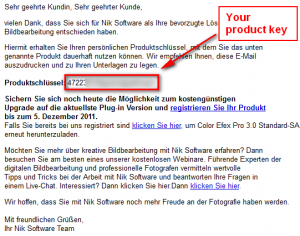 Copy the product key 'cause you will need it very soon.
After the program has finished downloading, install it. As mentioned earlier, everything will be in English unless you specifically tell the program to be in German.
After installation, run it. The first time you will see is a registration window. Register  Color Efex Pro 3.0 Standard using the product key you received via e-mail (the names and company can be anything you want):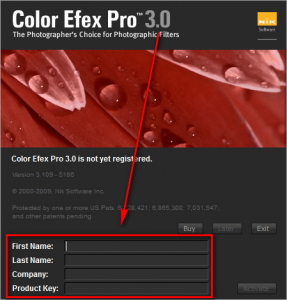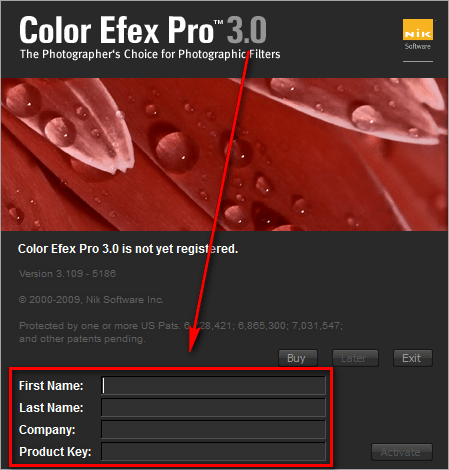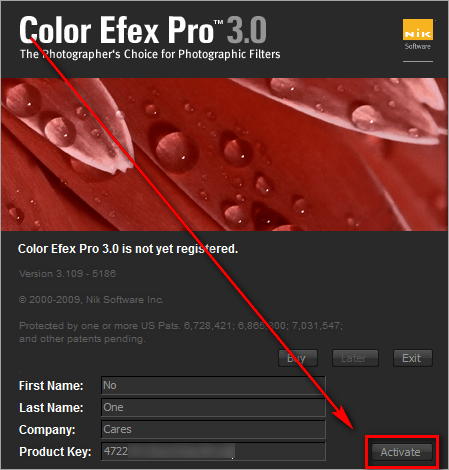 If you have trouble getting  Color Efex Pro 3.0 Standard for free, post below and other dotTechies or I will try to help.
Thanks to Ashraf's inner vigilance for finding this promo.
Related Posts