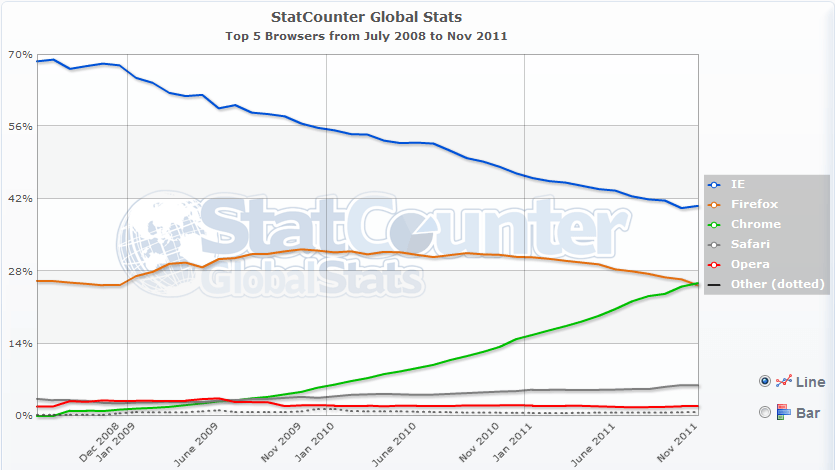 A few months ago in one of my classes a Chrome fanboy proclaimed how "popular" Chrome is and how "everyone must be using it". At the time a friend and I scoffed at him, partly due to his fanboyism and partly due to the fact we knew Chrome wasn't as popular as he claimed. Turns out the joke may be on us. According to StatCounter, a web analytics company, Google Chrome (25.69%) is now the second most popular Internet browser worldwide, recently surpassing Firefox (25.23%). Internet Explorer is still #1 but its market share is now 40.63% — a shadow of its dominating 70%+ a few years back.
It is important to note the above-stated statistics are a worldwide aggregate and are only from one source. In other words, actual usage may differ from country to country and region to region; and other analytics sources may show slightly different numbers. However, the general trends shown above – Chrome up and Firefox/IE down – will most likely be consistent across countries, regions, and sources.
Who would of thought just a few years after launch Chrome would rise to number 2? There's the tech world for ya'. Feel free to reflect in the comments below.
Hit up the link below if you are interested in viewing the usage stats on your specific country or of a different time period.
[via Engadget]
Related Posts