Software Description
The following is a description of CDRWIN 9 Basic, as per the developer:
Direct copy of data-CDs/DVDs (incl. computer games) and audio-CDs
Burning and creation of ISO-, BIN- and XMD-images as well as Cue-Files
Authoring of Orange Book-compatible data-CDs (CD-ROM, CD-ROM/XA) as well as data-DVDs and Blu-ray discs. Also suitable for creation of MP3- and h.264/MPEG-4-CDs/ DVDs & Blu-ray discs.
Automatic setting of the platform-overlapping ISO 9660-file system and the Windows Joliet file system for display of long file names and complex directory structures.
Authoring of Red Book-compatible audio-CDs (CD-DA) in Disc-at-Once-mode with manually adjustable track breaks and CD-Text.
Support of Disc at Once (very important e.g. for standard-compliant creation of audio-CDs and when copying from CDs/DVDs), Track at Once (important in case data-CDs are to be extended retroactively) and Session at Once (CD-extra).
Ripping of audio-CDs in MP3/WMA or WAV. Supports the reading of CD-Text, freedb.org and the manual input of title information
freedb-data can be edited and are stored locally in a cache
UDF support for burning DVD structures
Fast or complete deletion of re-writable media
Caching system for optimization of system configuration and guarantee of safe burning procedure.
Support of all known blank CD sizes from 21 to 99 minutes length, CD-R, CD-RW, DVD+R, DVD-R, DVD+RW, DVD-RW, DVD DL, DVD-RAM, BD-R and BD-RW. Overburning of CD-Rs is also possible.
Support of various techniques for buffer underrun protection, e.g. BurnProof.
Multi-Session support for data discs
Audio- and data projects can be stored and loaded
Retroactive finalizing of CD/DVDs/Blu-ray discs possible
Future-proof: automatic support for new burners. More than 1000 burners tested successfully, among others Acer, ACTIMA, AOpen, APACHI, ARTEC, ASUS, BTC, Compaq, CenDyne (Verbatim), Creative Labs, Cyberdrive, CyQ've, Delta, DynaTec, Dysan, Freecom, Fujitsu Siemens, Goldstar, Grundig, Hewlett-Packard (HP), Hightech, Hi-Val, Imation, Iomega, JVC, Kodak, LaCie, LG, Lifetec, Lite-On, Media FORM, Medion, Memorex, Mem-Up, Micro Solutions, Microboards of America, MicroNet Technology, Mitsubishi, Mitsumi, Mustek, Nec, Olympus, Optima, OTI, Pacific Digital, Panasonic (Matsushita), Philips, Pinnacle, Pioneer, Plasmon, Plextor, Procom Technology, QPS, R-Quest, Ricoh, Samsung, Sanyo, Smart & Friendly, Sony, Taiyo Yuden, TDK, Teac, Terratec, Tevion; That's write, Toshiba, Traxdata, Turtle Beach, Waitec, Wearnes, Yamaha etc… CDRWIN 9 probably works with any drive that is presently on the market. Even a large number of old drives that were released before 1998 should be supported.
Supports ATAPI-, SCSI-, SATA-, Firewire- and USB-drives
Includes an ASPI driver for Windows
Incl. ATIP and ADIP-display
Incl. sector viewer of discs
Support for Drag & Drop

*CDRWIN 9 is not able to copy DRM-protected audio-CDs, DVD-videos and single DRM-protected audio files.
dotTech Advice
CDRWIN 9 Basic provides users with all the basic disc burning functionality (no pun intended). It allows users to burn audio CDs, video files, images (ISO/CUE/BIN/XDH), burn data discs, and copy discs (including audio CDs). Providing this functionality is good, yes; however, the question is why would anyone want to jump through hoops to get a freebie that provides nothing over freeware or other freebie alternatives? I don't see any glaring reasons.
I personally don't even use any third-party burning software (the native burning capabilities of Windows 7 Professional are enough for me); but if I were to look for a third-party burning app, I would consider the likes of ImgBurn, Ashampoo Burning Studio Elements, StarBurn, InfraRecorder, andCDBurnerXP — all are either permanent freebies or freeware.
Feel free to grab CDRWIN 9 Basic if you want it but unless someone can provide me of a viable reason why this software is better than any of the alternatives I mentioned above, my advice stands.
[The "Basic" version of CDRWIN 9 does not have any of the features shown under the Tools and Video sections of the main program interface. See the first screenshot above to learn exactly what they are.]
Freebie Details
CDRWIN 9 Basic is being given away in a promotion run by PC-Welt. There is no information on if it is time limited or if you can install/reinstall at a later date if you wish. So grab this while you can, if you want it. The program is in English even though this is a German promotion.
To get CDRWIN 9 Basic for free, follow these simple directions:
Version being given out for free: v9.0.11.0800
Free updates and technical support: Unknown
Supported OS: Windows XP/Vista/Win7
Download size: 21.5 MB
Download and install CDRWIN 9 Basic.
At the end of the installation a window will popup asking you to submit your e-mail address to get the registration key: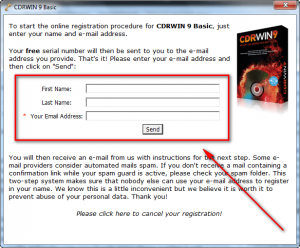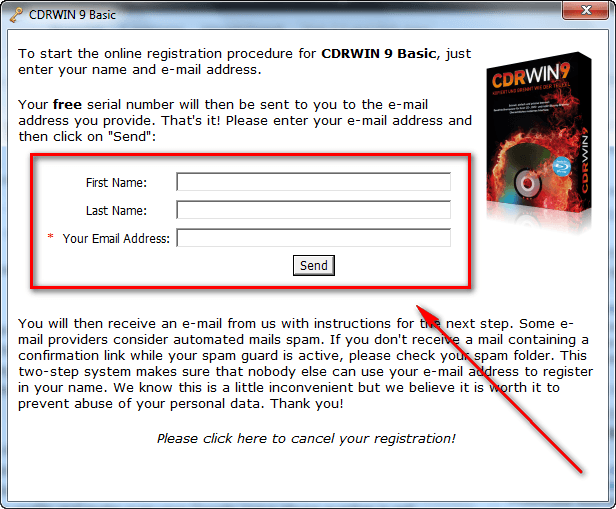 You are welcome to end your first name and last name, but you are only required to enter an e-mail address. Hit Send after you have entered an e-mail address.
After you hit Send, if you have done it properly, you will be shown a success message: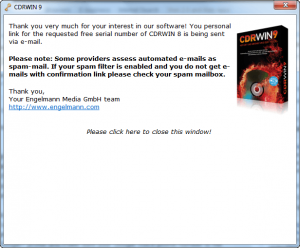 Close this window.
Check the inbox of the e-mail address you registered with. Look for an e-mail from Engelmann Media GmbH respond@engelmann.com with subject of CDRWIN 9 Basic. In the e-mail there is a link you need to follow: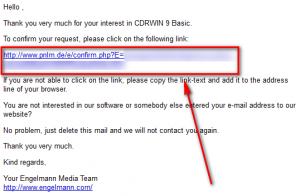 Click on the link or copy + paste it in your web browser.
After clicking on the link you should be shown another success message:

Close this tab/window.
Again check the inbox of the e-mail address you entered. Look for an e-mail from Engelmann Media GmbH respond@engelmann.com with subject of Serial number CDRWIN 9 Basic. In the e-mail you will find your serial key for this freebie: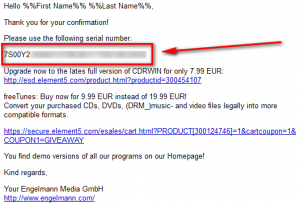 Copy the serial key.
Run CDRWIN 9 Basic and register it using the serial key you just received: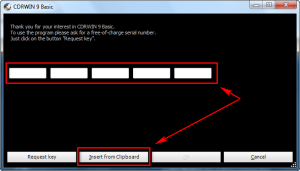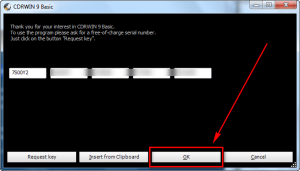 If you have trouble getting CDRWIN 9 Basic for free, post below and other dotTechies or I will try to help.
Related Posts