Software Description
The following is a description of CrazyTalk 6, as per the developer:
CrazyTalk 6 focuses on animating the faces and gives you the power to import any photo or image into the fitting wizard and bring it to life with easy auto lip-sync. Add emotion to your actor with emotive one-click mood animations and have full control of custom facial expressions with a few clicks. CrazyTalk 6 is a great match for beginners, students, educators and all users that need an easy-to-create solution with instant results.

Model

Transform Your Image into an Actor

Go from image to animation
Enhanced facial fitting
Natural life-like head movement
Editable teeth, mouth, lips and eyes

Script

Animate Actor Voice, Emotion & SFX

Automatic audio lip-synching
Puppeteering with your mouse
Real-time puppeteering recording
Easy animation with Emotives

Stage

Actor's Stage & Timeline Control

Stage multi-actor dialogue
Unique actor timeline tracks
Camera system and keyframing

Output

Export & Application

MPEG-4, NTSC, PAL and HD
Flash FLV, TGA, BMP Sequence
3D Stereo Vision Output
YouTube video direct publishing
Advanced web output
Take note the above description is of the features in CrazyTalk 6, the full version. CrazyTalk 6 SE ("Special Edition") is limited on some features; the table below, created by the developer, lists out these limitations:
Click on table to view it in full size.
dotTech Advice
The power of CrazyTalk is how easy it is to use. I have no prior modeling experience, nor am I the creative type; so it goes a long way when I say in less than five minutes I was able to animate an image of a person and make him say whatever I want. Sure the animation wasn't perfect – because I didn't spend too much time making sure all the animation points lined up properly with the image – but it worked very well.
What makes the package even sweeter is there are templates and sample models one can use to learn the program; or you can import images from your hard drive or snap a new photo with your web cam. Once you import an image (whether from your hard drive or web cam) you are lead through a step-by-step process of animating the object(s) on screen. (They need not be just people — it works on animals, too.) After images are animated, you write the script you want them to speak (you type it in, or select from any of the examples). Then you output it as a movie. Simple.
For novices who want to play around with animations, CrazyTalk 6 SE is a fun software to have. If I can animate images then anyone can. Experts, on the other hand, may find the limitations on CrazyTalk 6 SE to be cumbersome; I am not an expert so I can't say for sure. If you are an expert, feel free to download this and evaluate it yourself. Who knows, you may find yourself purchasing the upgrade.
Freebie Details
CrazyTalk 6 SE is being given away in a promotion run by What Digital Camera. There is no information on if it is time limited offer nor is there information on if you can install/reinstall at a later date. My guess, however, is this is a time limited offer, hence why I marked this as a limited time offer in the title; I just don't know how long this will be available. So grab this while you can, if you want it.
To get CrazyTalk 6 SE for free, follow these simple directions:
Version being given out for free: v6.21.1921.1 SE
Free updates and technical support: Unknown
Supported OS: Windows XP/Vista/Win7
Download size: 84.5 MB
To use CrazyTalk 6 SE, the developer asks you register an account with them. Registration is free but requires a valid e-mail address. So visit the registration page and register: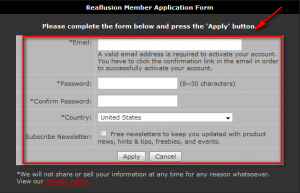 After you register check the inbox of the e-mail address you registered with. Look for an e-mail from no-reply@reallusion.com no-reply@reallusion.com with subject of Reallusion Membership Activation!. In the e-mail there is a link you need to visit to confirm you registration: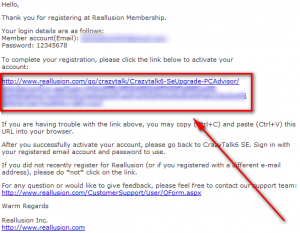 Once you confirm your registration, download and install CrazyTalk 6 SE.
After installation, run CrazyTalk 6 SE and login using your login details: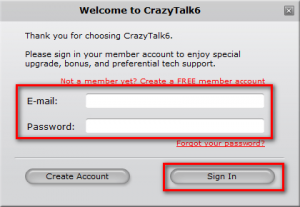 If you have trouble getting CrazyTalk 6 SE for free, post below and other dotTechies or I will try to help.
Thanks Jeanjean!
Related Posts