eBook Description
The following is a description of PC Security Guide, as per the authors:
For better or worse, more of our daily activities are spent on the Internet. We stay in touch with friends and family, post those fun vacation photos for all to see, check out the latest movies, look up interesting things to buy, and much more.

But we're also putting more and more sensitive personal information on the Net, such as when we manage our online banking and investments, pay our bills, and purchase those movie tickets with our credit cards. That online activity comes with significant risk — and it's a threat that's becoming difficult to counter.

Each of us is now faced with the daunting task of protecting ourselves and our families in the virtual worlds we travel. To make the job a bit easier, the editors of the Windows Secrets Newsletter have compiled some of the best security stories from our archives.

The PC and Internet Security Guide is a concise e-book that provides simple and straight forward advice for secure computing. It's designed to give you the fundamental tools you'll need to protect your PC and personal information from most online threats.
dotTech Advice
PC Security Guide is a 58-page eBook by the folks at Windows Secrets. I haven't read it but Windows Secrets has a reputation for being a good source of sound advice, so it is probably worth your while to grab this while it is free (usually costs $9.95) and glance through it if you have free time. Or read it all immediately if you are really zealous about your cyber security.
Freebie Details
This freebie is sponsored by Windows Secrets themselves but it is being offered for free through TradePub, an online magazine publisher. This promotion is live until December 6, 2011 but it is in PDF format, so once you save it on your hard drive you can access it whenever you want.
Before I tell you exactly how to get this eBook for free, I must warn you the form TradePub asks you to fill out is very, very, very extensive. So either you must be willing to provide a lot of data about yourself to TradePub or you must be willing to… lie. Now I am not encouraging people to input false information (dotTech and Ashraf are not responsible for any fraud you commit); I am just saying it is possible. Also note if you have a LinkedIn account you can login with that.
That said, to get PC Security Guide for free, do the following:
Visit the promotion page and register (or login, either with your TradePub or LinkedIn account):
Check the inbox of the e-mail address you registered with. Look for an e-mail from thanks-www@tradepub.com with subject of Download Your Requested Windows Secrets eBook. In the e-mail you will find a link to download PC Security Guide: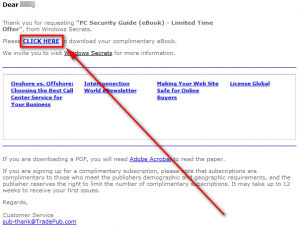 The eBook is in PDF format. If you have a PDF reader plugin installed in your browser the eBook will open directly inside your browser. If this is the case for you and you would rather save the eBook directly onto your hard drive all you have to do is right-click the CLICK HERE link and click on Save Link As… (or the Save Link As… equivalent for your browser). This will download the eBook directly onto your computer.
If you have trouble getting this eBook for free, post below and other dotTechies or I will try to help.
[via TipRadar]
Related Posts