Software Description
The following is a description of MoneyFox 2012, as per the developer:
Do you want to keep track of your finances?

Manage Your Finances
Organize your incomes and expenses in categories
Create recurring bookings with reminders
Create stunning reports and statistics

MoneyFox – features overview

Keep track

With the summary view and the transaction list, you can keep track of your finances quickly and efficiently and see immediately where your money goes.

Keep an eye on your financial histroy

The statistics page provides you configurable statistics, where it is possible to evaluate the financial situation over a long time period.

Create a profile easily and comfortable

For creating of new profiles a wizard asks all the necessary data and pre-configures certain settings.

Protect your financial data

Save your profile with a password to protect your information from the eyes of others.
dotTech Advice
Abelssoft MoneyFox 2012, as you may have gleaned from the description above, is a personal finance management tool. It allows users to track their finances. Not having personal or professional experience with finance management tools, it is hard for me to criticize or praise MoneyFox because I have nothing to compare it against. However, taking a quick look at it, it looks like MoneyFox offers the basics of what one would expect from a finance management tool.
MoneyFox allows users to create multiple accounts, with each account being able to be a different type (bank, credit card, etc.) and in a different currency* (if you want — they can all be the same type and/or currency, if you wish). Expense, income, and transfer transactions are made to/from an account(s); each transaction is categorized into a specific category, to/from a specific payee, and each transaction can take place in a different currency. Comprehensive reports allow users to get a visual on their finances over a specified period of time.
*MoneyFox supports all the major currencies – dollar, euro, pound, and yen – plus many, many minor currencies such as the rupee, peso, etc.
One thing I like about MoneyFox is the fact that it supports multiple profiles and each profile can be password protected. On the other hand, however, there doesn't seem to be an obvious way to switch between profiles; or if there is one, I have not found it yet. Update: The reason I couldn't change profiles is because by default MoneyFox is set to load the default profile only. Once you disable this setting (under Configuration -> Settings -> uncheck Use As Default Profile) you are prompted to pick a profile to load every time you run MoneyFox.
The other thing I like about MoneyFox is it automatically downloads the latest currency exchange rates whenever you run the program. Where does it download them from, i.e. what is the accuracy of the rates it downloads? I am not sure, but it does download them.
The only major issue I found with MoneyFox is with the Payees feature. In my mind there should be a different category for people/organizations you are paying (i.e. expenses) and people/organizations that are paying you (i.e. income). MoneyFox disagrees — it dumps both types of people/organization into one heading, marking them all as payees.
As I mentioned above, I don't have much experience reviewing or using personal finance management tools, so this advice section is probably not as useful as for other freebies. However, the general feeling I get about MoneyFox is it offers the minimum of what one expects in a personal finance management tool — nothing more, nothing less.
If you are experienced with this type of soft, please share with us in the comments below what you think about MoneyFox.
Freebie Details
Abelssoft MoneyFox 2012 is being given away in a promotion run by CHIP. There is no information on if it is time limited offer nor is there information on if you can install/reinstall at a later date. My guess, however, is this is a time limited offer (probably 24-hours), hence why I marked this as a limited time offer in the title; I just don't know how long this will be available. So grab this while you can, if you want it. The program is in English even though this is a German promotion.
To get Abelssoft MoneyFox 2012 for free, do the following:
Version begin given out for free: v2012.21
Free updates and technical support: Unknown
Supported OS: Windows XP/Vista/Win7
Download size: 24.2 MB



After the download has completed, install MoneyFox 2012.
After installation, run MoneyFox 2012.
When you run MoneyFox 2012, you should see a registration window. Enter your e-mail address and the Get free unlock code now >> button: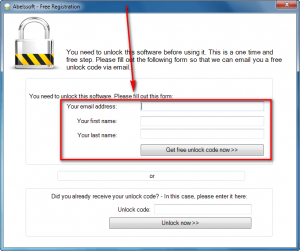 You can also enter your first and last names but you are not required to do so.
Once you have entered your e-mail address and hit the Get free unlock code now >> button, a message will pop up; close it by clicking OK: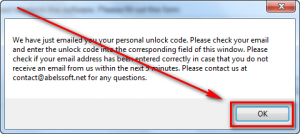 Once you close the pop up message, the unlock code should automatically appear in the Unlock code field at the bottom of the registration window: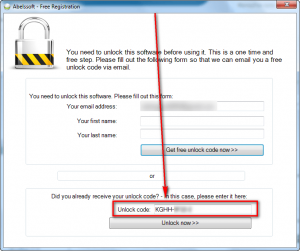 If the unlock code appears for you automatically, allow you have to do is click Unlock now >> and you are done. If, however, the unlock code does not appear for you automatically, you need to grab it from your e-mail. So open the inbox of the e-mail address you entered. Look for an e-mail from Abelssoft software@abelssoft.de with subject of Abelssoft: Your unlock code. The e-mail will contain your unlock code:
Copy the unlock code from the e-mail and paste it into the Unlock code field in the registration window; then hit the Unlock now >> button and you are done.
If you have trouble getting Abelssoft MoneyFox 2012 for free, post below and other dotTechies or I will try to help.
Related Posts