Software Description
The following is a description of O&O MediaRecovery 6, as per the developer:
These days we save practically everything on some digital device, be that cameras, MP3 players or computers. But we can still lose things, just like we did in the "paper days"!

O&O MediaRecovery is designed to rescue data from removable drives such as MP3 players, digital cameras, memory cards (e.g., SD, MMC, xD as well others), hard disks, and, of course, devices such as the Apple iPod. Simply install O&O MediaRecovery on your computer and connect the storage volume from which you wish to recover data. After the program starts, the O&O MediaRecovery wizard guides you step by step through the recovery process so that you will quickly regain access to your lost data.

After completion of a scanning process, you can even view the files that are capable of being restored before you decide which ones you'd like. The preview function of O&O MediaRecovery supports most picture formats, including JPEG, BMP, and TIF.

Important Features at a Glance

Quick search for files, even on very large storage volumes
Recognizes and restores over 80 File types (all standard graphic, video, and music formats)
Supports all Wiindows-compatible hard disks, removable drives, memory cards, USB Sticks, CompactFlash , and most digital cameras
Recovers data on storage volumes whose files have been damaged or destroyed by malfunctioning software
dotTech Advice
Utter disappointment. What is utter disappointment, you ask? O&O MediaRecovery 6 is utter disappointment. Maybe I had too high hopes for this software based on the developer's reputation; or maybe I am just cranky in the middle of the night. Whatever the case may be, I find O&O MediaRecovery 6 to be disappointing.
O&O MediaRecovery 6 appears to be a mix of O&O UnErase and O&O DiskRecovery. When you tell O&O MediaRecovery to scan a partition/disk, it first runs O&O UnErase then it runs O&O DiskRecovery; the scan results are segregated under each respective scan. For what it is worth, O&O MediaRecovery is very fast or very slow depending on which type of scan you select (scanned 10.4 GB in about three minutes with type of scan while almost four hours for 150 GB with another type of scan); it is very easy to use (step-by-step walk-through guides you through the whole process); and it allows users to preview select types of files, and supports internal as well as external storage devices. The problem, however, is it doesn't perform very well.
Whenever a file/data recovery software performs very quickly that should immediately raise a caution flag in your mind. The process of recovering files/data is, by definition, a long process. Of course that doesn't mean all fast recovery software are crap and all slow recovery software are excellent. It does, however, mean recovery software that perform quickly are likely to recover little to no data. This is why you see in many recovery software the ability to run different types of scans, e.g. quick scans, deep scans, etc. The fortunate part about O&O MediaRecovery 6 is it does give users the option to run two different types of scans: One scan on the RAW data, looking underneath the file table; the other scan trying to recover within the NTFS file table. The unfortunate part is both are terrible.
The scan that looks within the NTFS file table is very fast. My test scan took about three minutes for 10.4 GB of data. However the scan is weak — not very much data is recovered. I was only able to recover a handful of images and even those were corrupted in the sense that the file size was huge.
The scan that looks at the RAW data is very slow. It took about four hours to scan 150 GB. Now above I mentioned being slow when recovering data/files is a good thing. However, it is a good thing if file/data is recovered. The unfortunate part about O&O MediaRecovery 6 is it took four hours to scan and at the end it told me no files were found. Really? Really? Bah, humbug!
If you are looking for a data/file recovery soft, I suggest you look elsewhere. I wasn't very impressed with iCare Data Recovery Professional back when I reviewed it, but even that is better than O&O MediaRecovery 6. TestDisk & PhotoRec, a dotTech favorite, simply blow O&O MediaRecovery 6 out of the water.
Freebie Details
O&O MediaRecovery 6 is being offered for free via a promotion run by O&O Software themselves. There is no information for how long this promotion will be live nor is there information if you are install/reinstall at a later date.
To get O&O MediaRecovery 6 for free, do the following:
Version being given out for free: v6.0.6312
Free updates and technical support: Unknown
Supported OS: Windows 2000 and higher
Download size: 7.43 MB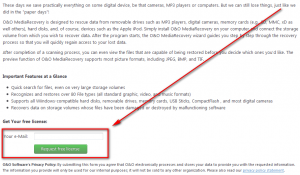 After you have submitted your e-mail address, check the inbox of the e-mail address you submitted. Look for an e-mail from O&O Software register@oo-software.com with subject of Your free license of O&O MediaRecovery. In the e-mail you will find your registration details: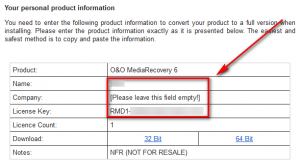 The e-mail is long so you have to scroll above half way down before you will see your registration details.
The key thing to note here is you will need to enter Name, Company, and License Key to register O&O MediaRecovery 6. In this particular case there is nothing to enter for company but be sure to note down what is shown for name and copy the license key.
(If you cannot find the above mentioned e-mail, check your spam box and be patient. It took about 10-15 minutes for my e-mail to arrive. O&O Software typically takes a little while to send freebie registration e-mails.)
Download (32-bit version | 64-bit version) and install O&O MediaRecovery 6.
After installation run O&O MediaRecovery 6; you will be promoted to register it. The following screenshots show exactly how to register O&O MediaRecovery 6 — follow the red arrows and boxes: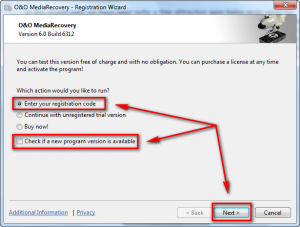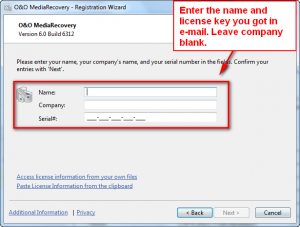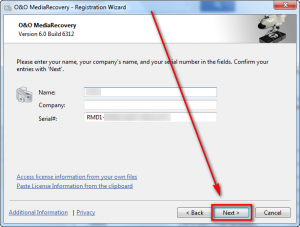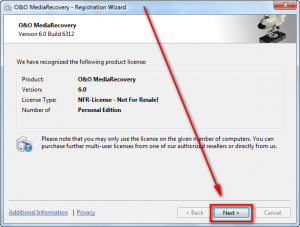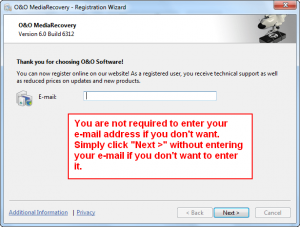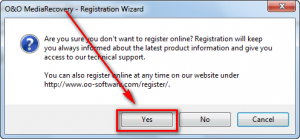 If you have trouble getting O&O MediaRecovery 6 for free, post below and other dotTechies or I will try to help.
Thanks Murphy!
Related Posts