Software Description
The following is a description of soft Xpansion Perfect PDF 6 Converter, as per the developer:
Converts any printable file into a PDF. Perfect PDF 6 Converter includes integration into Windows Explorer, Internet Explorer and into the core Microsoft Office products: Word, Excel, PowerPoint and Outlook. From within these applications, you can generate PDF files with just one click. You can also convert documents from other applications using the print to PDF function. Importation of MS Office metadata is not supported in this edition. If you need it, it is available in the Premium and Office editions of Perfect PDF 6.

Perfect PDF 6 Converter includes a PDF program allowing you to view, print and sign PDF files. It also enables you to rearrange document structure (insert, move, remove, resize and rotate pages), and to design PDF documents using galleries of watermarks, stamps, backgrounds and much more. You can create PDF documents from text or image files and insert pages from image files or scanned images. Annotating PDF documents and adding or modifying comments is not supported, not is editing the content of PDF documents.
The following chart, created by the developer, explicitly lists the features of Perfect PDF 6 Converter while comparing it to other Perfect PDF 6 software:
Click on the chart to view it in full size.
dotTech Advice
The name soft Xpansion Perfect PDF 6 Converter is a bit of a misnomer. Although obviously a PDF "converter" can be for non-PDF file -> PDF file or PDF file -> non-PDF file, typically a PDF converter is thought of as taking PDF files and converting them into other formats. Perfect PDF 6 Converter, on the other hand, does not convert PDF files into other formats (although it does have that feature in a limited capacity — it can turn PDF files into .TXT or .JPG/.PNG/.BMP/.GIF/.TIFF); rather, the "converter" in Perfect PDF 6 Converter is being able to convert non-PDF files to PDF format. In other words, in a simplistic oversimplification, soft Xpansion Perfect PDF 6 Converter is a PDF printer.
I say simplistic oversimplification because Perfect PDF 6 Converter is a PDF printer*, yes; but it is so much more than that. You see there are many, many, many (freeware and shareware) PDF printers/creators/converters out there. Yet Perfect PDF 6 Converter still stands out above the crowd by providing handy features that facilitate conversions. Features such as entries into the right-click Windows Explorer context menu for easy access; integration into Microsoft Office; a PDF viewer that allows for easy copying of text and images; ability to modify PDF page background color, add watermarks/headers/footers to PDFs, add pages to PDFs, remove pages from PDFs, reorder pages in PDFs, change page orientation in PDFs, merge PDFs, digitally sign PDFs, and digitally certify PDFs; are what impress me about Perfect PDF 6 Converter. Plus its conversions are fast — even faster than Nitro PDF Professional.
*Perfect PDF 6 Converter has a virtual PDF printer that allows users to turn any printable document into a PDF; and it also has the ability to convert specific document files to PDFs through its main program interface, right-click context menu entries, and Microsoft Office integration. If converting through the main program interface, right-click context menu, and Office integration, the PDFs are converted by default to Letter size paper, which is what is normally used in the USA (I don't know what is the standard in other countries). However, by default, Perfect PDF 6 Converter's virtual printer is set to print on A4 size paper. You should probably change that A4 to Letter size paper if you live in the USA. To do this simply open Perfect PDF 6 Converter, click on the large circle in the top-left corner, click on PDF Printer, click the Copy To button, type Normal Letter in the box that pops up and click Ok, select Normal Letter from the list (first button from the top), click on View/Modify, go to PDF printer -> Printer defaults -> Paper -> Paper size -> pick Letter. After that click Ok to exit out of the window, then click Apply at the remaining window and then Ok.
For the average joe Perfect PDF 6 Converter is probably more than what is needed. For most people's needs, a basic freeware PDF printer will suffice, such as CutePDF, SimpoPDF, Bullzip PDF, etc. However, if you are a power user and want enhanced features, Perfect PDF 6 Converter is a worthwhile download.
Freebie Details
soft Xpansion Perfect PDF 6 Converter is being given away in a promotion run by CHIP. There is no information on if it is time limited offer nor is there information on if you can install/reinstall at a later date. My guess, however, is this is a time limited offer (probably 24-hours ending December 8, 2011 11:59 PM German time), hence why I marked this as a limited time offer in the title. So grab this while you can, if you want it. The program is in English even though this is a German promotion.
To get soft Xpansion Perfect PDF 6 Converter for free, follow these simple directions:
Version being given out for free: v6.3.9
Free updates and technical support: Unknown — probably not
Supported OS: Windows 7, Windows Vista, Windows XP, Windows Server 2008/2003/2000
Download size: 52.5 MB



After the download has finished, unzip it. (The download is a ZIP file.)
Once you unzip you will notice quite a few files. Click on setup.exe: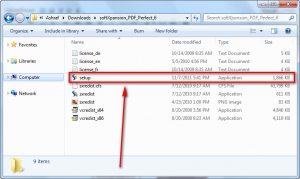 When you run setup.exe a window will popup in German. Don't worry; this is the only German window you will see — the rest of the program (including installation) is in English. This particular window is prompting you to enter your salutation, first name, last name, and e-mail address so you can be sent the registration code:
When you fill it all out, hit the Registieren button: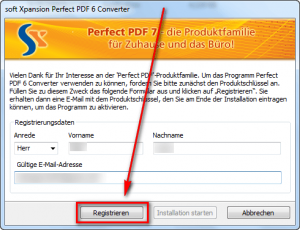 After you hit the Registieren button, a window will popup — click OK: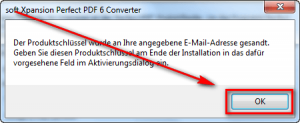 Now click the Installation starten button…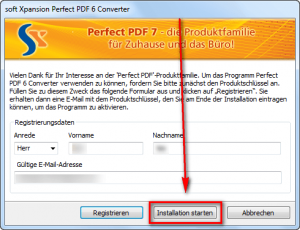 …and the installation will start: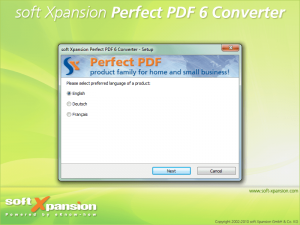 The installation is in English so just follow on-screen instructions (install like you would install any program) until you reach the window where you are prompted to activate the product: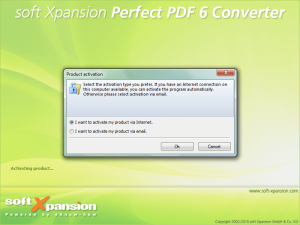 In order to activate the product, we need the activation code. This should be in your e-mail. Keep the program installation open (don't close it) and go check the inbox of the e-mail address you entered earlier. Look for an e-mail from Registrierung auf soft-xpansion.de sales@soft-xpansion.com with subject of soft Xpansion Perfect PDF 6 Converter steht für Sie bereit. In the e-mail will be your activation code: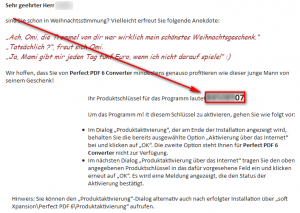 Copy the activation code.
Go back to the program installation and activate it using the code you just copied: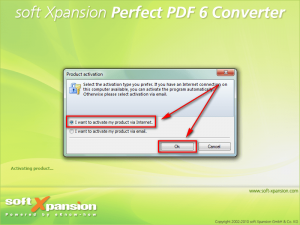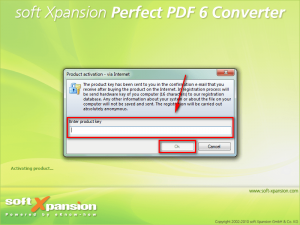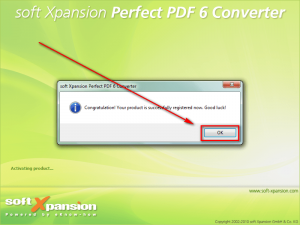 After that all you have left to do is restart your computer and you are good to go: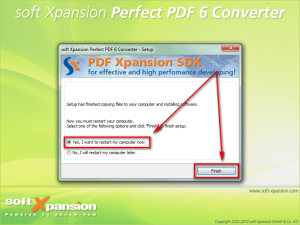 Enjoy!
Note: When you run soft Xpansion Perfect PDF 6 Converter for the first time a web page may open in Internet Explorer asking you to register with soft Xpansion. You are not required to do so. You can, if you want, but don't have to. If you don't want to register with them, simply close the page/window.
If you have trouble getting soft Xpansion Perfect PDF 6 Converter for free, post below and other dotTechies or I will try to help.
Related Posts