Software Description
The following is a description of CyberLink YouCam 3, as per the developer:
Apply webcam effects to other open webcam applications using split mode.
An all new slick user interface, which includes the ability to instantly change the skin color of the CyberLink YouCam interface
Use touch screen gestures with touch-enabled devices to scroll through and resize media, and more.
Face tracking technology that enhances avatars, enables auto-zoom, enables the use of gadgets, and more.
Adds fun accessory items to your webcam image, such as hats, masks, and more.
Places your webcam image in different locations, such as poster boards, video walls, and movie theater screens.
Takes a screen capture video of your movements on your desktop. You can create a custom desktop capture video or share your movements in webcam chat.
Automatically e-mail captured timed surveillance video recordings once they have finished recording.
Capture high definition video and photo snapshots.
Add a color board to use as a background when creating a drawing on the webcam image.
Upload videos and photos captured with CyberLink Youcam, directly to your Facebook page.
Share your captured video's effect information with other users on DirectorZone.
Support for high definition webcams with a 16:9 aspect ratio.
View webcam video at full screen.
Enhance your webcam video image using the auto-lighting and video noise reduction features.
dotTech Advice
YouCam 3 is an interesting software. It isn't aimed at productivity but rather is for fun: It allows users to add effects to webcam feeds. There are dozens (hundreds?) of effects that come with the program itself and users can download over 245,000 free effects. (Note: All 245k+ effects may not work with YouCam 3 — YouCam 3 is about two years old and the latest version if Youcam 5.) These effects range from "gadgets" (which are objects that go on your face, such as masks), "avatars", "scenes", "frames", "distortions", "filters", and "effects". I was pleasantly surprised as to the quality of the effects and the number of effects available for free download.
YouCam 3 works like a virtual camera intermediary (your webcam passes through YouCam 3 and YouCam 3 presents itself to your computer as a real camera), so it works with any program that accepts webcam inputs.
The cool part about YouCam 3 is it has face-tracking technology. So if you apply an effect that goes on your face, such as a mask, YouCam 3 will automatically find your face and place the mask on you, even as you move around. The face-tracking also allows from an optional auto-zoom that zooms in on the face automatically. The face-tracking technology isn't perfect – especially if there is strong back light – but it works very well, generally speaking.
Aside from webcam effects, other interesting YouCam features are:
The ability to show your desktop through your webcam feed, either full screen, a fixed area, or following your mouse.
The ability to record webcam or desktop feeds.

Records videos are stored in WMV or AVI format.

The ability to draw on/annotate your webcam feed.
The ability to take still snapshots of your webcam feed.

Snapshots are stored in JPG, BMP, or PNG format.

The ability to conduct "video surveillance", either continually capturing video during a user-defined period of time, capturing snapshots every X seconds, or capturing video based on movement (i.e. motion detection).
A "YouCam Mirror" which apparently looks to serve as your own personal mirror using your webcam.
Note the video surveillance feature is cool but it isn't very "secure" — the program stays on in Windows taskbar (so anyone can see it) and cannot be password protected (so anyone can close it).
I definitely recommend YouCam 3 to anyone looking for an enjoyable way to pass time with friends or family. You won't solve world hunger with YouCam 3 but you may just make someone important laugh.
That said, though, if you have an older/slower machine you should probably steer clear of YouCam 3. The minimum CPU and GPU requirements for YouCam 3 aren't very high: Intel Pentium D 3.0 GHz or AMD Athlon 64 3200+ or above (CPU) and Intel 945 or above (GPU). However, in practice, running YouCam 3 and a live webcam/desktop feed is taxing on a computer. If you have a slower/older computer, you will lag — you will lag a lot.
Freebie Detail
CyberLink YouCam 3 is being given away in a promotion run by CHIP. There is no information on if it is time limited offer nor is there information on if you can install/reinstall at a later date. My guess, however, is this is a time limited offer, hence why I marked this as a limited time offer in the title. So grab this while you can, if you want it. The program is in English even though this is a German promotion.
To get CyberLink YouCam 3 for free, follow these simple directions:
Version being given out for free: v3.1
Free updates: No
Free technical support: Unknown
Supported OS: Windows XP/Vista/Win7
Download size: 87.4 MB



After the download has finished, install YouCam 3.
Take note during installation you will reach a window where you must enter a Serial Number to register YouCam 3. Enter the serial number given below:
Serial Number: YD7J321981532392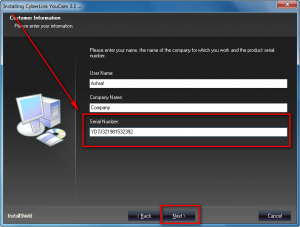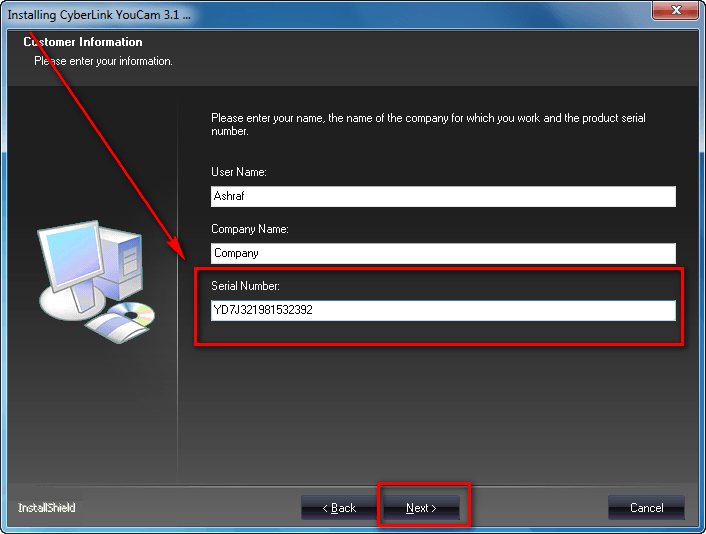 Finish installing.
Enjoy!
Note: When you run YouCam 3 you will be prompted to register with CyberLink. You are not required to perform that registration — entering the serial number during installation was enough to ensure you have a fully functional YouCam 3. You can close the window that pops up.
If you have trouble getting CyberLink YouCam 3 for free, post below and other dotTechies or I will try to help.
Related Posts