Software Description
The following is a description of Serif PhotoPlus 10, as per the developer:
Powerful enhancement tools
Correct common image problems like lighting and red eye. Plus, remove people and object with PhotoPlus' clone tool.
Edit non-destructively using layers and create layer groups to help manage complex compositions.
Use edge detection tools to cut out people and objects from your photos quickly and easily.
Create instant art by transforming your photos into a water colour, oil painting or pencil sketch.
PhotoPlus 10 works with all common image formats including RAW and Adobe® Photoshop files.
Save time by processing groups of photos in one operation or recording macros to automate multiple edits.
dotTech Advice
Serif PhotoPlus 10 is over five years old. I am sure back when it debuted it was cutting edge but today it is not. That is not to say Serif PhotoPlus is bad; it isn't bad — it will run circles around Microsoft Paint. However, by today's standards I put Serif PhotoPlus on par with Paint.NET, a freeware photo editing tool. The only real advantage I see with Serif PhotoPlus over the leading freeware photo editors is the fact that Serif PhotoPlus handles Photoshop files (.PSD) well; most freeware photo editors don't fair so well with .PSD files.
If you are a professional do yourself a favor and stay clear of Serif PhotoPlus 10; you will only be shortchanging your work by using a 5+ year old program. If you are an amateur who needs an image editor for those few times you need to edit images, Serif PhotoPlus 10 is a viable candidate. Personally speaking, I have been a Paint.NET user for a long time (I am an amateur) but will now be using Serif PhotoPlus 10 because of its .PSD support.
Freebie Details
Serif PhotoPlus 10 is being given away in a promotion run by What Digital Camera. There is no information on if it is time limited offer nor is there information on if you can install/reinstall at a later date. My guess, however, is this is a time limited offer, hence why I marked this as a limited time offer in the title; I just don't know how long this will be available. So grab this while you can, if you want it.
To get Serif PhotoPlus for free, do the following:
Version being given out for free: v10.1.0.21
Free updates: No
Free technical support: Unknown – probably not
Supported OS: Windows 98/2000/XP/Vista/Win7
Download size: 122 MB
Visit the promotion page and click the Start Using PhotoPlus NOW! button:

At the next page enter your e-mail address and hit Continue:

What happens next depends on if you already have an account with Serif or not:
Existing Users
You will be asked to enter your password…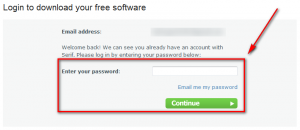 …after which you are given the download link to Serif PhotoPlus 10:

Download it.
New Users
You will need to fill out a form…
…then you will be asked to confirm your registration. To confirm your registration check the inbox of the e-mail address you registered with. Look for an e-mail from donotreply@serif.com with subject of Activate your Serif.com Account. In the e-mail there are two links — visit either one of them (you can click on the first one or copy + paste the second one in your browser window):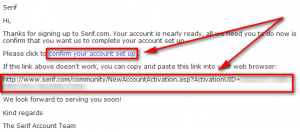 Once you follow the confirmation link you are given the download link for Serif PhotoPlus 10:

Download it.
After the download has finished, install Serif PhotoPlus 10. There is no need to register it — it comes "pre-registered".
Enjoy!
If you have trouble getting Serif PhotoPlus 10 for free, post below and other dotTechies or I will try to help.
Related Posts