Software Description
The following is a description of Incomedia WebSite X5 Smart 9, as per the developer:
WebSite X5 Smart 9 removes all the obstacles and takes you straight to the heart of the matter – creating your very own website.

Nothing could be easier or quicker:

Choose a template for your website design.
Add the pages you want.
Import any extra contents.
Add your own personal touch.
Publish your website on the Internet.

Even with little experience of computers, no HTML knowledge and a tight budget, you can still obtain a simple, effective website – WebSite X5 Smart 9 is what you need.

WebSite X5 Smart 9 gives you over 250 professional-quality templates to choose from, and you can create a website with up to 25 pages. The simple Drag&Drop technique makes it unbelievably easy to add content to your pages: you can add text, images, videos, audio and Flash animation.

The easy-to-follow user interface and numerous previews that are available will help you make short work of developing your website. And if you keep your eye on the Browser preview, kept up-to-date in real time as you work, then you can check on the results as you go.

You won't have to worry about anything! WebSite X5 Smart 9 creates the main menu automatically for you, with all the necessary links to the various pages. The program also takes care of the code for each page and ensures that they will be correctly displayed by all browsers.

When you're satisfied with the results, use the simple but very efficient built-in FTP engine to get your website onto the Internet, using the web space provider of your choice.

So, even if your HTML programming knowledge is non-existent, you'll be amazed at how quickly and easily you can create and publish your fully-functional first website!
dotTech Advice
WebSite X5 Smart 9 is a soft that aims to allow users to easily and quickly build websites. The program is aimed at amateurs with no programming experience, and in that regard it works very well: Creating a website with WebSite X5 Smart 9 literally can be down in an hour, thanks to a step-by-step guide that takes you through the site building process. Through this step-by-step guide users input their website information (name, URL, description, keywords), select a template*, create and edit pages** (pages can have text, images, Flash objects, and audio/video), and edit the menu and styles; at any step in this whole process you can preview what you have created so far. Then, after all that is done, you export the website, which can be done directly to FTP or locally to your computer's hard drive, CD, DVD, or external media. Once you have exported your website, you can, of course, go in and manually edit the code if you wish. The simplicity of WebSite X5 Smart 9, however, also has a drawback.
*The developer claims WebSite X5 Smart 9 has 250 templates but I only found 32. Not sure why this is.
**WebSite X5 Smart 9 allows users to create up to 24 pages/levels per website.
The trade-off of requiring users to have little to no programming experience is WebSite X5 Smart 9 builds very simple HTML websites. Really the only level of sophistication in the websites WebSite X5 Smart 9 builds are the drop-down menus: WebSite X5 Smart 9 allows users to have JavaScript drop-down menus that go one sub-level. That is not to say the websites look bad — some templates are actually semi-well designed. That just means you will have a simple HTML website that won't be able to leverage the power of modern web development tools outside of JavaScript.
While quickly building a website with WebSite X5 Smart 9, I discovered two issues. Firstly, the drop-down menus are built using JavaScript (instead of CSS) and the JavaScript does not degrade gracefully. In other words, if anyone has JavaScript disabled in their browser, they won't be able to see the drop-downs in the menu. The second issue is when exporting websites. WebSite X5 Smart 9 doesn't export websites to their own sub-folders. In the other words, when exporting to C:/WebSite X5 – Websites (or any other location), all the website files are put directly into C:/WebSite X5 – Websites instead of C:/WebSite X5 – Websites/Project1. This becomes an issue if you create multiple websites and export them to the same location — the previous website files will be overwritten. So be careful of that.
Overall, I like the simplicity of WebSite X5 Smart 9. Although it creates very simple websites, it allows people with no programming experience to quickly create a website with little to no hassle. That said, though, I question the need of WebSite X5 Smart 9 in the age of content management systems.
(Web) Content management systems are essentially software packages that allows users to create and manage websites with little to no programming knowledge required. They are all easy to install and many are free. Let's take WordPress, the platform dotTech runs on, as an example.
WordPress is a free, open-source, and very popular content management system. (It is technically a blogging platform but for the purposes of our explanation we will call it a CMS.) You download WordPress and upload it onto any web host that supports PHP and at least one MySQL database. Within five minutes (yes, literally five minutes — they have a "famous 5 minute install") you can have a website up and running. And this website isn't a simple HTML website where you must edit the code to edit website content. This website is a sophisticated website built using mainly PHP with a point-click-type back-end for managing content. Once you have WordPress installed, you can customize your website by using themes (there are many free and paid themes available) and plugins; themes and plugins are installed by point and click. Literally in a weekend you can build a website that will wow the highest of executives. The best part is you don't need any programming knowledge to build a website with WordPress, although it would help if you knew some basics.
So, to conclude, in a world of free content management systems WebSite X5 Smart 9 (or software like it) is for a select niche. The only time I would recommend someone use a software like WebSite X5 Smart 9 over CMSes is when they specifically need an HTML-only website. (This can happen if your web host doesn't support PHP, MySQL, or you are on shared hosting which can't handle the load of PHP.) In that regard, if you are looking for simple HTML-only website, and you have no programming experience, give WebSite X5 Smart 9 a go. Otherwise, research a web content management systems (the three popular ones are WordPress, Joomla, and Drupal) and use them instead.
Freebie Details
Incomedia WebSite X5 Smart 9 is being given away in a promotion run by PC-Welt. There is no information on if this promotion is time limited or if you can install/reinstall at a later date. So grab this while you can, if you want it. The program is in English even though this is a German promotion. Also note it appears free updates are provided — I was able to install an update after installing WebSite X5 Smart 9; free updates, however, are probably only minor free updates, i.e. you won't get an update when the new major version of WebSite X5 Smart 9 is released.
To get WebSite X5 Smart 9 for free, do the following:
Version being given out for free: v9

Free updates: Yes, but minor updates only
Free technical support: Unknown
Supported OS: Windows XP/Vista/Win7
Download size: 71.5 MB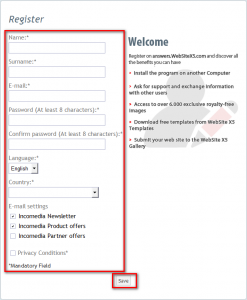 Make sure to use a valid e-mail address and a password you will remember because you will need to login a couple of times during this process.
After you register, check the inbox of the e-mail address you entered. Look for an e-mail from WebSite X5 Answers answers@websitex5.com with subject of Please verify you e-mail address. In the e-mail there is a link you need to follow: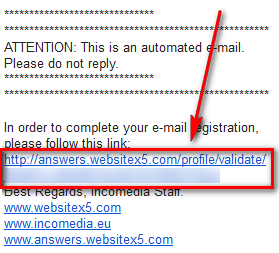 Either click on the link or copy + paste it in your web browser.
When you follow the link, an Answers page on WebSite X5's website will open. Close the page/tab/window — you don't need it.
Visit the promotion page and login (using the e-mail address and password you entered earlier while registering):

After you login your license key will be displayed onscreen: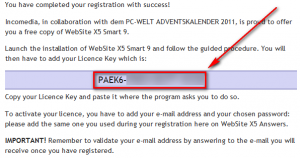 Copy this key — you will need to use it soon.
Download and install WebSite X5 Smart 9.
At the end of the installation you will be asked to activate WebSite X5 Smart 9. Activate WebSite X5 Smart 9 using the license key and your e-mail address and password: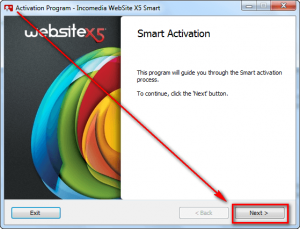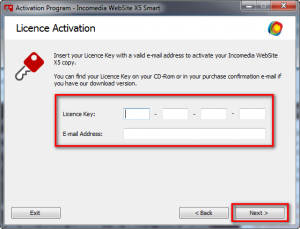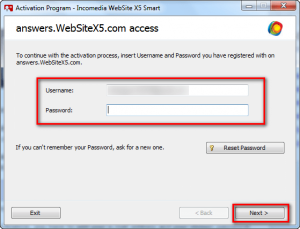 If all goes well you should see the following: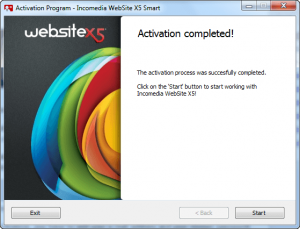 Clicking Start will launch WebSite X5 Smart 9.
If you have trouble getting Incomedia WebSite X5 Smart 9 for free, post below and other dotTechies or I will try to help.
Related Posts