Software Description
The following is a description of Ocster 1-Click Backup, as per the developer:
Features

Fully Automatic: Creates fully automatic backups of your data
Easy to use
Full system backup: Backup of your whole computer or of complete hard disks
Backups are stored in VMDK files: if you do a full system backup (image backup) then your data will be stored in the standardized VMDK disk format. This format is understood by many other applications as well.
Automatic Pause: Backups are done in the background and are automatically paused to prevent them from slowing down other programs. Various system characteristics are monitored, e.g. CPU usage, I/O usage, fullscreen applications, etc.
Stop & Resume: Backups can be stopped and resumed at any point. This is handy when the computer needs to be shut down, for example.
Restore individual files: The contents of the backups can be browsed and files and folders can be restored individually.
Network support: Files and folders on network drives can also be backed up. The backup data can also be stored on network drives if that is desired.
Compression: Backups are compressed intelligently to save space.
Scheduled: Backups can be started either automatically at scheduled times or manually by clicking a button.
Storage Types: Backups can be stored on hard disk, USB sticks , network drives .
Incremental backup: after an initial full backup only the changes to the previous state are stored. This saves space and reduces transfer times.
dotTech Advice
Ocster 1-Click Backup is a system-level (not file-level) backup that creates image backups (VMDK format) of your hard drives/partitions. With Ocster 1-Click Backup you tell it what drives/partitions to backup, when to run a backup (you can schedule it daily or weekly), where to store the backed up files, and how many revisions to keep. Then you start it and let it do its thing; Ocster 1-Click Backup automatically creates backups in the background at the time/interval you specified. The first backup is a full-back and all backups after that are incremental.
Two things impressed me most about Ocster 1-Click Backup. Firstly, when running backups in the background, Ocster 1-Click Backup does not consume a lot of CPU. The average CPU usage during my tests hovered around 15%, which really isn't a lot for a backup program. (It should be noted, however, that 15% is with a quad core CPU — I am presuming the CPU usage scales proportionally so it should be using the same 15% with a single core CPU, too, but I cannot confirm that.) With this CPU usage it took about 25 minutes to create a backup of ~43 GB of data that resulted in a 29.4 GB sized backup; not bad, not bad at all. Presumably subsequent backups will be shorter since this was my first backup and it was a full backup; the next ones will be incremental.
The second aspect that impressed me is the fact that Ocster provides the ability to create rescue/recovery disc. (I presume it is a Linux-based rescue disc, although I cannot say for certain since I have not downloaded it.) This rescue disc allows recovery without having to log into Windows. This rescue disc is offered for all Ocster backup products and not just Ocster 1-Click Backup; but still its a plus in favor of Ocster 1-Click Backup.
Other than the two above-mentioned points, Ocster 1-Click Backup is not very impressive. It is fairly obvious Ocster 1-Click Backup is a watered-down, bare-bones version of their flagship software, Ocster Backup Pro 7. (dotTech has reviewed Ocster Backup Pro 5 in the past, if you want to read that review.) I say this because Ocster 1-Click Backup lacks many of the features I consider basic backup software features; features such as encryption, compression control, being able to schedule automatic backups other than daily or weekly, etc.
So do I recommend Ocster 1-Click Backup? It depends. I have definitely used more feature-filled backup software in the past, such as Macrium Reflect, EASEUS Todo Backup, and many others; but the automatic nature of Ocster 1-Click Backup does impress. The developer is obviously trying to leverage this automation as the selling point for Ocster 1-Click Backup. So, in that regard, the line is drawn right there: If you need or want the automatic backup feature of Ocster 1-Click Backup and you can withstand the shortcomings (in particular lack of encryption/password protection), grab this software. If you can't, then don't.
Freebie Details
Ocster 1-Click Backup is being given away in a promotion run by PC-Welt. There is no information on if this promotion is time limited or if you can install/reinstall at a later date. So grab this while you can, if you want it. The program is in English even though this is a German promotion.
To get Ocster 1-Click Backup for free, do the following:
Version being given out for free: v1.05
Free updates and technical support: Unknown
Supported OS: Windows XP/Vista/Win7
Download size: 22.5 MB
Download and install Ocster 1-Click Backup.
After installation run Ocster 1-Click Backup.
When you run it, you will be prompted to register Ocster 1-Click Backup. The first thing you need to do is enter your name and e-mail address: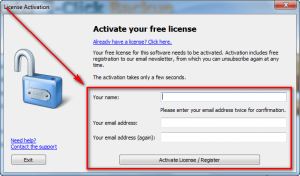 Hit the Activate License/Register button once you have entered your name and e-mail address.
Next you will see the following screen: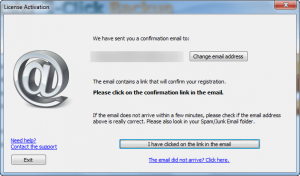 Leave this window open; you will need to come back here soon.
Go check the inbox of the e-mail address you entered earlier. Look for an e-mail from info@ocstermail.com with subject of Unlocking Ocster 1-Click Backup. In the e-mail there is a link you need to follow:

Click on the link or copy + paste the URL in your browser. Take note the link, for some reason, may be in white text so you may not be able to see it. To see the link, simply highlight all the text in the e-mail.
Once you follow the link you will be shown a thank you message: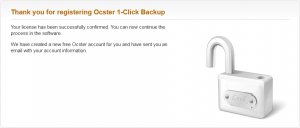 Close this tab/window.
Go back to Ocster 1-Click Backup and click the I have clicked on the link in the email button: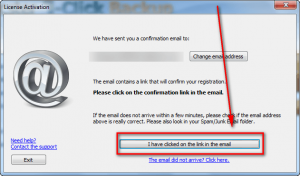 If all goes well you will be shown a success message:
Click the Close button to close out the activation window.
If you have trouble getting Ocster 1-Click Backup for free, post below and other dotTechies or I will try to help.
Related Posts