Software Description
The following is a description of StuffIt Deluxe 2010 (Windows), as per the developer:
The only compression utility you need

StuffIt Deluxe® gives you all the features you need to backup, share, archive, encrypt and shrink your photos, music, and other documents without compromising quality. StuffIt, Zip, Tar, RAR and more—it'll open over 25 formats. Super-strong encryption and password protection, and the ability to browse archive contents like any folder – no expansion necessary – are just two reasons StuffIt Deluxe stands out.

StuffIt Deluxe covers all the bases! Key Features Include:

Better Compression than other Zip Utilities

You can create both Zip and StuffIt X Archives. StuffIt's advanced technology specializes in the compression of MP3, PDF and graphics files with no quality loss. Shrink documents up to 98% of their original size. Use StuffIt to free-up space on your computer and to fit more compressed files onto CD/DVDs or other drives. Create Droplets and completely customize your compression workflow.

Super-strong Encryption and Password Protection

Secure your compressed data with password protection and encryption with strong 512-bit encryption for SITX archives and AES 256-bit encryption for Zip files.

Self-healing Archives Protect Against Data Loss

StuffIt's automatic archive repair abilities ensure your data's integrity over the long haul.

Browse Archive Contents like any folder – No Expansion Necessary

Archive Manager allows you to browse the contents of StuffIt, Zip, Tar, Tarballs, and RAR archives No more having to remember what you put inside, or expanding an archive just to check for something. Archive Manager gives you easy browse access to the contents of your archives. Browse the contents of StuffIt X, Zip, Tar, and RAR archives, including encoded archives, and compressed Tar archives (tarballs).

StuffIt Scheduler makes backups a snap – set it and forget it

StuffIt Scheduler is designed to provide a simple, easy to use, personal backup solution. StuffIt Deluxe Schedule Backups You can use StuffIt Scheduler to schedule automatic file backups, and you can save the backup archives you create to CDs, DVDs, external drives, and FTP servers. Use StuffIt to sift through your files and back up only those items that have recently changed. You can even schedule StuffIt backups to occur automatically at the same time every day.

Plug-in Support for Your Favorite Applications

You can access all the power of StuffIt directly from your favorite applicationsStuffIt Deluxe works with MS Office and Photoshop including support for Adobe® Photoshop® and Microsoft® Office.

Secure file management & delivery -anytime, anywhere

StuffIt Deluxe includes a subscription to SendStuffNow (formerly called StuffIt Connect), a new kind of file delivery and storage service. With SendStuffNow you can easily deliver files up to 2GB in size without the hassle of email bounces or FTP. Your recipients simply click an emailed link to download files in a web browser, no accounts or special software required!

[SendStuffNow is a premium paid service. StuffIt Delux comes with a 3-month subscription to SendStuffNow's Premium level of service. At the end of the period, you can either renew, upgrade, or switch to a free version.]

Take the guesswork out of sending large files via email with SmartSend – simply select the files you want to send and choose "Stuff & Mail." Small files are automatically compressed and attached to a new email message, while larger items are uploaded to a secure website via SendStuffNow, which allows you to download files from anywhere. Say goodbye to email bouncebacks.

Optimized Compressors for JPEG & Audio

StuffIt's compressors are specifically targeted for maximum efficiency with, JPEG, TIFFs, MP3s, PDFs, and Microsoft® Office documents and PowerPoint® presentations. Regain gigabytes of space. StuffIt Deluxe's improved image compressor now compresses high-quality graphic and audio files, dramatically reducing the size without compromising their quality.

Use StuffIt SEA Builder to create mini-installers

StuffIt Deluxe creates SEAs based on the StuffIt X compression format. These SEAs can install files to specified target areas on a user's hard drive, or they can prompt the user to select a destination. Self-extracting Archives can also display graphics and text files so you can create mini-installers that can display a Splash Screen and Read Me files in addition to installing files.
dotTech Advice
The software description and program interface of StuffIt Deluxe 2010 (Windows) makes it sound and look like an overly complex and unique software. Don't be fooled. Yes, StuffIt Deluxe has some interesting features but it is essentially an archive manager, like WinZip, 7-Zip, Al-Zip, etc. And calling it an archive manager pretty much sums up the main core of StuffIt Deluxe: It allows users to create StuffIt, Zip, Lha, Tar + Gzip, and Tar + Bzip2 archives. You select what files you want to store in the archive, select the archive format, and let StuffIt do its thing. Depending on the archive format you pick, you can modify output archive settings such as compression and encryption.
StuffIt archive format (.STIX) is the most advanced of all formats supported by StuffIt Deluxe; obviously it is a homegrown format created by the developer to leverage enhanced compression and encryption capabilities. The issue with the StuffIt format is no program other that StuffIt products supports it. So using it is essentially useless unless a) you plan on not sharing the archive with anyone else or b) the people you plan on sharing the archive with have a StuffIt product. Nonetheless, even though StuffIt format is a niche format, I looked at it alongside how StuffIt handle Zips.
All the fancy features of StuffIt – enhanced compression, varied encryption, "self healing", etc. – are associated with its StuffIt format archives (.STIX). Encryption is done via either 512-bit RC4, 64-bit DES, 448-bit Blowfish, or 256-bit AES. Compression makes use of special optimizers and compressors that help compress data to an extreme degree. For example, I was able to create a 1.97 MB .STIX archive out of 5.26 MB of PNG images. Of course I used image files, which StuffIt has special compressors for, so the result is excellent; don't expect the same amount of compression with other types of files. Nonetheless, this is very, very good compression.
In regards to Zips: StuffIt allows users to compress and encrypt Zip archives. Compress is set at a default of "6" but can be set as high as "15"; encryption is either "normal Zip encryption" or AES-256 — "normal Zip encryption" is the default. Evaluating encryption of Zip files, in general, is a hit or miss; it either works or it doesn't. StuffIt's Zip encryption capabilities work. Evaluating compression, on the other hand, is generally a more gray area. Compression isn't if it works or not but rather how well it works. StuffIt's Zip compression works well — but not as well as the competition, namely dotTech's favorite 7-Zip. At "15" encryption StuffIt created a 5.22 MB Zip archive of the same 5.26 MB of PNG images mentioned earlier. 7-Zip create a 5.20 MB Zip archive of the same exact files. Of course this test is only of image files so the result may differ depending on the content of the archives (i.e. StuffIt may be able to compress other types of files better than 7-Zip); but I doubt it. 7-Zip is known for being one of the best archive managers and this simple test reenforces that thought.
Based on the above tests of STIX and Zip archives, it is fairly obvious StuffIt's strength lies in using its own homegrown STIX archive format. The issue, however, with .STIX format is what I mentioned above: Not very many people use it. So .STIX archives may have fancy features and better compression/encryption capabilities, but until they become a popular format they are best for storage purposes rather than sharing files with others.
Now, as you can see from the software description listed above, StuffIt Deluxe has a good number of features. However, in my opinion, aside from archive management, there are only two features that make StuffIt Deluxe an interesting program. The first feature is StuffIt Deluxe's emphasis on sharing/storing archives. StuffIt Deluxe has the native capability to e-mail archives, burn archives to discs, or upload them to a server via FTP. In addition, StuffIt Deluxe has plugins for Microsoft Office and Adobe Photoshop which make it easy to use StuffIt Deluxe from within Microsoft Office products and Adobe Photoshop.
The second interesting feature is StuffIt Deluxe's ability to create "self extracting archives". Essentially StuffIt Deluxe is able to create .EXE files that store archives within them. This allows anyone to extract the files by simply running the .EXE, without ever having to install StuffIt Deluxe or any other archive program. This is extremely cool and can be very useful because it allows users to make use of the power of the StuffIt (.STIX) archive platform without the restriction of no one supporting .STIX format (since everyone on Windows can execute a .EXE). The downside, however, is most e-mail services don't let users to attach .EXE files to e-mails; so using a .EXE doesn't totally get around the restriction of the .STIX format.
To conclude, as a general archive manager StuffIt is so-so. I won't be ditching 7-Zip for StuffIt Deluxe any time soon. However, the power of StuffIt lies with it .STIX archive format, its emphasis on sharing archives, and its ability to create self extracting archives. In that regard it is a very good program. If you see yourself being able to use .STIX archives and/or would like the ability to create .EXE archives, grab StuffIt Deluxe.
Freebie Details
StuffIt Deluxe 2010 (Windows) is being given away in a promotion directly by the developer, Smith Micro Software. The promotion is time limited and ends on Decemeber 18, 2011 (the exact time it ends is not specified). There is no information on if you will get free updates or if you can install/reinstall at a later date. However, the freebie is processed similar to purchasing software (although you don't need to enter any billing information since you aren't paying anything) so you most likely will "own" this software and thus be able to install/reinstall it at a later date; but this is just conjecture so don't quote me on it.
To get StuffIt Deluxe 2010 (Windows) for free, do the following:
Version being given out for free: v14.0.1.27
Free updates: Unknown
Free technical support: Unknown – I think yes
Supported OS: Windows XP/Vista/Win7
Download size: 107 MB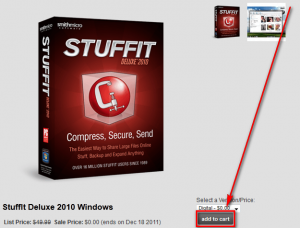 When you click on add to cart, the page will reload and a popup will show. Click on the Proceed to checkout button in the popup: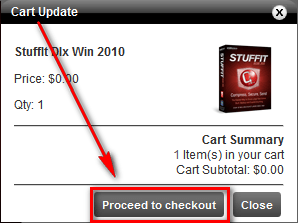 After clicking on the Proceed to checkout button you will be taken to the shopping cart. The first thing you need to do here is remove the Extended Download Service:

After you remove Extended Download Service the page will reload. Once it finishes reloading, hit the continue button:

At the next step you need to either log into your existing Smith Micro Software account or you need to register a new account: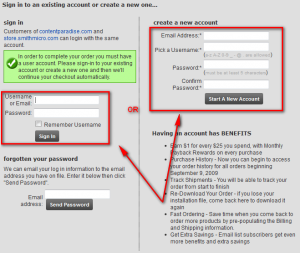 If you don't have an existing account don't worry — registration is very easy and doesn't require any pesky e-mail confirmations; all you have to do is fill out the form and click the Start A New Account button and your account is created.
Once you have logged in or created a new account you will be taken back to the shopping cart. Once again hit the continue button:

After you hit the continue button you will be taken to the Order Confirmation page. This page has a download link for StuffIt Deluxe 2010 (Windows) and the serial key you will need to use to register it: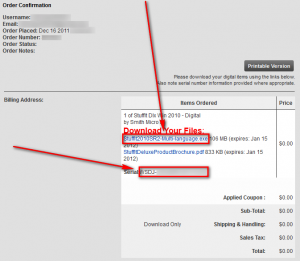 Copy the serial key and download the program. (Be patient with the download — it is fairly slow.)
After the download has finished double-click the StuffIt2010SR2-Multi-language.exe file you downloaded.
When you run StuffIt2010SR2-Multi-language.exe you will get a message telling you previous versions of StuffIt will be uninstalled automatically, if they were installed. Click OK: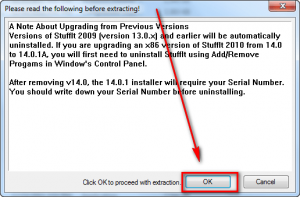 After clicking OK wait a few seconds while the installer files are extracted. Once the files are extracted a window will popup where you must click the Install StuffIt Deluxe button: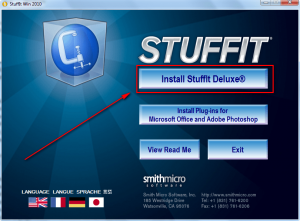 Take note if you want the plugins for Microsoft Office and Adobe Photoshop you need to come back to this window after you have installed StuffIt Deluxe.
Clicking on the Install StuffIt Deluxe button will launch StuffIt Deluxe's program installer. Install it like any normal program.
At the last installation window, before you click the Finish button, make sure Launch StuffIt 2010 Configuration Wizard is checked: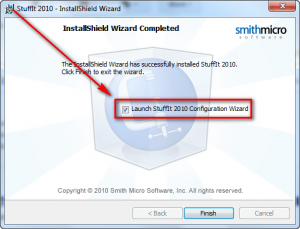 Click the Finish button after you ensure Launch StuffIt 2010 Configuration Wizard is checked.
After you hit the Finish button, StuffIt Configuration Wizard will launch. This wizard doesn't conjure fireballs but it does help you register StuffIt Deluxe 2010 (Windows); it is where you must input the serial number you received earlier in order to register StuffIt Deluxe 2010 (Windows). The following screenshots show you what to do — follow the red arrows, boxes, and words: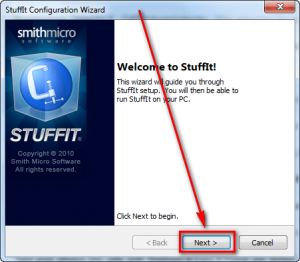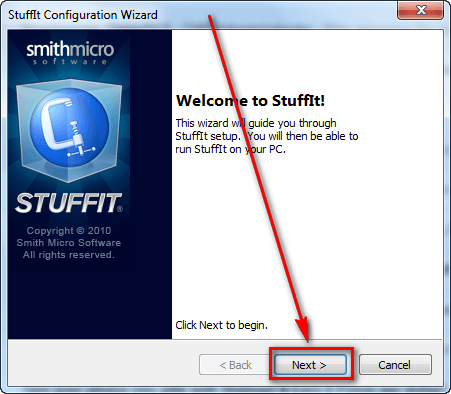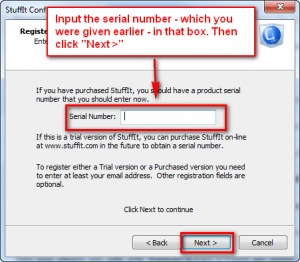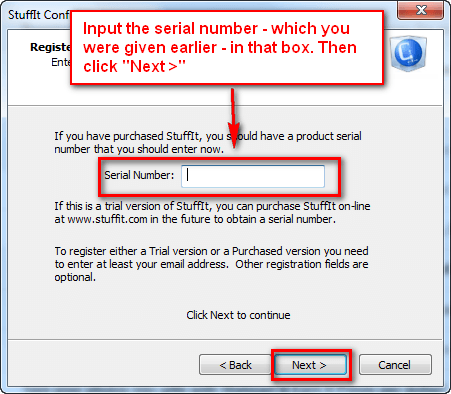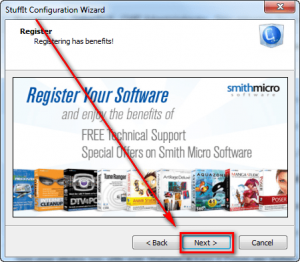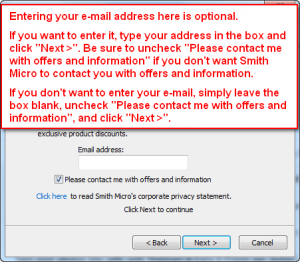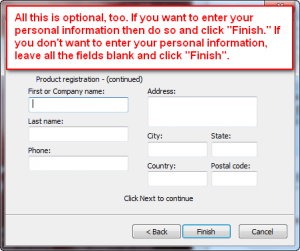 If you have trouble getting StuffIt Deluxe 2010 (Windows) for free, post below and other dotTechies or I will try to help.
Thanks jelson!
Related Posts