Software Description
The following is a description of Auslogics File Recovery 3, as per the developer:
Why Use File Recovery

Recover All File Types

With Auslogics File Recovery software you can recover ALL file types: documents, music, photos, videos and every other file type you can think of.

Recovers from All Storage Media

Recover your files from ALL storage media: (external) Hard Disk, SD Card, Flash Card or USB Stick. Even after a quick format.

Supports All Major File Systems

No need to worry about what file system your files are on. Auslogics supports file recovery from ALL major file systems: NTFS, Fat16/32, and exFat.

Multiple PC and Operating System Support

With your Auslogics File Recovery software license, you can recover files from up to 3 PCs. No matter what OS (works with Windows 7, Vista and XP).

Quick and Easy to Work With

Quickly choose file type, location and scanning method with the built-in Recovery Wizard. File recovery made easy!

High Quality Product. Good Price

Our recovery experts guarantee you will always have the best technology available to recover your files. For a very competitive price.

All Auslogics File Recovery Features
License for 3 PCs
Retrieve all file types
Works with Windows 7, Vista and XP
Recover deleted files from all storage devices
Supports all major file systems
Recovery Wizard for quick results
Advanced Filter to sort deleted files
Deep Scan that allows to scan cluster by cluster
Option to preview before retrieving deleted files
Recovers files deleted using Shift+Delete
Save deleted files on any accessible drive
Sort deleted files by name, date, size or file type
Identify and retrieve deleted files based on their unique signature
View deleted files based on their original file and folder structure
Recover files from formatted partitions, even after reinstalling Windows
Recover deleted files from SATA, SCSI and IDE drives
Recover deleted files from SD, XD and MMC memory cards
Restore deleted files files from USB, FireWire Drives and iPods
Restore deleted files files from FAT16, FAT32, NTFS, NTFS5, ExtFAT file systems

Auslogics File Recovery Extras

File Shredder to permanently delete files
Disk Wiper to permanently wipe your hard drive
Disk Image to back up a logical disk
dotTech Advice
In the hour or so I spent with Auslogics File Recovery 3, I was impressed. Of course an hour isn't long enough to fully understand the ins and outs of a software, or to properly determine its quality or lack thereof (since this is a 24-hour giveaway I didn't want to waste all day reviewing it only to post about the giveaway when it is also over — hence only spending an hour or so). However, in the little time I spent with it, I learned Auslogics File Recovery is fast (took about 20 minutes to do a deep scan on a 19.5 GB partition) and works fairly well (found about 5,000 files, mostly images). Plus it is user-friendly with features such as: Searching for all files or only pictures/audio/video/documents/software; searching by name; searching by file last modified; doing a deep scan or not; file preview (for some types of files — not all); and powerful filtering capabilities for scan results. In addition, it has some nice extras such as secure file deletion; disk wiping; find lost partitions; and disk imaging.
On the other hand, Auslogics File Recovery does not come with nor does it allow users to create a recovery/rescue disk for file recovery operations while outside of Windows, which is disappointing.
Overall, I haven't spent too much time with the software but based off the time I did spend with it, Auslogics File Recovery 3 has impressed. Get it if you want or need a file recovery software.
Freebie Details
Auslogics File Recovery 3 is being given away in a promotion by DownloadCrew. The giveaway is live for 24-hours only (ends December 28, 2011 11:59 PM Central European Time [6:59 PM Eastern Standard Time]). There is no information on if you are install/reinstall at a later date or not.
To get Auslogics File Recovery 3 for free, do the following:
Version being given out for free: v3.2.0.0
Free updates: Unknown
Free technical support: Unknown
Supported OS: Windows XP/Server 2003/Vista/Server 2008/Win7
Download size: 3.56 MB
To take advantage of this giveaway you need to have an account with DownloadCrew. If you already have an account with them, skip to the next bullet point below. If you don't have an account with them, visit the registration page and register (registration is free):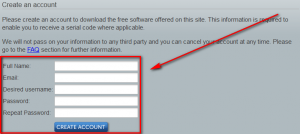 After you fill out the form and hit CREATE ACCOUNT, if you do it properly you will be shown the following message:

Now check the inbox of the e-mail address you registered with. Look for an e-mail from noreply@gi?veaway.down?loadcrew.co?m with subject of giveaway.downloadcrew.com – New Account?. In the e-mail is a link you need to follow:

Click on the link or copy + paste it in your browser. Once the page loads your account has been confirmed (there is no success message) and you can use it.
If you are not already logged in (you may already be logged in if you just created a new account) visit the login page and log into your DownloadCrew account :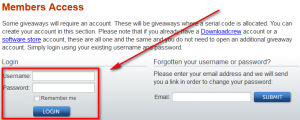 Visit the promotion page and scroll down about half way and click on the GET SERIAL CODE button:

Copy the serial code that appears: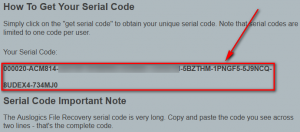 Take note to copy the whole serial code — that includes both lines.
Scroll up and click the DOWNLOAD button to begin downloading Auslogics File Recovery 3: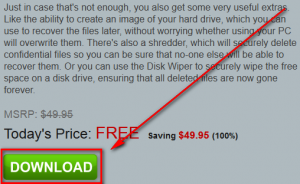 After the download finishes, install Auslogics File Recovery 3.
After installation, run Auslogics File Recovery 3.
When you have Auslogics File Recovery 3 running, go to Help -> About and register it using the serial code you copied earlier: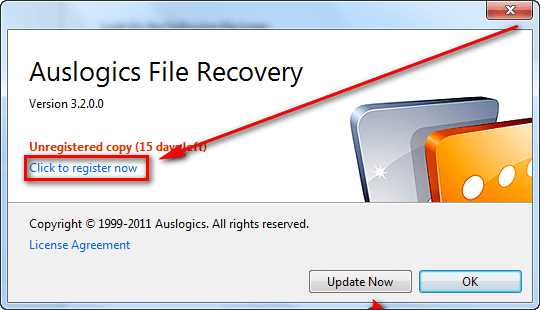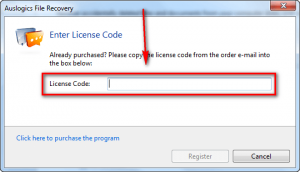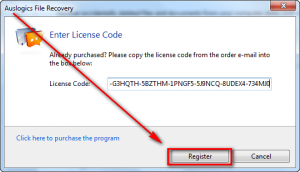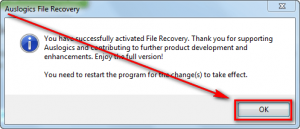 Note: If it doesn't work, ensure you didn't enter a space at the end of the serial code.
If you have trouble getting Auslogics File Recovery 3 for free, post below and other dotTechies or I will try to help.
Thanks Prema!
Related Posts