Software Description
The following is a description of IObit Advanced SystemCare PRO 5, as per the developer:
Like hiring your own PC technician inside your computer

Advanced SystemCare PRO provides an always-on, automated, all-in-one PC Healthcare Service with anti-spyware, privacy protection, performance tune-ups, and system cleaning capabilities. This powerful and award-winning precision tool fixes stubborn errors, cleans out clutter, optimizes Internet and download speeds, ensures personal security, and maintains maximum computer performance automatically.

Key Features
Keeps your PC running at peak performance Enhanced
Fully optimizes Windows for ultimate system performance and top Internet speed by unleashing the built-in power of your system, based on how you use your PC and your network configuration. It turns your PC into a business PC, a productive workstation, an entertainment center, a game machine, or a scientific computing PC.
Defends PC security with extra protection Enhanced
Detects and analyzes Windows security environment. Scans and removes spyware and adware using up-to-date definition files in order to prevent spyware, hackers and hijackers from installing malicious programs on your computer. Erases and updates your PC's activity histories.
One click to solve as many as 10 common PC problems Enhanced
Advanced SystemCare 5 inherits the ease-of-use from previous versions, with more powerful capabilities. With one click, it scans and repairs ten PC problems and protects your PC from hidden security threats.
Real-time optimization with ActiveBoost function
ActiveBoost, technology that actively runs in the background intelligently managing system resources in real-time, constantly detecting inactive resources and optimizing CPU and RAM usage.
More than 20 dedicated smart tools for everyday PC maintenance
Advanced SystemCare 5 integrates IObit's latest Toolbox which has more than 20 dedicated smart tools for everyday PC maintenance or advanced needs, including tools for system cleaning, optimizing and repairing, tools for security enhancement, and tools for full control over the system.
Cloud technology to keep database up-to-date
The new "Cloud" technology ensures the database is kept updated at all times so that you can benefit from the latest definitions and configurations.
Boost your PC for working and gaming
You now have two Turbo Boost options, Work Mode and Game Mode. In addition, you can now adjust the configuration of each mode from the main screen.
Next-generation registry deep clean and optimizer
Safely cleans registry junk, compacts registry bloats and defragments the whole registry for maximum performance. Finds and fixes the registry errors that other utilities miss with "Deep Scan" technology.
Automatically works in the background
This powerful utility works continuously, automatically and quietly in the background on your PC. You can set it as your schedule or just let it work automatically when your PC is idle.
New UI technology for quicker start and less resource usage
With the new UI technology, Advanced SystemCare 5 will start up faster using fewer system resources.
New architecture and re-written source codes for 32bit/64bit system
These improvements will make your PC work more efficiently and steadily, stabilizing even older systems.
Improved Care module with more powerful clean and optimization functions Enhanced
The new developments in the "Care" module include features such as "Start-up Optimization", which will scan and clean your PC much more effectively.
Powerful hard drive defragmentation
Fast, powerfully and incredibly effective Disk Defrag function to defragment hard drives – up to 10 times faster than other defragmentation tools.
dotTech Advice
IObit Advanced SystemCare PRO is yet another great system tune-up utility. Although I don't personally use it anymore (I realized I have no need for it), I used to use it and loved it. Seeing as Advanced SystemCare PRO 5 is the paid edition of the latest version of Advanced SystemCare, I recommend it, whole heartily.
That said, as I mentioned in the post on System Mechanic, I recommend people with new machines to not use tune-up utilities (until you feel your computer is "slowing down" after long time use) simply because the risk of malfunction – and no mater how good, every third-party tune-up utility has some chance of causing problems – is not worth the reward of little to no benefit. On the other hand, people with older machines – ones in use for more than a year or so – can typically benefit from allowing tune-up utilities to clean out the junk they have accumulated in their computers.]
Freebie Details
Advanced SystemCare PRO 5 is being given away in a promotion by the DownloadCrew. The promotion is live until Wednesday 22 February 23:59 Central European Time; there is not information on if you can install/reinstall after this date. Also, note this promotion is for a one year license of Advanced SystemCare PRO 5. After the one year either you need to buy Advanced SystemCare PRO, use Advanced SystemCare FREE, or stop using the program altogether.
To get Advanced SystemCare PRO 5, do the following:
Version being given out for free: v5
Free updates: Unknown
Free technical support: Unknown
Supported OS: Windows 2000/XP/Vista/Win7
Download size: 28.8 MB
To take advantage of this giveaway you need to have an account with DownloadCrew. If you already have an account with them, skip to the next bullet point below. If you don't have an account with them, visit the registration page and register (registration is free):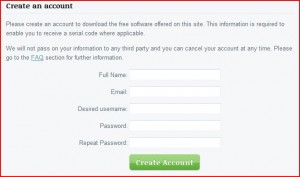 Now check the inbox of the e-mail address you registered with. Look for an e-mail from noreply@giveaway.downloadcrew.com with subject of giveaway.downloadcrew.com – New Account. In the e-mail is a link you need to follow:

Click on the link or copy + paste it in your browser. Once the page loads your account has been confirmed and you can use it.
If you are not already logged in (you may already be logged in if you just created a new account) visit the login page and log into your DownloadCrew account :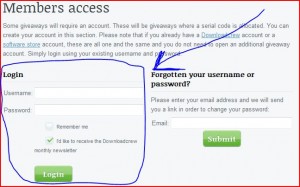 Visit the promotion page and scroll down about half way and click on the Get Serial Code button:

Copy the serial code that appears:

Scroll up and click the Download button to begin downloading Advanced SystemCare Pro 5:
After the download finishes, install Advanced SystemCare Pro 5. Take note near the end of installation you will be prompted to install IObit Toolbar. Be sure to click Skip if you don't want to install the toolbar (you are not required to — it is optional).
After installation has finished, run Advanced SystemCare PRO 5, click the yellow UPGRADE button in the bottom-left corner, and register the program with the license code given to you earlier.
Enjoy!
If you have trouble getting Advanced SystemCare PRO 5 for free, post below and other dotTechies or I will try to help.
Related Posts