This morning at the Mobile World Conference in Barcelona, Microsoft released Windows 8 Consumer Preview. Essentially a "Beta", this release is intended to let Windows users see if Windows 8 is right for them. But what's new in Windows 8 that Microsoft wants you to try? Their site gives several reasons: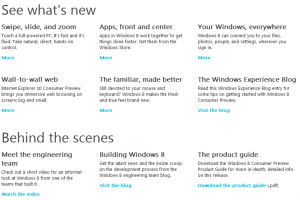 And how does Windows 8 look on a device specifically designed for it — a tablet? This morning, tech news site The Verge showed it off running on some tablets Microsoft had available for conference attendees; see the following video:
Interested? Go to Microsoft's download site, or optionally their ISO download site, to get started today with Windows 8 Consumer Preview today! If you want to give Windows 8 a try without messing up your computer, try installing it virtually using VirtualBox.
Have you downloaded the Consumer Preview? What do you think of Windows 8 so far? Share in the comments below!

Related Posts