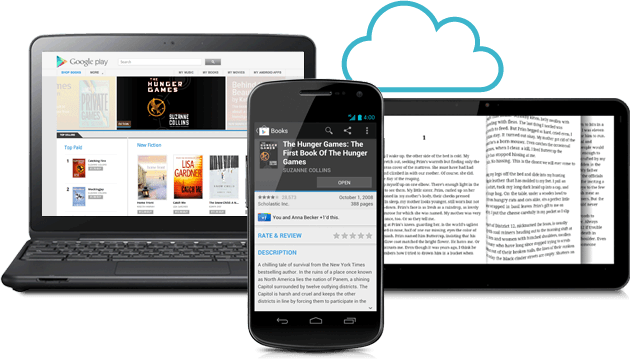 The first Android device debuted in September 2008. It came with Android Market, the Android equivalent of Apple App Store; from 'Market users could download apps (free and paid) for their Android devices. Flash-forward to 2011 and Android Market has books, music, and videos, too. However, although Android Market offered iTunes-like services, it just didn't have the iTunes-like appearance. For example, you could buy a video from Android Market but if you wanted to watch it on your computer you would have to view it through Youtube (which is connected to Android Market through your Google account). As we have seen throughout 2011, under their new CEO Larry Page, Google is going on a diet — getting rid of services deemed useless and unifying the remaining services as much as possible. The next step in Google's transformation is the emergence of Google Play.
Google Play is a "new digital content experience from Google where you can find your favorite music, movies, books, and Android apps and games. It's your entertainment hub: you can access it from the web or from your Android device or even TV, and all your content is instantly available across all of these devices." In other words, Google Play is the unification of Google Music, Google eBookstore, Google Movies, and Android apps/games. It is Android Market renamed and ported to devices outside of Android – such as your PC – via the web. It is Google's answer to Apple iTunes.
Although I'm not a big fan of the name ("download that from Play" just doesn't feel right), what makes Google Play an interesting prospect is it takes what is loved about iTunes – its one-stop-shop nature – and combines that with what Google does best: The cloud. Thanks to its web interface, Google Play allows for seamless movement between Android devices (phones, tablets, and TV) and traditional computing with Windows, Mac OS X, and Linux. Anything you purchase from Google Play on your Android device is instantly available on all Android devices with that Google account and on any traditional computer via any modern web browser by simply visiting http://play.google.com. Indeed the fact that you don't have to download a bloated program like iTunes to utilize Google Play services is a huge plus in Google Play's corner (no pun intended).
Google Play is live on the web starting today; and it is being rolled out to Android devices as we speak, so expect a silent update to hit your device soon (there doesn't seem to be a way to manually update it — be patient). If you have previously used any of the aforementioned Google services (Music, eBookstore, Movies, and Market), don't worry about losing anything — everything (i.e. all your purchases, data, and files) has been consolidated into Google Play; and Google Play has the same geographic limitations as the separate services did in the past. In other words, paid Android apps are still only available in some countries; movies are still only available in USA, UK, Canada, and Japan; eBooks are still only available in USA, UK, Canada, and Australia; and music is still only available in USA.
Well what are you waiting for? Go Play. Yes, pun intended. Check out the links below to use or learn more about Google Play:
Related Posts