Earlier today, during their much hyped event in California, Apple announced "the new iPad" commonly known as the iPad 3. Interestingly enough Apple made no mention of the name of this new iPad, simply referring to it as the… new… iPad. In any case, this new iPad brings the same form factor as previous iPads but beefs up the internals.
What new can you expect in the new iPad? The most notable change is the new 2048 x 1536 Retina display. (That is a lot of pixels packed into a 9.7 inch screen.) The other major changes are:
5 MP AutoFocus "iSight" rear camera that can do 1080p video (front camera is still VGA)
LTE connectivity, for those of you with carriers that support LTE
"World Ready" 3G (i.e. 3G that works on almost all carriers in the world)
Bluetooth 4.0
New dual-core Apple A5X processor
Aside from that, expect the "new" iPad to be the same as the iPad 2. Well, almost the same — the "new" iPad weighs 51g more, is .6 mm thicker, and has a half-assed Siri. By "half-assed Siri" I mean a Siri that takes voice commands but won't talk back to you.
Want that blazing fast LTE on your new iPad? It will cost you — at least in the USA: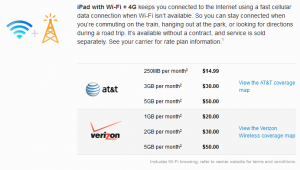 For what it is worth, Apple claims the new iPad can do 9 hours on LTE, which is phenomenal.
The new iPad is going to hit stores starting March 16th in the USA, Canada, UK, France, Germany, Switzerland, Japan, Hong Kong, Singapore and Australia. You can start placing pre-orders today. The rest of the world can take a bite of the apple starting March 23rd. The pricing for this new iPad stays the same as previous iPads: starting from $499 for the 16 GB WiFi model and ending at $829 for the 64 GB 4G model. If you don't feel like shelling out that much cash and still want an iPad, iPad 2 prices have been slashed with the 16 GB WiFi model now available for $399.
Google, you have some catching up to do. Stop Playing and start working. Harder.
Hit up the links below to learn more and/or pre-order the new iPad:
[via Engadget]
Related Posts