Software Description
The following is a description of Sonic PDF Creator, as per the developer:
Create professional looking and secure PDF documents from hundreds of Windows applications. A simple to use interface with value added features you'll need, like batch conversion, watermarking, PDF merging and splitting & more.
Edit and save PDF documents
PDF to Text extraction capabilities
Split and merge PDF files
Attach a PDF into an active document
Add bookmarks and watermarks
Batch create PDF files from a variety of formats
Stamp text and image on the active PDF document
A variety of PDF compression options are available
Set passwords to secure your PDF
Insert and delete pages from your PDF file
dotTech Advice
Sonic PDF Creator is a program that falls between basic PDF printers (like CutePDF or Bullzip PDF) and advanced PDF editing suites (like Nitro PDF Pro or Adobe Acrobat Pro). With Sonic PDF Creator you can create PDFs (Sonic PDF Creator installs a virtual PDF printer which you can use to create PDFs got of any program has the ability to print — it uses Ghostscript) and edit PDFs. When creating PDFs, Sonic PDF Creator comes with all the features we would expect in a shareware program, such as the ability to encrypt/password protect PDFs, compress PDFs, watermark PDFs, etc. When editing PDFs, Sonic PDF Creator allows users to merge pages, rotate pages, crop pages, watermark pages, add/remove password, resize pages, extract pages, merge PDFs, add files to PDFs, create bookmarks in PDF, etc. Essentially the editing capabilities of Sonic PDF Creator falls short of being a full-blown PDF editor. For example, there is no way to edit text or annotate. So the best way I can describe Sonic PDF Creator is it is a PDF creator with PDF manipulation capabilities.
That said, I was extremely disappointed in Sonic PDF Creator. On paper it looks like a good, niche program for those that want the ability to create and manipulate PDFs but don't want to pay the extra dime for a full blown PDF editor. In performance I find it lacking. Admittedly I didn't do a full review on the program so my verdict isn't final in the least. However, from the little time I did spend with it, I definitely won't be recommending Sonic PDF Creator to anyone. Why, you ask? Three reasons (that I have found so far):
Firstly, for whatever reason, when creating a PDF the text is lighter (less "bold", although the original text isn't bold) than it should be be. I looked through the settings to see if I could somehow change this but I couldn't find a way. I tested this with Word -> PDF and Excel -> PDF.
Secondly, Sonic PDF Creator's editor does not properly detect screen resolution — its windows and panels are larger than my screen resolution with no way to either scroll or resize (e.g. the left panel).
Thirdly, there is a weird bug in Sonic PDF Creator's editor that when I have any zoom except Fit to Page, simply moving my mouse around in the PDF preview window scrolls the PDF.
You are welcome to give Sonic PDF Creator a shot yourself — you may have a better experience. However, based on my quick review I won't be recommending it to anyone.
Freebie Details
This freebie is a bit unorthodox. You see Investintech recently released Sonic PDF Creator v3.0. To celebrate, for a limited time (no mention on when this promotion will end) Investintech is giving away free license of Sonic PDF Creator v3.0. (There is no information if you can install/reinstall at later dates, but I believe you should be able to.) The catch is the giveaway process is not automated — you have to send an e-mail to Investintech and wait for them to respond with a license code. I know this is an annoying way to get a freebie and I typically avoid posting about these types of giveaways because they could be scams; however, I'm posting about this giveaway because I can confirm it is legit — I got my license code 22 minutes after I sent my e-mail.
That said, to get Sonic PDF Creator (v3.0) for free, do the following:
Version being given out for free: v3.0
Free updates: Unknown
Free technical support: Unknown
Supported OS: Windows 98, ME, Windows NT 4.0, 2000, XP, 2003, 2007
P.S. That is the weirdest list of supported OS I have ever seen — where is Vista and Win7?
Note: Internet Explorer 7.0 or higher is required
Download size: 14.3 MB
Send an e-mail to reena.cruz@investintech.com with subject Exclusive Sonic PDF Creator 3.0 Product Launch Special. In the e-mail tell Investintech how Sonic PDF Creator can help you. I'm not sure if they are looking for anything specific here or what — I just told them it can help me create and edit PDFs for my studies (which isn't a lie).

Optional: In the e-mail you could let Investintech about dotTech, encouraging them to run a promotion here.

Wait. The wait time can vary; it took me roughly 20 minutes to get a reply from them but this response time may be longer once the dotBuzz spreads over the Internets. Eventually you will (you should) receive an e-mail from Reena Cruz (reena.cruz@investintech.com) with subject of RE: Exclusive Sonic PDF Creator 3.0 Product Launch Special. In the e-mail you will find your license key: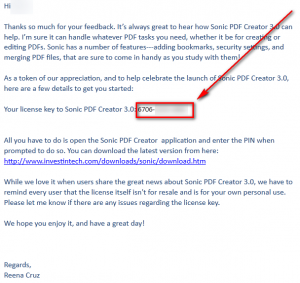 Download and install Sonic PDF Creator.
After installation, run Sonic PDF Creator and register it with the license key you were sent via e-mail: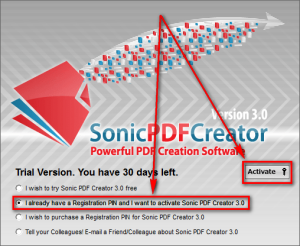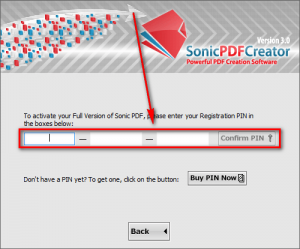 There is no confirmation message telling you of successful registration. You can tell you have successfully registered Sonic PDF Creator by going to Help and seeing if Buy Now… is grayed out or not. If it is grayed out, you registered successfully. If it isn't, you need to try again.
If you have trouble getting Sonic PDF Creator for free, post below and other dotTechies or I will try to help.
[Thanks william_of_palerne!]
Related Posts