Google is in the process of rolling out the new Play Store app to Android devices. After you get the Play Store update, the first time you run the app you will be prompted to accept Google's Terms of Services. If you hit Decline you won't be able to use Play Store, so you essentially have to Accept. However, before you trigger finger the Accept button, take note Google has everyone opted-in to receive Google Play newsletters: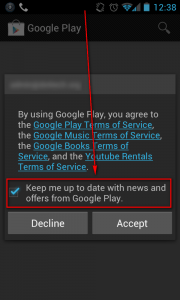 If you don't want to receive e-mails from Google Play about news and offers, be sure to uncheck the check box before hitting Accept.
I'm an Android fan (Fandroid, if you will) so I say with a heavy heart: Shame on you Google, I expected better.
Related Posts