eBook Description
The following is a description of Computing Harmony: How To Seamlessly Blend Windows and OS X, as per the authors:
PCs and Macs living together more than ever.

The Mac vs. PC debate, which has gone on for decades now, is a false dichotomy. There's long been an impression that it's either one or the other, and the idea that these two platforms could not play nice together only reinforced that. When Apple's computers used PowerPC processors instead of Intel's products, there was truth to this, but no longer.

All of the examples you will find in this 16 page guide are applicable to Windows 7 and Mac OS X Lion. Many of the tricks will also work with Windows Vista and Mac OS X Snow Leopard, and some of them will work in even older versions of each operating system.
dotTech Advice
Computing Harmony: How To Seamlessly Blend Windows and OS X is a 16-page eBook by the folks at MakeUseOf. I took a quick glance and its a pretty basic guide on how to run Windows and Mac OS X on the same computer. If you need the very basics on the topic of running Windows and Mac OS X on one computer, this might be a useful read; otherwise, save yourself the effort. If you read it, feel free to post in the comments below what you think about it.
Freebie Details
This freebie is sponsored by MakeUseOf themselves but it is being offered for free through TradePub, an online magazine publisher. There is no information on how long this promotion will be live but I believe this is a permanent freebie.
Before I tell you exactly how to get this eBook for free, I must warn you the form TradePub asks you to fill out is very, very, very extensive. So either you must be willing to provide a lot of data about yourself to TradePub or you must be willing to… lie. Now I am not encouraging people to input false information (dotTech and Ashraf are not responsible for any fraud you commit); I am just saying it is possible. Also note if you have a LinkedIn account you can login with that.
That said, to get Computing Harmony: How To Seamlessly Blend Windows and OS X for free, do the following:
Visit the promotion page and register (or login, either with your TradePub or LinkedIn account):
Check the inbox of the e-mail address you registered with. Look for an e-mail from thanks-www@tradepub.com with subject of Download Your Requested Makeuseof.com Guide. In the e-mail you will find a link to download Computing Harmony: How To Seamlessly Blend Windows and OS X: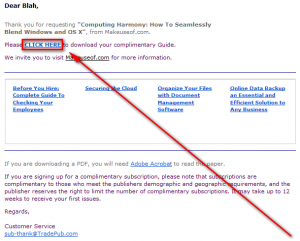 The eBook is in PDF format. If you have a PDF reader plugin installed in your browser the eBook will open directly inside your browser. If this is the case for you and you would rather save the eBook directly onto your hard drive all you have to do is right-click the CLICK HERE link and click on Save Link As… (or the Save Link As… equivalent for your browser). This will download the eBook directly onto your computer.
If you have trouble getting this eBook for free, post below and other dotTechies or I will try to help.
[via TipRadar]
Related Posts