Software Description
The following is a description of Focus Photoeditor, as per the developer:
Focus Photoeditor is comparable to software used by the world's most successful professional photographers, but even without any prior experience using photo editing software, even if you're a complete novice, you can use the powerful photo wizard functions to enhance your digital photos instantly.

You wouldn't believe the difference if you hadn't seen it happen right before your eyes. You'll see even photos you thought looked "pretty good" being enhanced and improved to jaw-dropping vibrancy.

Here are just a few selection of amazing characteristics of Focus Photoeditor:

Full compatibility with Windows 7.The only Photo Editing Program on the market to support all versions of Windows (from Win98 to Win7 in both 32bits and 64 bits modes). Loads blazingly fast, Won't eat up memory.
More than 150 camera models supported and dozens of graphic formats
RAW formats are updated to the latest models. Unlimited free updates
Save and Export files previewing and optimizing size for all formats
Compatible with the PSD Photoshop File Format
Quick Fix Wizard – To fix all the most common photo problems in a single step.
The Best Set of Automatic Photo Corrections you could ask for
Auto Contrast, Auto Colors, Auto White Balance
Great Control over Dynamic Range with Smart Flash, Reduce Highlights, Dynamic Range Improver
Full Arsenal of Exposure and Color Corrections
Professional RGB Curves Correction to achieve tone changes precisely
Hue – Saturation Control – Selective Color – Replace and Calibrate Colors
Remove Chroma, Luminance Noise and any kind of digital noise
Top-Notch Unsharp-Mask Filter to render the sharpest and cleanest picture details
Easy to use Batch Processor with ability to undo the changes applied to some or all the pictures
Layers: both Image and Text with many option to customize and to organize
Selections – A Big Variety of ways of selecting pixels, including free-lasso tool and Magic Wand
Drawing, Painting, Retouching. Great control over precise editing.
Be creative by painting with the Pressure Sensitive Graphic Tablet Support
Create elaborate decorations with Textures, Patterns and Gradients (up to 256 colors and in a multitude of shapes)
Unlimited possibilities with hundreds of Built-in Filters and thousands of parameters to experiment with
Effective Anti-RedEye retouch tool. Get rid of this annoying problem very quickly.
Clone tool to remove unwanted details or duplicate existing ones.
Lighten / darken details, improve sharpness, increase saturation by painting over your photo!
Easy-to-use picture browser: lets you rotate, make backup copies, copy & paste, print picture files in a sheet.
Have access to thousands free and commercial Filters with the Photoshop Plugins Support
Save and Reload your Photo Projects
Share your photos with the web album builder
Enjoy all the rich editing tools found in more expensive software
And other ones that you can't get elsewhere!
dotTech Advice
Digital photography and photo editing isn't my forte in the least, so there isn't much advice I can give about Focus Photoeditor. I can say, however, Focus Photoeditor has received 4.5/5 stars from CNET, 4/5 stars from Snapfiles, and 5/5 stars from Softpedia — so it must be doing something right.
(Anyone looking for excellent freeware image editors can check out Paint.NET, GIMP, or RealWorld Paint.)
If you grab Focus Photoeditor, feel free to share your experience in the comments below.
Freebie Details
Focus Photoeditor is being given away in a 24-hours promotion by Giveaway of the Day. The promotion is live until 23:59 Pacific Standard Time Friday March 12, 2012. You must download, install, and register within these 24-hours — you won't be able to install/register later.
To get Focus Photoeditor for free, do the following:
Version being given out for free: v6.3.9.8 SE

Free updates: No
Free technical support: No
Supported OS: Windows 98 and higher

Download size: 37.3 MB
Giveaway limitation: This is free for non-commercial use only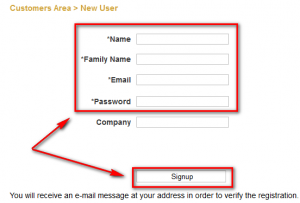 Check the inbox of the e-mail address you registered with. Look for an e-mail from NWS Centurybyte nws@blendpic.com with subject of Verification Required!. In the e-mail is a link you must visit: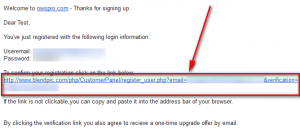 When you click (or copy + paste) the link, you need to login at the page that loads with the email address and password you just registered with:

Once logged in, click the Get me the Code button and you will be given your registration information: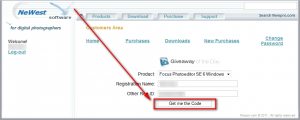 Keep this registration information safe because you will need it soon.
Download the giveaway installer ZIP file.
Extract the ZIP file and run Setup.exe. Make sure you have a valid Internet connection at the time and wait while the installer checks to make sure the giveaway is still live. Once the installer confirms the giveaway is still live, the installation of Focus Photoeditor will launch: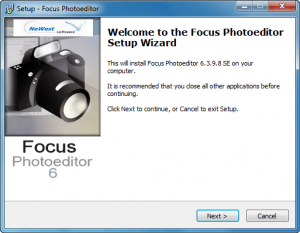 Install Focus Photoeditor like you would install any normal program.
After installation of Focus Photoeditor finishes, the Giveaway of the Day installer will popup again — click Close (unless you want to install an optional third-party program Software Informer, in which case click Software Informer):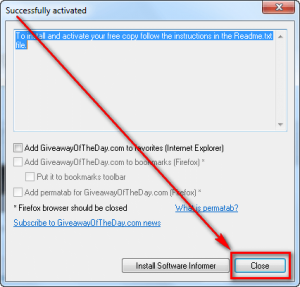 Now run Focus Photoeditor if it isn't already running and register it using the registration information sent to you earlier: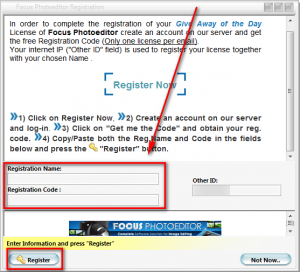 Note: If you get an invalid code error then make sure there isn't a space after or before the name or code. Also try putting two spaces between first and last name if one space doesn't work; or if there are already two spaces between first and last name, delete one space and make sure there is only one space left. If the IP address in the program is different than what showed on the website, go to C:\Program Files\NWSoftware\Focus Photoeditor 6 and edit fp6Lic_SE.ini — change the IP address in that file to what is shown on the website when you register. [Thanks everyone for the tips!]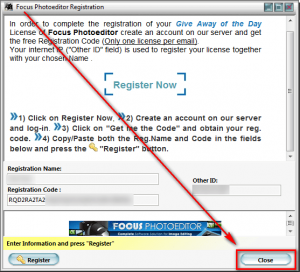 If you have trouble getting Focus Photoeditor for free, post below and other dotTechies or I will try to help.
Related Posts