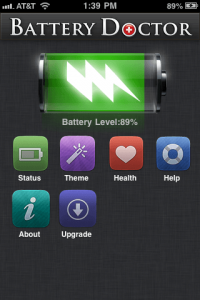 The iPhone's (or iPad's/iPod's) battery icon just shows you how full or empty it is. What if you want to know how much battery you have? Or how long your device will last if you continue to use 2G/3G data or talk on the phone? There's an app for that. And that app's name is Battery Doctor.
WHAT IT DOES
Battery Doctor has three main functions. Firstly, it shows you a color-coded battery that tells you exactly how much battery you have left, in percentage. Secondly, through the Status icon, it tells you how much time you can continue to use your iDevice based on what you want to use it for, e.g. watching Youtube videos. Lastly, via the Health icon, you can learn tips on how to maintain healthy battery life.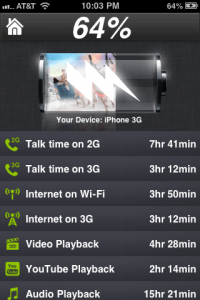 In addition to the above three features, Battery Doctor has a Theme icon that allows you to customize the look of the above-mentioned color-coded battery. Through Theme, you can set the battery to be any color or set it to use an image (such as images with texture, a flag, or your own custom image).
HOW TO USE IT
Simply run the app by tapping on Battery Doctor's icon and pan through the different menus as desired. There is nothing special required to run and use this app aside from a finger (or toe, if you like that kind of thing).
THE DIFFERENCE BETWEEN BATTERY DOCTOR AND BATTERY DOCTOR PRO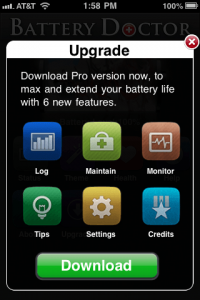 Before we discuss the features of Battery Doctor Pro, there is something that should be pointed out first. For some reason the developer of Battery Doctor has three versions of Battery Doctor on iTunes: Battery Doctor, Battery Doctor Free, and Battery Doctor Pro. Both Battery Doctor and Battery Doctor Free have the exact same features and are available freely on iTunes; but the developer says "free for limited time" for both of them which is kind of stupid seeing as the name for Battery Doctor Free indicates it is a free app, not a freebie. Not sure why this is.
In any case, the difference between regular/free Battery Doctor and pro Battery Doctor is that the pro version has more features (duh). What more features, you ask? Pro provides a log of battery use; it provides a live monitor of what apps are consuming battery; provides better tips and assists in optimizing/maximizing better battery use; and allows users to create their own themes.
CONCLUSION
The app is very helpful in letting you know how much battery you have left prior to the dreaded 20% battery remaining message iDevices give you. It is also useful in gauging how much longer you can use your iDevice before it conks out. Try it out for yourself and see how you like the free app. (I have the pro version, and I absolutely love it. Before I bought Pro, I tried out a bunch of similar free app to find out which one would do the things that would help my iPhone last longer. This clearly won.)
You can grab Battery Doctor from the links below:
Version reviewed: 6.0
Supported Devices: iPhone, iPod touch, and iPad
Supported iOS: 4.0 or greater
Download size: 3.6 MB
Related Posts