Software Description
The following is a description of ExifCleaner, as per the developer:
ExifCleaner is handy software for removing individual Exif tags or stripping Exif data entirely. This protects your privacy, helps you to hide unneeded, undesirable or sometimes sensitive information — about the image, photographer and location. Did you know that every photo produced with a digital camera contains it? Cleaning metainformation saves disk space and server bandwidth, reduces download times, it's especially evident on small-sized or large number of images. Exif cleaner can also be useful for photo professionals, to get rid of the XMP, IPTC as well as Exif metatada in photomontage works.
dotTech Advice
dotTech reviewed ExifCleaner (v1.1) back in 2010. Back then I liked the program, giving it a recommendation and a final verdict of the following:
I realize that many people won't find ExifCleaner useful – it is a niche program, after all – but for what it does, I really like it. I especially enjoy the fact that users can delete all EXIF, specific EXIF tags, or all EXIF except specific EXIF tags. I give ExifCleaner a thumbs up and recommend it to anyone that needs/wants an easy to use EXIF cleaner that supports batch processing and pinpoint EXIF tags cleaning capabilities.
Freebie Details
ExifCleaner is being given away in a promotion by Giveaway of the Day. The giveaway is live for 24 hours and will end 23:59 Pacific Standard Time Sunday March 18, 2012; and you must download, install, and register by that time.
To get ExifCleaner for free, do the following:
Version being given away: v1.7.9.164
Free updates: No
Free technical support: No
Supported OS: Windows 2000/XP/Vista/Win7
Download size: 2.2 MB
Giveaway limitation: This is for personal use only
Download the giveaway ZIP file. You can either get the installer version or the portable version.

Note: The portable version isn't working at the time of this writing. If you get a message with the portable version that the giveaway period has ended, grab the installer version.

Extract the ZIP file and run Setup.exe. Make sure you have a valid Internet connection at the time and wait while the installer checks to make sure the giveaway is still live. Once the installer confirms the giveaway is still live, the installer of ExifCleaner will launch if you downloaded the installer version and the extractor of ExifCleaner will launch if you downloaded the portable version. Follow on-screen instructions to install or extract ExifCleaner: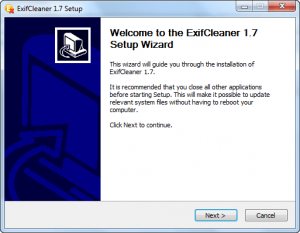 After installation/extraction of ExifCleaner finishes, the Giveaway of the Day installer will popup again — click Close (unless you want to install an optional third-party program Software Informer, in which case click Software Informer):
Once you have done all that, you are done. ExifCleaner comes "pre-registered" so there is no need to register it. To start using ExifCleaner run it from the Start Menu or desktop shortcut if you installed it. If you used the portable version, you can find ExifCleaner at C:\exifcleaner-portable. In the scenario that you got the portable version, you can copy + paste the files from C:\exifcleaner-portable to wherever you like and the program will work, that includes USB/flash drives or other computers.
Enjoy!
If you have trouble getting ExifCleaner for free, post below and other dotTechies or I will try to help.
Related Posts