Most of us have heard of Lavasoft Ad-Aware. It is a popular malware protection software that has a free version to it. Recently, the new Anniversary Edition was released; Lavasoft improved the software and also added in a couple of extra features in the Free version that were not there before. Here is a list of features in Ad-Aware Free edition AE (from Lavasoft.com) – the new features are marked in red:
Detect, Remove AND Clean
A step beyond simply detecting and removing malware, Ad-Aware intelligently cleans and restores your system by removing all traces of the infection.

NEW!

Ad-Watch Live! Basic
Integrated real-time process protection blocks malicious processes and infected programs that try to start or run on your system, to prevent them from further integration in your system.
Rootkit Removal System
Advanced anti-rootkit technology protects you from hidden threats and stealth attacks that are designed to gain access to your system by avoiding detection.

NEW!

Radically improved resource efficiency
The new version provides ultimate resource efficiency with minimal strain on your system's resources.

NEW!

Lavasoft SmartSet
Let the experts at Lavasoft guide you. Lavasoft SmartSet makes scanning and cleaning as easy as possible – by providing automatically configured settings for scans, and by providing recommended actions for found infections.

NEW!

Customizable Profile Scans
Easily create personalized scan profiles so that Ad-Aware only scans areas that you select. Save time by scanning areas where known malicious programs are located, or choose from 13 different sections to scan, including critical sections, only executables, ZIP files, and the Windows registry.

NEW!

External Drive Scanning
Scan your external storage device, iPod, DVD's, USB's, or any other drives that you connect to your PC for an additional layer of security.

NEW!

Pin-Point Scanning
Quickly identify whether suspicious files are safe or malicious – right-click any file or folder to perform an immediate Ad-Aware scan or to make a submission to Lavasoft researchers for analysis via ThreatWork.
Easy to download, install & use
Effortlessly maneuver the complexities of malware detection and removal with our new, user-friendly interface.
Automatic Updates
Protect against the latest forms of malware with faster, updates to guard your privacy against cyber attacks throughout the license duration.
System Restore Point
Set a Windows system restore point so you can clean-up your system without fear of obstructing your operating system – revert to a previous state in the event of a problem.
TrackSweep
Control your privacy by erasing tracks left behind while surfing the web on multiple browsers, including Internet Explorer, Firefox, and Opera, with one easy click.
Full integration with Windows Security Center
Get Ad-Aware protection and status notifications through the Windows Security Center.
Supported Languages
English, Dutch, Flemish, French, German, Italian, Portuguese, Spanish, Traditional Chinese, Simplified Chinese, and Japanese.
The interface has also changed a lot: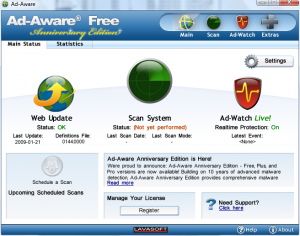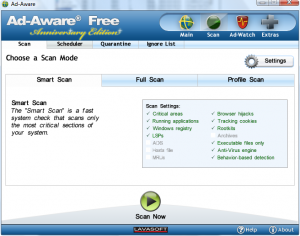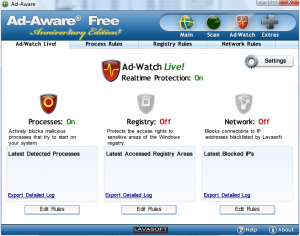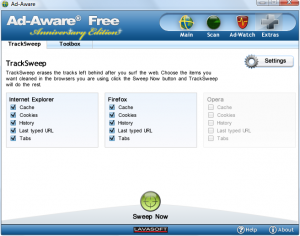 I always avoided recommending Ad-Aware to people because it ate your system resources like no other. However, the drastic reduction in system resource use changes all that to an extent. Also the added basic live protection is a plus.
As we speak, I am running the on-demand scanner and there is a definite reduction in system resource use. I can't 100% confirm if it uses less/more resources then programs like Malwarebytes, SAS, or Threatfire, because I have not used those programs in a while, but if memory serves, Threatfire usto lag up my computer a lot while scanning. I can hardly feel any strain on my computer, in terms of resources, with Ad-Aware AE scanning: Ad-Aware is using ~50 MB of RAM and literally 0-15% CPU (not exact or totally inclusive numbers of course).
I can also confirm that Ad-Aware does in fact use up less resources while in idle state then my Kaspersky. In terms of while scanning, Kaspersky uses less RAM, but a little more CPU (not "significantly" more in my opinion however). Keep in mind that Kaspersky provides full protection (anti-virus, anti-spyware, anti-malware, etc.) while Ad-Aware AE Free does not. Also keep in mind that Kaspersky is not known as the protection software that is the least resource intensive – Avira is. So the true test for Ad-Aware AE, in terms of computer resource usage, will be against Avira. From preliminary tests with Kaspersky, I doubt it will be less resource intensive then Avira.
However, and this is a big negative, the Free version is still signature based as far as I know, so if you are running any other protection software, such as Kaspersky, Avira, Norton, etc. I suggest you disable the AdWatch Live! and just use Ad-Aware as an on demand scanner because you may run into conflicts which will lead to slowdowns. For the best free anti-malware live protection, I still suggest you go with Threatfire because it is behavior based as opposed to signature based which allows it to work well with other security software.
If you are interested, here is how Lavasoft says Ad-Aware compares to the 'competition'.
Now I am not claiming that Ad-Aware AE is better then any of its competition out there. I am merely pointing out that Lavasoft has greatly improved the software from before.
Lastly, for references, you can read what PCMag had to say about Ad-Aware Pro 08:
Bottom Line
Ad-Aware is steadily improving. Spyware removal in this version is excellent, in part due to the new antivirus scanner. The product's real-time protection, however, is years out of date.

Pros
Now includes antivirus. Very effective at cleaning up infested systems. Includes HOSTS file editor, Process Watch for advanced users.

Cons
Poor real-time protection. Flags common Registry actions even for valid programs. Can queue up hundreds of warnings. The option to always allow/block a specific program is hard to find.
You can get Ad-Aware Free Anniversary Edition from Download.com.
Related Posts