Recall that earlier I made a post about how to attain WinOptimizer 4 for free. Well now you can get WinOptimizer 5 for free. These are the *new* features for WinOptimizer 5:
Undeleter

One mouse click too many — and an important file is lost forever. Really? Not if Undeleter can help it. Undeleter restores deleted files on NTFS, FAT-16, and FAT-32 partitions. Even compressed and encrypted NTFS files and deleted files for instance on USB sticks can be saved in this way. The health status of deleted files is displayed, letting the user know how good the chances are that the files can be restored.

Icon Saver

Many users move icons around on their desktop to make their daily work as efficient as possible. Unfortunately, this icon arrangement is very easily lost. All it takes is switching the screen resolution. Icon-Saver keeps track of the arrangement of icons on the desktop and can restore them at any time. The module can keep track of several stored desktop configurations.

Real-time backup

Real-time Backup monitors all key system processes that the user performs with Ashampoo WinOptimizer 5 to back up the original configuration in real time. If necessary, it's easy to restore the original configuration. Extensive notes are included with all backups.

Registry Optimizer

Previously referred to as the Registry Cleaner, this module scans the Windows registry. Ashampoo WinOptimizer 5 finds broken links that have empty references and automatically either eliminates or immediately repairs them. The integration with real-time backup here ensures that it is always possible to restore the original condition of the registry.

Vista-Gadget

Under Windows Vista, all the cleaner modules of Ashampoo WinOptimizer 5 can be launched from this gadget. Even One-Click Optimization can now be run from the gadget. Users can also view a graphic representation of processes with the gadget and have the available capacity of their hard drives displayed.
Along with those mentioned above, WinOptimizer 5 can do the following:
Drive Cleaner: Drive Cleaner searches the hard drive for files that are no longer needed so they can be deleted upon confirmation from the user. The search algorithm for this module has been considerably improved for increased efficiency. What's more, comprehensive information is now available for the objects that are found.
Tweaking Tools: Hundreds of settings can easily be switched on and off in this module with a click of the mouse. Not only the visual appearance and general behavior of Windows in certain situations is addressed here, but also topics such as security, Internet, and multimedia. The integration with the real-time backup makes it possible to undo all changes at any time here as well.
Process Manager: Now, frozen windows from crashed applications are no longer a problem. The Process Manager deals with these applications in short order, kicking them out of memory and off the screen. Suspicious applications can also be immediately terminated in this manner. What's new is that the module not only lists all active processes, but also provides corresponding information on them. A new visual aid also shows which system processes are absolutely necessary so that they are not deleted.
StartUp Tuner: This module displays all autostart entries, allowing users to deactivate irritating programs so that they are no longer executed when Windows starts up. This module also now names the autostart entries that are absolutely necessary and should not be switched off by the user. An overview and recommendation for unnecessary services is now also available for Windows Vista. Requested by many users: Now, Internet Explorer plug-ins can be viewed and deleted if necessary.
File Wiper: When Windows deletes files, they're not really removed, but rather made available for overwriting. In short: Any data thief can easily restore them. The File Wiper deletes data with sensitive contents completely, making it impossible to restore them even with specialized programs. The new version is fully integrated into the Windows Explorer context menu and can accordingly be opened from that location without starting the main application. In addition, performance has been noticeably improved.
One-Click Optimization: No time for anything? One-Click Optimization cleans up any area desired with the single click of a mouse. What's new is the ability to optionally display lists of results.
System Benchmark: The module tests the processor and measures the performance of the system memory. A nice feature is that the results from your own computer can be compared to those of other PCs.Visual Styler: It's important to many users that their Windows system has its own unique look. That's where the visual styler comes in. The module can switch out existing icons for new ones and make the individual windows look transparent.Hard Drive Defragmenter: This module also runs under Vista, reconnecting files which have been broken into fragments to restore them to their original form. This increases performance when working with Windows.
To get Ashampoo WinOptimizer 5 follow these simple steps:
After you finish downloading it, install it. During installation you should see this screen: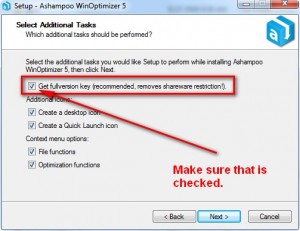 Make sure "Get fullversion key…" is checked. Click "Next" and finish installing.
After installation has finished Ashampoo's WinOptimizer 5 registration will open in your default web browser: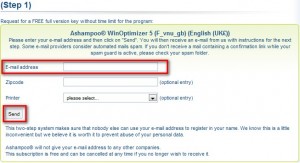 Fill it out accordingly (you are only required to enter your e-mail address… rest is optional). Take note of two things:

Hotmail e-mail addresses are not supported by Ashampoo. Don't ask me why.
Ashampoo spams. So either use one of your spam e-mails, or make use ofMailinator, 10MinuteMail, or Trashmail anti-spam services. My suggestion would be to use a spam e-mail because you are bound to want to get more Ashampoo freebies in the future and having an Ashampoo account is handy.

If you already have an Ashampoo account just enter that e-mail. If this is the case you will also be asked to login.
After you have registered check your e-mail for an e-mail from "Ashampoo <MrReg@ashampoo.com>" with the subject of "Your registration – Ashampoo® WinOptimizer 5 (F_vnu_gb) (English (UK£))". In the e-mail you will find your registration code:
Copy the code.
Run WinOptimizer 5. You should be prompted to register it: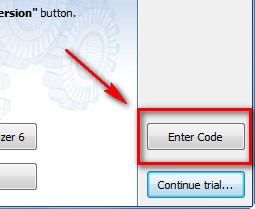 If it all goes well you will get a confirmation message:

If you have any trouble post below – I will try to help.
Related Posts