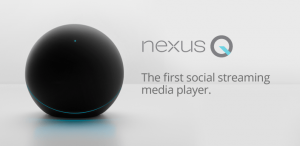 Today at Google I/O, Google took the wraps off of two devices. The first was the expected 7″ Nexus tablet, while the other was a wildly new and different Nexus Q. What exactly is the Nexus Q, and how is it used?
It turns out the Nexus Q is a deviously simple concept. You simply tap your device on it, and the two are instantly paired. From there, you can select music, video, and more to play one the small device. You can use it to create so-called social playlists, which both you and your friends can add to while at your house.
To create a playlist, all you need is an Android device and a connection to your WiFi. Then, you just have to launch Play Music and add songs to the queue. What's nice is that if your friend owns a song and you don't, you can still easily play their song without worrying about copyright, authentication, or any other issues.
Nexus Q also allows you to share YouTube videos in a similar fashion.
The Nexus Q is quite a nice device, and is available now from the Play Store.
Interested in Google I/O? See news from this year with the Google I/O 2012 tag.
Related Posts