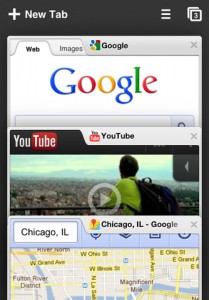 Today is the second day of Google I/O, the annual developer's conference where Google announces new software and upgrades. Earlier this morning, Google announced that they would be releasing both Google Chrome and Google Drive for iOS later in the day. Let's take a quick look at each of these apps and where to find them.
Google Chrome
Both apps that Google released today are available for both iPad and iPhone, and this includes Google Chrome. The main purpose behind Google Chrome for iOS is not to bring Chrome's impressive speed and agility to the operating system but to bring the benefits of the Google ecosystem. Chrome features the awesome synchronization abilities of the desktop and Android versions of the app, which make it a great choice for browsing.
After you sign into Chrome for iOS, you'll get your tabs, bookmarks, passwords, and even omnibox data sync'd right to your phone or tablet, allowing you to "pick up right where you left off". You can also send pages from your computer to your phone with great ease.
Chrome for iOS definitely checks all of the boxes in the awesome department. Of course, there's still the issue on iOS of setting a default browser: you can't. Hopefully the benefits of Chrome sync will outweigh the annoyance of having to sometimes still use two browsers.
get Google Chrome from the App Store (12.8MB)
Google Drive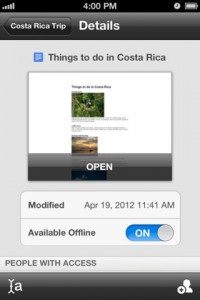 If you ever used Google Docs on your computer, you'll know just how convenient it is to be able to pick up a document on one computer from where you left off on another. With Google Drive, Google took that one step further. You can upload any file to the cloud, where you can then access it on any device. And, starting today, it even has intelligent recognition. If you upload a picture of a pyramid without any sort of labeling and then search for pyramid, it will be able to find that picture for you. This is both scary and amazing.
The new Google Drive app for iOS lets you bring all of that to you mobile phone and tablet. You can even work offline, meaning if you want to work on your documents with your iPad while flying in a plane, you can do that. If you want to view your photos while you're under the Chunnel, you can do that.
The new Google Drive app brings an awesome service to even more people, starting today.
get Google Drive from the App Store (6.1MB)
for all the news from this year's Google I/O, check out the Google I/O 2012 tag!
Related Posts