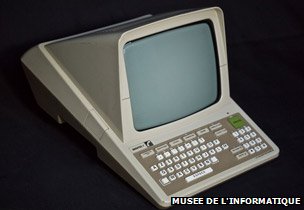 Today the Internet rules the world and the happenings all around the world, with its rise being marked by the mid 1990's. But, further back, during the 1980's, France had been laughing at the rest of the world thanks to its 'state of the art' Minitels.
To put it in very simple terms, Minitel was the Internet before the Internet.
Back in those days when one wasn't even able to think of 'buying online' or sending e-mails, many households of France had already been enjoying the 'digital age' thanks to Minitel. France had been providing 'Mintel terminals' at subsidized rates to the households of the country during that time. Minitel helped the French to access and share text contents from the comfort of their home. Minitels were (are) text-only terminals (think computers but text-only computers); and in their early days, only newspaper companies were allowed to supply content to Minitels.
Soon after it was released, newspaper companies started providing paid services like shopping, fund transfers, ticketing, and –ahem- text messages.
At its apogee in 1998, the system generated over a billion dollars a year in revenue, and accounted for nearly 15% of the annual income for online retailers 3 Suisses and La Redoute, to name a couple.
As days and years went by, technology 'outside' Minitels developed, and Minitels had its developmental phase constrained to roughly about 5 years according to analysts. Soon, Internet sprouted in and quickly started taking control of the digital world. (Interestingly enough, in February 2009 France Telecom indicated the Minitel network still had 10 million monthly connections. Imagine that.) Actually, many of the ideas behind the Internet were planted or inspired by the Minitels and they have also had a great role in developing other sections of the digital world. And now, after about 30 years, the French government has decided to pull the plug on Minitel for the last time.
With the doomsday of a legacy here, let us pay our gratitude and tribute to whatever Minitel has brought to the world today. Post in the comments below!
[via Engadget]
Related Posts