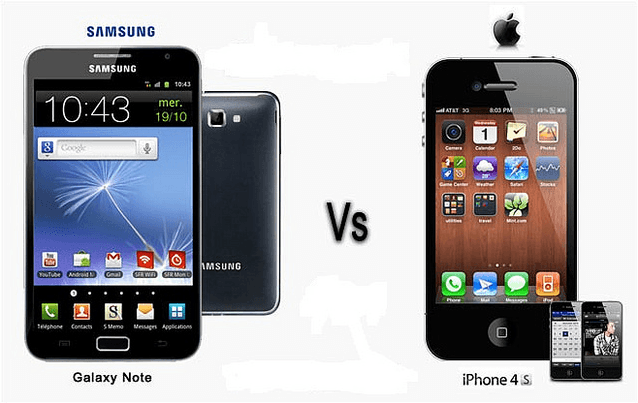 We may be tired of Apple vs Samsung but the courtroom battle between the two is a continual source of otherwise secret information. One such information are detailed statistics on the exact number of devices Apple and Samsung have sold over the years in the United States. And this info tells us while Samsung may be dominating worldwide, Apple is eating Samsung's lunch in the United States.
According to sales number released by Apple, since 2007 Apple has sold 86 million iPhones, 34 million iPads, and 46.5 million iPod Touches in the USA.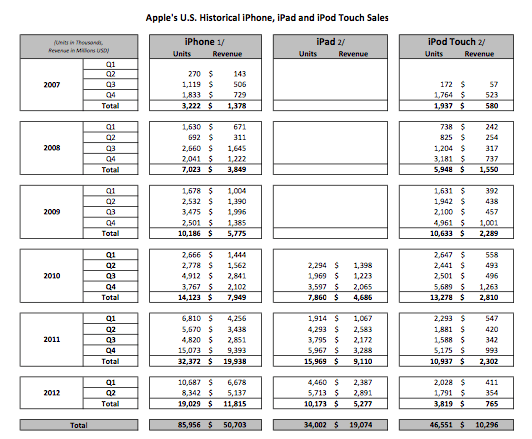 Comparatively, of the devices on trial, Samsung has sold 21.25 million smartphones and 1.4 million tablets in the US from June 2010-June 2012.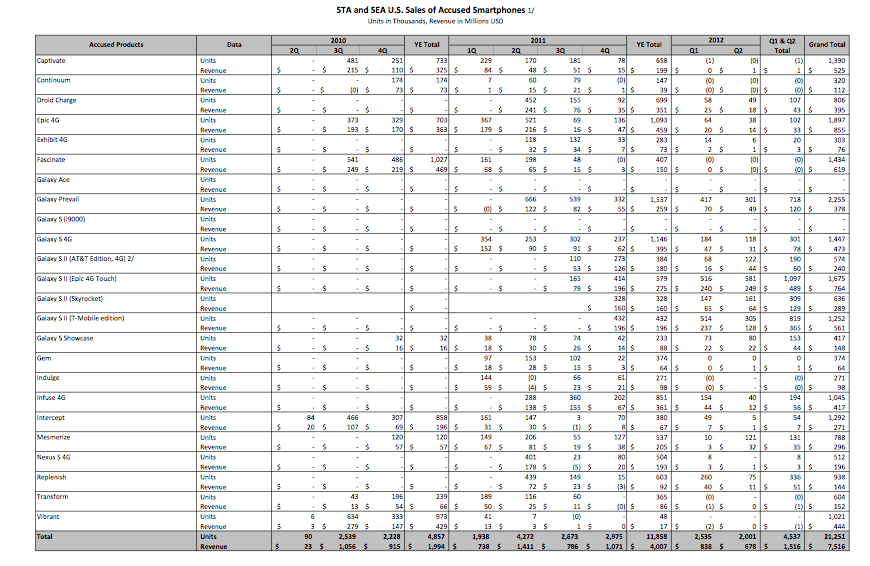 Of these 21.25 million smartphones, the Galaxy Prevail (a low-priced, entry-level Android handset) is the most popular with 2.25 million in sales followed by Epic 4G (Sprint's variant of Galaxy S) with 1.89 million, and Epic 4G Touch (Sprint's variant of Galaxy S II) with 1.67 million. If all Galaxy S II sales in the US are combined (meaning all carrier variants), Samsung has sold 4.1 million Galaxy S II handsets.
Although impressive, Samsung's sales are dwarfed by Apple's. Indeed if you look at Apple's Q4 2011 and Q1 2012, Apple has sold more smartphones in six months (25.7 million iPhones) then Samsung has sold in two years (21.25 million smartphones). The tablet numbers are even more embarrassing for Samsung. It should be mentioned, however, these numbers are USA only. Indeed, we already know Samsung has roughly 2x the smartphone marketshare worldwide than Apple. Other noteworthy points are a) the above sales numbers are only for the devices Apple is accusing of copyright infringement. The above-devices may be the bulk of Samsung's American portfolio but they are not all Samsung devices in the USA b) The sales numbers are until June 2012, which is before Samsung's blockbuster Galaxy S III went on sale in the USA. So while the above statistics do show the difference between Apple and Samsung in the USA, they don't show the whole picture.
[via ArsTechnica, AllThingsD, BGR | Image credit: sidduz]
Related Posts