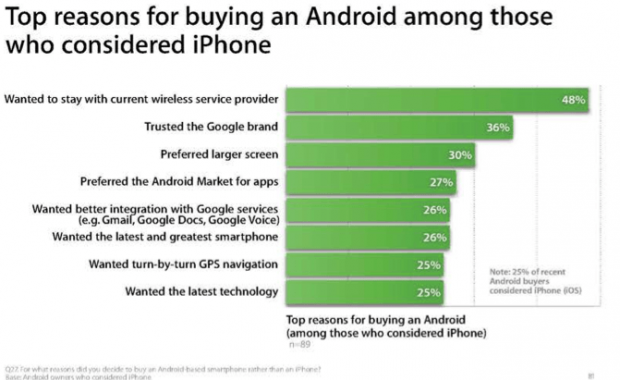 Although Apple likes to publicly claim otherwise, Apple conducts consumer research to better understand consumer tastes and preferences. In 2010 Apple conducted one such study; Apple wanted to know why people buy Android over iPhone, and it may surprise you what Apple found.
Before we delve into the study, let's state three facts about the survey. First of all, Apple surveyed recent Android buyers and asked them if they had considered buying the iPhone instead. 25% of them said yes. Of these 25% Apple asked "For what reasons did you decide to buy an Android based smartphone rather than the iPhone?" Secondly, Apple has a sample size of 89 meaning it asked a total of 89 people why they bought Android over iPhone. While 89 may sound like a small number, statistically it is sound assuming Apple followed proper surveying methods (randomization, etc.).  Lastly, this survey was conducted in the United States, not internationally, so it may not hold true for other demographics.
Now that we have cleared the air about how this survey was conducted, let's look at the results.
Not surprisingly, 48% people said they bought Android over iPhone because they didn't want to change their wireless carrier. This isn't surprising because we all know how much of a hassle it is to change your carrier and seeing as AT&T was the only carrier to have the iPhone in 2010 (when this survey was conducted), this makes sense that it is the top reason. Looking past the carrier issue, the second most reason people stuck with Android is their trust in Google: 36% said they trusted the Google brand. Apparently Google privacy issues that rage on the Internet aren't as important offline. Coming in third, 30% said they went with Android for the larger screen. For those that aren't familiar with the issue, Android devices were touting 3.75-4.3 inch screens in 2010 while the iPhone stuck with its 3.5 incher. Next, 27% said they preferred Android Market for apps (presumably because of Android Market's, now called Google Play Store, greater number of free apps), 26% wanted better integration with Google services such as Gmail, 26% wanted the "latest and greatest" smartphone, 25% wanted turn-by-turn GPS navigation (Google Maps, hip hip hurray!), and 25% wanted the latest technology which sounds to be similar to wanting the latest and greatest smartphone.
While many of us will find the results of the survey interesting in and of itself, the results hold even greater significance for Samsung who is fighting a court battle against Apple. This survey is ammunition for Samsung to use against Apple's claim that Samsung "copying" of Apple devices caused confusion among consumers and cost Apple sales. Be sure to let us know in the comments below if you ever confused a Samsung device for an iPhone or iPad.
[via CNET]
Related Posts