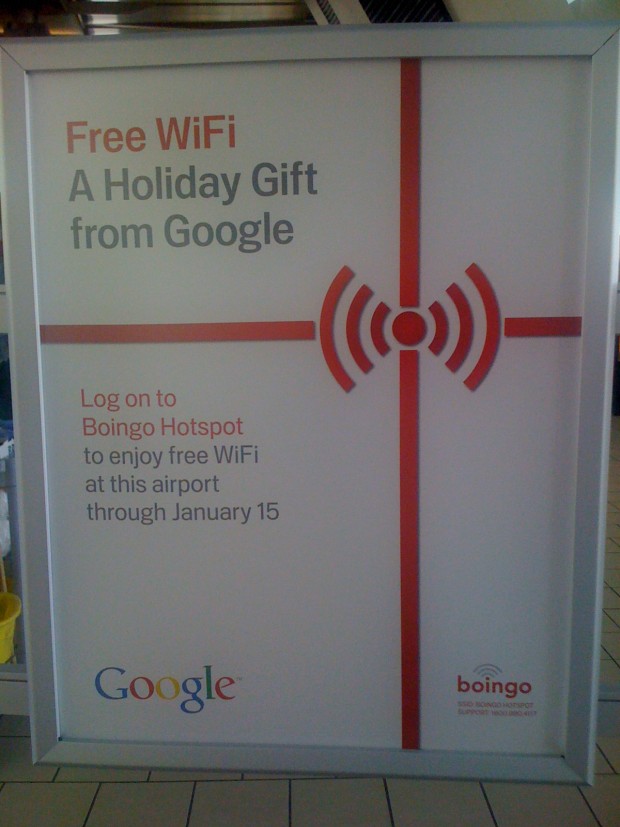 Some malls have free WiFi; most malls don't. Google and Boingo are looking to change that with a partnership that will see free WiFi hit malls across the United States.
According to GigaOm, after testing free but ad-sponsored WiFi in New York subways and 200 locations across Manhattan until September 7, Google and Boingo are looking to expand the business model to eight malls across the United States, four of which will be located in San Francisco, Los Angeles, Tampa, and Seattle. The free WiFi in malls will be similar to the free WiFi being offered in New York. Users will be prompted with an advertisement to signup for Google Offers upon connecting to the free WiFi and will gain access to the Internet after the ad, regardless of if users decide to signup with Google Offers or not (yes, you can decline Google Offers and still get Internet access — you just have to view the ad).
Boingo, which is most popularly known for providing (ridiculously expensive) WiFi at airports, conferences, etc., is the backbone behind this free WiFi. It is Boingo's network that will be providing Internet access to users. Google is the cash cow funding the free WiFi with its Google Offers ad. There is no information, yet, on connection speeds for this WiFi network and/or if it will offer any security measures to ensure user data is safe while using the free WiFi. It does appear, however, that users will be given unlimited access, i.e. no data caps.
As already mentioned, Google-Boingo WiFi will be hitting eight malls across the United States. There is no information if Google and Boingo plan to expand this network to others malls past the initial eight.
If free WiFi access was preventing you from hitting up that Apple Store in your local mall, your dreams have been answered.
[via ArsTechnica]
Related Posts